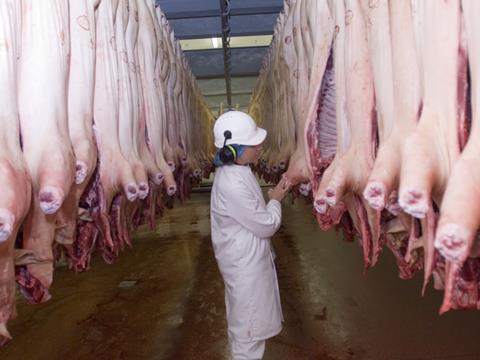 The UK government is in talks with the EU over a veterinary agreement that could dramatically reduce the number of SPS checks on animal origin goods moving into the EU.
The idea gained momentum this week as an option to help allay some of the border friction facing British exports of meat, fish and dairy heading into the EU and Northern Ireland.
Defra Secretary George Eustice publicly backed the plans last week, stating: "We want to work on a veterinary partnership agreement with the EU…so we can try to get some easements to make sure goods can flow more smoothly."
The UK is thought to be seeking a New Zealand-style agreement which would recognise each other's standards as equivalent while not demanding any further alignment. New Zealand's arrangement with Brussels means that around 1% of its goods are subject to SPS checks upon arrival, versus around 30% for the UK.
"It does look like the government is softening on SPS," said one senior industry source with knowledge of the talks. "My understanding is the EU also thinks this is quite a clever solution."
The Irish Sea border has been the impetus for discussions with the new checks causing sectarian tensions at Northern Irish ports and disruption to food supplies.
Michael Gove is understood to be leading the discussions with European Commission Vice President Maros Sefcovic, although former chief negotiator David Frost will replace Gove in his role overseeing Brussels relations from 1 March.
It is unclear how Frost's appointment could affect the plans. While he is thought to have the greatest understanding of the trade deal he negotiated, in Whitehall and Brussels he is widely perceived as a Brexit hardliner who drove the UK's prioritisation of sovereignty over market access.
Food industry leaders have backed the idea of a veterinary agreement and intend to write to government next week in support of the proposals. "It's entirely logical," said Shane Brennan, CEO of the Cold Chain Federation. "It's amazing it wasn't part of the agreement in the first place."
While the agreement would not remove all friction – export health certificates and border controls would still be required – it would significantly reduce the number of checks taking place and give greater certainty to businesses currently plagued by inconsistencies.
"At the moment, the whole structure of the relationship is based on zero trust," said Brennan. "The veterinary agreement would be a step towards more trust between both sides, which would lead to lower checks. But it would also create more opportunity for consistency in how paperwork is being assessed and scrutinised and validated by the border," he added.
A New Zealand style agreement would likely mean the two sides draw up a list of all animal-origin products currently equivalent and therefore not requiring such extensive SPS checks. If in the future one side diverges on standards for a specific product, the other could assess whether it remains equivalent, reintroducing greater levels of checks for that product if not.
The UK is after a similar agreement on seed potatoes currently banned from moving from Great Britain to Northern Ireland. In a letter to industry stakeholders this week, Defra confirmed it had asked the EU for "substantial equivalence" on seed potatoes in a move which if granted, would provide assurance that while not "dynamically aligned, UK legislation will remain equivalent to the EU."