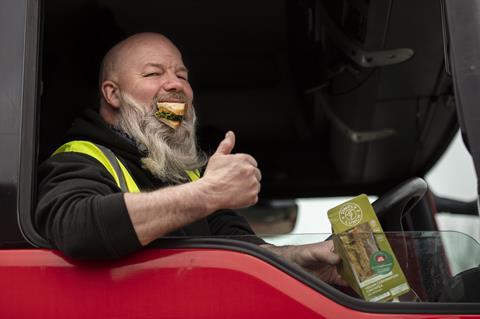 EU-compliant vegan sandwiches were handed out to British hauliers this week in response to Dutch officials confiscating ham sandwiches at the border.
LoveSeitan and Simply Lunch launched the scheme – named Operation Snack – at Southampton port this week after seeing footage of drivers falling foul of EU rules that forbid personal imports of meat and dairy products.
They plan to distribute another 500 EU-compliant seitan sandwiches to hauliers on Saturday near the Eurotunnel in Kent.
LoveSeitan co-founder Steve Swindon said hauliers were "key workers in need of good food. We couldn't just stand by and watch their food being confiscated", and invited other vegan suppliers to join the initiative to "support British hauliers".
The scheme was welcomed by Richard Burnett, CEO of the Road Haulage Association, who claimed the confiscation of sandwiches by Dutch officials was "a perfect example of Brexit legislation gone mad".
"What was once a simple ham and cheese sandwich is now classed as a personal import and is now prohibited. It's ridiculous."
He added: "I'm a vegan myself and I'm really pleased that LoveSeitan has come up with an alternative to meat and dairy that is not only healthy but also 'legal'. It ticks all the boxes."
The sandwiches have been well received by drivers. "The border authorities won't be taking these away from us," said haulier Steve Vane.