Having decided to bring most of its portfolio under the masterbrand in 2015, Arla took its strategy one step further last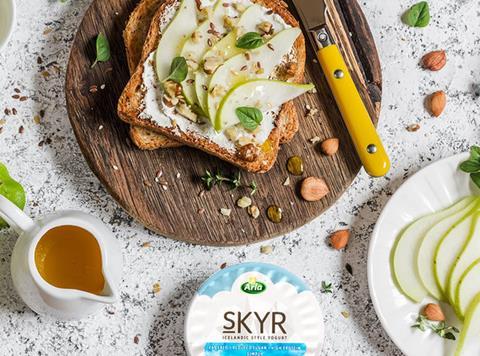 Last year's ranking: 26

Sales: £266.9m (+10.3%)
The meteoric rise of Arla continues. Having decided to bring most of its portfolio under the masterbrand in 2015, the Denmark-based dairy co-op took its strategy one step further last year. It unveiled its first ads promoting the Arla, Lactofree, Cravendale and Arla Milk brands all under one banner in the summer's 'Eat Monday for Breakfast' campaign, which formed part a wider £20m ad spend in 2017.

"Uniting Arla's milk, yoghurt and milk-based beverages under a single campaign has helped consumers understand more about what the Arla brand stands for and how its different concepts cater to individual consumer needs and occasions," says Arla brand manager Gemma Syrett.

It seems to have paid off. Sales rose £24.8m, with most sub-brands securing healthy growth. Arla Milk made up significant ground, adding £1.8m to its value and near doubling volumes. The sole outlier was Cravendale, which experienced a £1.1m dip.

Arla Protein has been a big hit, up 60% to £14.1m, fuelled by NPD such as Protein's expansion into milk and pouches (continued this month with the launch of Arla Protein Water). The brand also highlighted its farmer-owned status with on-pack signage and launched a branded milk in McDonalds' Happy Meals.

Looking ahead, Arla has struck a licensing deal with Yeo Valley (53) for its milk, cheese and spreads. The move capitalises on growing demand for organic, with Arla intending to convince shoppers to trade up after the 2015 launch (and 2017's rebranding) of Organic Free Range milk.