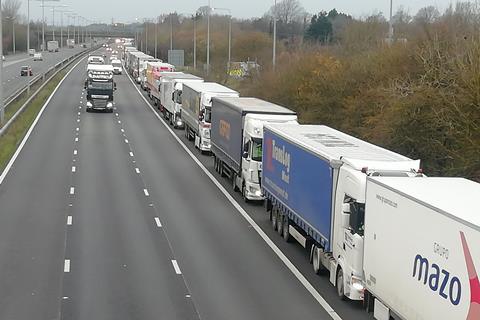 Food and drink leaders have warned the government has just 24 hours to fix the ports crisis or shoppers will face food shortages after Christmas.
As suppliers continue to suffer gridlock at the ports following France's decision to close its border for 48 hours, ministers were told empty lorries stuck in the UK would mean products such as fresh fuit and salad vegetables would soon begin to disappear from shelves because of the reliance on imports from the EU.
Meanwhile there have been reports of large queues at many UK supermarkets, although industry leaders have said the panic buying is nothing like the levels seen in March when the pandemic began.
"The government has been left in no doubt as to the potential disruption to food supplies unless a resolution is found in the next day or so," said a member of the Defra war room, which has been holding emergency talks with ministers on the crisis.
"The message from industry has been it will be fine for a day or so but unless something is sorted urgently then there will be shortages."
BRC director of food and sustainability Andrew Opie told the BBC Today programme this morning: "There is certainly not a problem for Christmas.
"There is plenty of food in the suppy chain and in the stores so nobody needs to be worried about Christmas dinners and we can all shop normally.
But he added: "There is problem potentially directly after Christmas and that is in fresh produce. We are talking about things like salad vegetables, fresh fruit, of which the vast majority comes from Europe.
"The problem is empty lorries which are now stuck in Kent. They need to get back to places like Spain to pick up their next consignment of raspberries and strawberries and they need to get back within the next day or so otherwise we will see disruption."
Opie said 90% of lettuces and 70% of soft fruit came from the EU and would be among the key products affected.
"Our view is as long as it can be cleared up today there will be minimal impact for consumers but the borders need to be pretty much running freely to assure us there won't be any disruption."
FDF CEO Ian Wright said: "Thirty-six hours after the French border was closed to accompanied freight, and with 1,500 lorries stranded in Kent, it is imperative a solution is found, today, to this issue.
"UK shoppers need have no concerns about food supplies over Christmas, but impacts on local on-shelf availability of certain fresh foods look likely from next week unless we can swiftly restore this link. The government is right that 80% of trade is unaccompanied, but roll-on, roll-off, accompanied trucks is by far the preferred mode of transport for fresh food. Around half of all our food is imported at this time of year.
"We must also recognise the terrible toll being taken on UK food exporters and on hauliers. Lorry loads worth millions of pounds are being spoiled. For most, insurance will not cover these losses which must be compensated."
One source in the war room suggested the government had been "downplaying" the extent of the disruption at the ports.
"The lorries that are physically stuck at Kent ports only tell some of the story. There are lorries strewn all over Kent and elsewhere and of course many that simply haven't left because they don't want to get stuck.
"It's understandable the government wants to prevent panic buying but it must not underestimate the impact of these delays, especially as they could be a taste of what is to come if there is no deal over Brexit."
Supermarkets have said they are exploring alternative routes into the UK including taking ferries directly from Spain and increasing stock from Holland in a bid to counteract the delays, but Opie said for most of the food affected there was "no alternative" to the main ports of Dover and Folkestone.
Opie also said queueing in supermarkets had been "inevitable" in the run-up to Christmas .
"We always thought there would be queues, these are the busiest days for shopping. We always saw queues as an inevitability but we are not seeing the sort of excessive buying in anything like the volumes we saw in March."
Sainsbury's yesterday became the first supermarket to warn of shortages because of the port chaos, and Tesco later also warned consumers to shop sensibly.
"We have plenty of food for Christmas available in stores and would encourage all customers to shop as normal," said a spokeswoman. "We've been building our stockholding of key products ahead of the Christmas peak and are working closely with our hauliers and suppliers to continue the supply of goods into our stores."
Another supermarket source said: "If the current disruption continues then there may be reduced supply on a few fresh items, such as lettuce, cauliflower and citrus fruit later this week, but we don't expect any problems with availability on these lines today or tomorrow.
"We're doing everything we can to limit the impact for our customers."