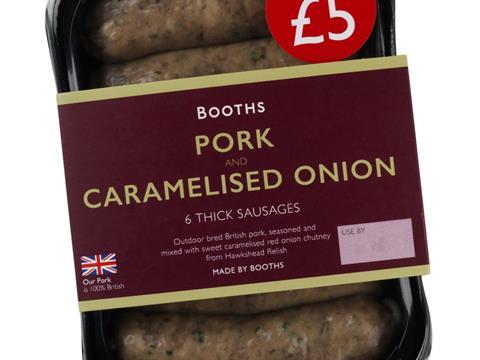 Northern retailer Booths has overhauled its own-label sausage range with new pack designs and refreshed recipes.

The range, launching across Booths stores this month, includes traditional Cumberland, Westmorland and Lakeland varieties, as well as new flavours inspired by local produce such as Pork & Hawkshead Ale Sausages, Pork & Dewlay Lancashire Cheese Sausages, Pork & Hawkshead Caramelised Onion Sausages, and Pork & Apple with Pure North Cider Press Sausages.

All Booths sausages are produced at the retailer's central butchery in Preston, Lancashire, using 100% British pork.

"A lot of people don't realise we actually make our own sausages. We have been working on our range to improve the recipes and packaging so they look as good as the sausages taste," said Booths meat buyer David Simon.

Booths is offering flavoured sausages on a two-for-£5 promotion and traditional pork sausages on a two-for-£4 promotion.