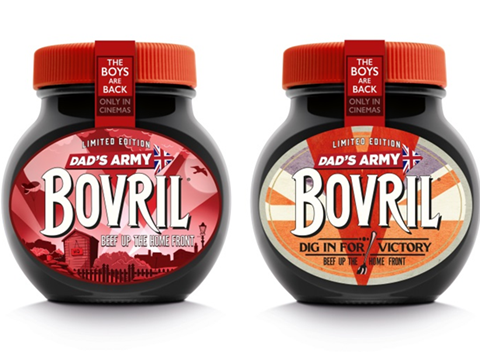 Unilever brands Bovril and Colman's have partnered with the forthcoming Dad's Army movie, with three limited-edition Bovril jars on supermarket shelves now.

The film, which hits cinemas on 5 February, is an adaptation of the classic British sitcom and stars Bill Nighy, Michael Gambon, Toby Jones, Tom Courtenay and Mark Gatiss as members of the bumbling Walmington-on-Sea Home Guard, with Catherine Zeta-Jones as a glamorous journalist sent to report on them.

The Dad's Army-themed Bovril jars feature wartime-inspired designs and motivational slogans 'Dig In For Victory', 'Beef Up For The Home Front' and 'Dad's Army Wants You Beefy'. Unilever said they would highlight the brand's heritage and history, including its use as part of military rations during the Second World War.

Meanwhile, both Bovril and Colman's will promote a competition, hosted on the Colman's website, to give away prizes including a holiday in Yorkshire, a trip for two to Bletchley Park, and Dad's Army-branded shovel spoons and mugs.

"Bovril formed part of military war rations and the government refused to ration Colman's, so Brits could add flavour to wartime meals. In addition to Bovril's limited-edition packaging, our joint competition is an exciting opportunity to generate buzz around both brands and promote the launch of the film in February."

Bovril sales are down 2.6% to £7.55m [Nielsen 52 w/e 12 September 2015].