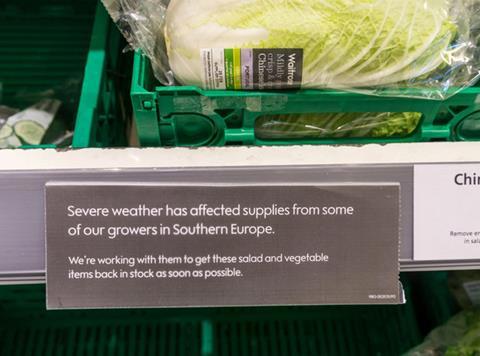 More than two thirds of Brits are worried about the impact a second wave of Covid-19 will have on UK food supplies, despite assurances from retailers about the state of the supply chain.
Today a poll from YouGov showed as well as 66% being concerned, less than half (48%) of people were confident the food and farming system was prepared for a second wave of Covid-19 or a future pandemic.
It come after The Grocer revealed supermarkets were warning the public against another round of panic buying, with some pointing out the only threat to supplies was stockpiling itself.
The survey shows most people are also expecting interruptions to food suppliers when the Brexit transition period ends in January, with only three in 10 adults (32%) believing the UK's food and farming system is prepared for trade interruptions or problems with either the US or EU.
Only 5% were "very confident" the food system was resilient enough to tackle the issues.
The survey of over 2,000 adults, carried out on behalf of the Agricultural Biotechnology Council, found fears over the UK's food supply were not limted to Covid and Brexit. Two thirds expressed fears about the consequences of climate change and climate events such as drought.
Only 32% were confident that the food and farming system was prepared for environmental extremes such as extreme heat or flooding, and only 34% were confident that we are prepared for biological threats such as new pests.
"UK farmers have helped the country through some of its most challenging times the last few months, keeping us all well fed and maintaining a supply of healthy, good-quality and affordable fresh produce," said Mark Buckingham, chair of the Agricultural Biotechnology Council.
"However, other challenges are on the horizon, ranging from a second wave of coronavirus or the UK's departure from the EU.
"Furthermore, the impact of climate change and environmental extremes in the short term pose a serious threat to harvests, as indicated by recent reports. Therefore, these results demonstrate a clear need to provide farmers with the opportunity to access all the tools available to them."