Chelsea Pensioners take part in Ceremony of Christmas Cheeses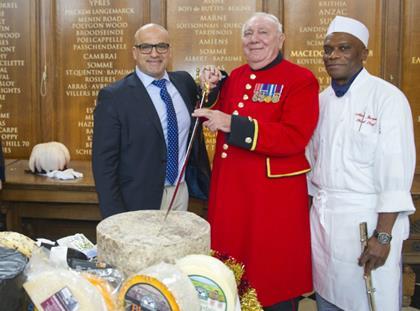 The British cheese industry donated almost a quarter of a tonne of cheese to the in-pensioners of Royal Hospital Chelsea at the annual Ceremony of Christmas Cheeses yesterday, upholding a tradition dating back more than 300 years.

Chelsea Pensioner Leo Tighe, a British Empire Medal recipient who served 25 years with the Irish Guards, cut the ceremonial 24kg Montgomery Cheddar with Dairy Council chairman Ash Amirahmadi.

"It is a great honour to take part in this wonderful ceremony," said Tighe. "I am extremely proud to be representing my fellow in-pensioners here at the Royal Hospital today."

Amirahmadi added: "Cheesemakers across the UK have a great tradition of paying tribute to the courage and contribution made by our war veterans, and this year they certainly didn't disappoint."

The ceremony featured vintage-era performers singing festive classics, followed by a lunch where members of the dairy industry tasted some of the donated cheeses alongside Chelsea Pensioners.