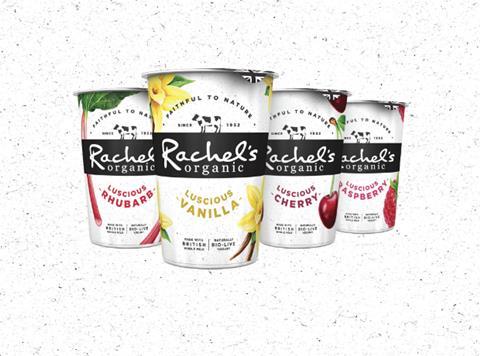 Yoghurt brand Rachel's has launched a new Luscious Big Pot range in four flavours as part of a wider brand refresh designed to amplify its organic heritage.
The Lactalis-owned brand began rolling out the new packaging last week across its range, and launched the big pot yoghurts into Sainsbury's, Ocado and Booths in Vanilla, Raspberry, Rhubarb and Cherry flavours (rsp: £1.99/450g).
The packaging revamp signals the return of the word 'organic' to the brand's logo and the introduction of the tagline 'Faithful to nature since 1952', which refers to brand founder Rachel Rowlands' and her family's dairy farming background.
Rachel's said the new yoghurts were inspired by family recipes "passed down over half a century", and were made with thick yoghurt made from organic Welsh milk, containing no artificial ingredients.
The revamp and NPD launch would be supported by a £1m above the line media campaign, which would "further cement Rachel's position as the trusted organic dairy brand", the brand claimed.
"This new packaging design and range stays true to our core credentials, which are known and loved by our current fans, but also ensures new fans can differentiate our yoghurts as being the best organic yoghurts available in the dairy aisle," said Rachel's marketing director Matthew Brown.
"We are proud of our rich heritage that sets us apart, including the hard work and dedication of three generations of female farmers."
It follows a challenging year for the brand, which saw value sales fall by £4m to £26m in 2018 [The Grocer Top Products/Nielsen], while Rachel's was also a key victim of Waitrose's yoghurt aisle range reset, with the brand losing 12 out of 28 listings at the retailer last summer.