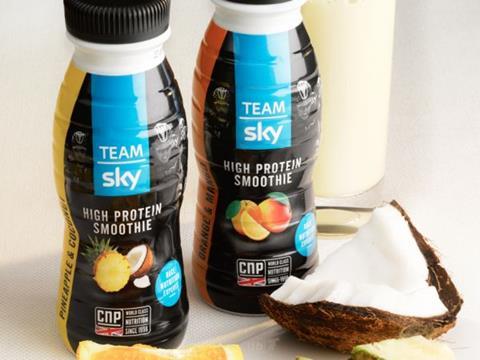 First Milk-owned sports nutrition company CNP has lost the contract to supply cycling outfit Team Sky to its rival Science in Sport.

CNP - which was acquired by the dairy co-op in 2012 - became an official supplier to Team Sky when it launched in 2010, and has since developed bars, gels, protein powders and supplements that helped power the team to victory in the 2012, 2013 and 2015 Tours de France.

The brand also launched a selection of dairy-based high-protein breakfast smoothies and porridges adorned with the Team Sky livery, which were listed by the mults, and seen by industry commentators as a vital tool to enable First Milk to add value to its milk.

But with SiS taking over as Sky's official sports nutrition supplier from 1 January, all Sky products were available on bogof offers on the CNP website this week.

New First Milk CEO Mike Gallacher first raised questions over the future of CNP in May, when he said the struggling co-op had tried and in some cases failed to premiumise parts of its business in the past.

He subsequently ordered CNP interim MD Paul Miley to undertake a strategic review of the company after admitting it and other non-core parts of First Milk had been "dilutive to the performance of the business", which has faced significant financial difficulties over the past year.

A spokesman for First Milk said that following a review of its partnership arrangements, "CNP had agreed with Team Sky that we will end the current marketing and nutritional support agreement at the end of 2015".

The brand's relationship with British Cycling remained unaffected, he added, "and we will continue to work very closely with the [national] squad as they prepare for the Olympic Games in Rio 2016".

SiS counts track cycling legend and Britain's most decorated Olympian Sir Chris Hoy as a consultant and ambassador.

"Science underpins everything we do and we're really proud to be fuelling Team Sky with our industry-leading products next season," said SiS marketing director Ashley Read.

A Team Sky spokesman said SiS would "bring huge expertise and a fresh approach that will really benefit the team".