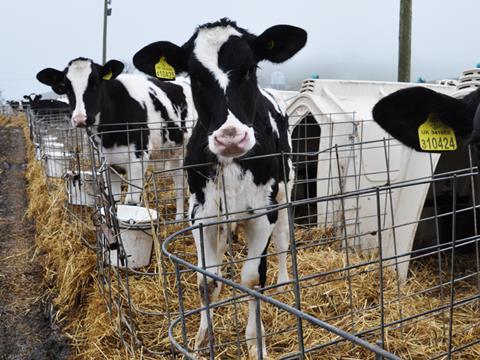 The dairy sector is under attack, and this time low milk prices are not to blame. 'Dairy is Scary' read the headline in a scathing Guardian opinion piece last week, as it claimed the public was "waking up to the darkest part of farming".

The article, by writer and vegan campaigner Chas Newkey-Burden, claimed dairy was proving a "vulnerable spot for the entire slaughter racket", as he reeled off a litany of questionable farming practices linked to dairy production.

It came in the same week an M&S dairy supplier was exposed for keeping calves in cramped conditions, and amid a groundswell of anti-dairy publicity on social media. So why is dairy being targeted now, and what is it doing to fight back?

The Guardian article highlighted the use of allegedly brutal artificial insemination techniques, the forcible removal of calves from their mothers and the use of hormones and antibiotics to keep cows in a "condition to produce an unnatural amount of milk" as examples of modern-day dairy farming.

The dairy sector, led by Dairy UK, AHDB and the NFU, was quick to respond, stating Newkey-Burden set out to deliberately distort the truth, and insisting calf and cow welfare was "at the heart of every good dairy farm".

Dairy UK CEO Judith Bryans says it is "always disheartening to read dishonest and aggressive reports" about the sector, but she insists the UK dairy industry is "amongst the best in the world with some of the highest standards of animal care".

Dairy producers may well find it hard for such arguments to be heard. The controversy comes at a time of intense scrutiny for the sector and amid evidence many people are turning their back on dairy products.
Dairy alternatives
Sales of dairy alternatives are booming, while the FSA's latest Food and You consumer survey - published last week - revealed 22% of people reported having an adverse reaction to cows milk and cows milk products, rising to 46% of people aged 16 to 24.

This compares with official statistics that put the number of people with an actual lactose intolerance at closer to 5%.

On top of that, recent launches of free-range milks have drawn consumers' attention to different dairy farming practices.

It's "no surprise" dairy is now in the firing line, suggests Pasture Promise founder Neil Darwent. "We've failed as an industry to engage with the consumer, and it doesn't help that the supply chain and retailers continue to portray this pastoral image of cows in a field."

He adds: "Many consumers just don't know where milk comes from. Campaigners have done the pig and poultry scare stories, so I expected a backlash against dairy, but I've always questioned why we haven't learnt from those sectors in terms of becoming less intensive."

Indeed, the severity of the recent vegan onslaught has surprised many in the dairy sector, admits the NFU's chief dairy adviser, Siân Davies. She suggests campaigners could also have switched their gaze to dairy because of the ongoing controversy around bovine TB, with many dairy farms located in badger cull areas.

"They daren't have targeted us during the dairy crisis as public opinion was with the farmers, but they've now seen that the market has picked up, and realised now is the time to hit the sector," she adds.

"It's having an effect, and raises questions how the industry faces down criticism," Davies says. "But there's no point going head to head with these people, you're never going to turn them around. What we can do, however, is work to correct misconceptions, and offer guidance to our members on best practice."

Davies agrees with Darwent's point that more can be done to educate consumers and to "not hide away" from how dairy is produced. "Everyone has a role to play in portraying the industry in a realistic manner."

But there also seems to be an air of resignation within the sector that the current focus on its production techniques could be here to stay. "I've been responding to vegan accusations for a number of years," says Bryans. "The main difference between now and the past is campaigners have become more sophisticated. The messages are still spurious, but they are getting greater mainstream pick-up due to their delivery."

This could well be the sector's biggest challenge yet.