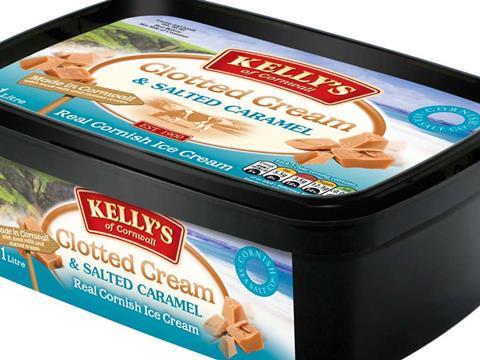 Consumers have hit out at news that Kelly's of Cornwall ice cream - made from locally sourced milk and cream - may no longer be suitable for nut allergy sufferers.
Kelly's is to next year introduce a range of flavours that contain nuts, and has told consumers the use of the ingredients at its production site in Bodmin means its ice cream range will no longer be guaranteed nut-free from late 2015.
Although Kelly's is part of R&R Ice Cream, which operates sites across the UK and Europe, the company has said the provenance of the brand and its "genuine Cornish credentials of being produced in Bodmin, Cornwall, with local milk and clotted cream" means it cannot move production of some Kelly's products to another facility.
Upset consumers have targeted the Kelly's Facebook page with comments such as "You have a huge following of families with nut allergy sufferers. You are going to lose so many loyal customers"; and "Please, please reconsider, my 11-year-old son would be devastated."
R&R marketing head Charlotte Hambling said the business was "very sorry for any impact the introduction of nuts will have on our current customers who suffer with nut allergies".
Sales of Kelly's ice cream tubs have fallen 10.5% to £24.9m [IRI 52 w/e 28 February], and Hambling said the NPD plans had been developed following extensive consumer research. "The results from this research have helped shape our developments, including the introduction of nuts," she added.