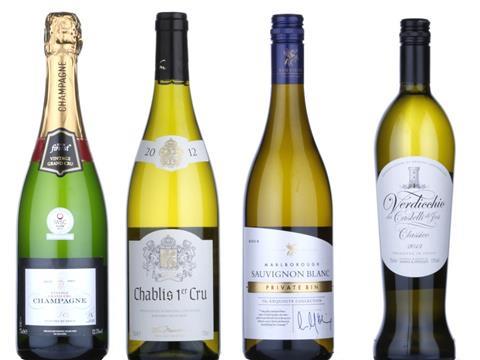 Marks & Spencer has come out on top of the supermarkets in the first tranche of this year's International Wine Challenge, with more than twice as many medals as nearest rival Tesco.
Of 184 medals awarded to supermarket own-label wines, M&S scooped 73 awards: five gold, 21 silver and 47 bronze. Tesco managed 32 gongs, just ahead of Morrisons, which won 30.
Marks's five gold medals were awarded to wines from France, Germany, Italy, Portugal and Spain. They included the 2013 Verdicchio dei Castelli di Jesi Classico from the Marche region of eastern Italy, which retails at £8.
Tesco's 32 medals included four golds, one of which went to its Finest 2007 Vintage Grand Cru Champagne. Morrisons, meanwhile, bagged three golds, including one for its Signature Chablis 1er Cru.
Aldi racked up 10 medals, including a gold for its The Exquisite Collection Private Bin Sauvignon Blanc. Waitrose won 15, but no golds – as did The Co-Operative Group (10), Asda (seven) and Sainsbury's (six).
"We have discovered some outstanding supermarket own-brand wines during this first tranche of the competition, which would definitely bring a touch of elegance to any Christmas table," said IWC co-chairman Charles Metcalfe. "All the major supermarkets performed very well. They have very good buying teams. It's hard work, and Britain is lucky to have supermarket buyers who can source great wines across the entire range and to suit any budget."
The IWC, organised by The Grocer's publisher, William Reed Business Media, is now in its 32rd year. A second tranche of this year's competition opens for entries on Thursday 4 December.
IWC supermarket own-label medal winners
| | Gold | Silver | Bronze | Total |
| --- | --- | --- | --- | --- |
| Marks & Spencer | 5 | 21 | 47 | 73 |
| Tesco | 4 | 8 | 20 | 32 |
| Morrisons | 3 | 14 | 13 | 30 |
| Aldi | 1 | 1 | 8 | 10 |
| Waitrose | 0 | 3 | 12 | 15 |
| The Co-operative Group | 0 | 2 | 8 | 10 |
| Asda | 0 | 3 | 4 | 7 |
| Sainsbury's | 0 | 2 | 4 | 6 |