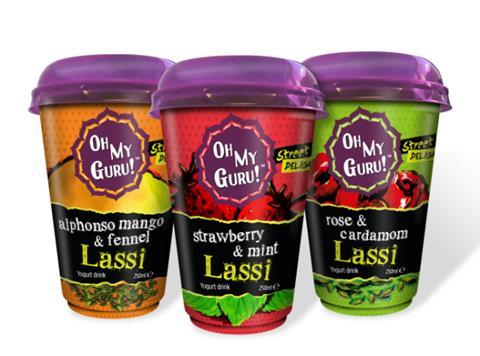 Asian food brand Oh My Guru! has secured listings in 100 Tesco stores across the UK for three yoghurt-based lassi drinks.

The flavours available in the "centuries old traditional summer drink" are strawberry & mint, mango & fennel and rose & cardamom. Targeted at the 'on-the-go' drinks segment, the bottles have an rsp of £1.29 (250ml).

The brand, owned by supplier Gourmet Foods & Beverages, also sells mango chutney potato crisps, and aims to bring an authentic taste of Indian to all ages, said sales and marketing director Vijay Vaidyanathan.
"The current Indian food marketplace is uninspiring and all of it conforms to the stereotypes such as tikka masala, balti and korma, which emerged during the Indian food revolution 50 years ago," he added.
"Were aiming to bring unconventional innovative products full of big and bold flavours in convenient formats to the retail shelves and deliver a taste of new India."