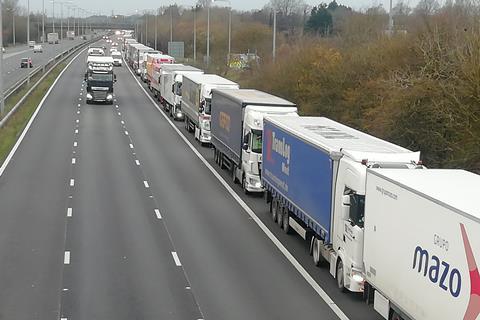 Proposals to test lorry drivers for coronavirus at Dover risk spreading the disease, because those found to be positive will be stranded, haulage chiefs have warned.
The government proposals were a "knee-jerk" reaction that would result in the mixing of drivers who would otherwise be socially distanced in their cabs, according to Road Haulage Association policy director Duncan Buchanan.
The UK government is said to have offered to use the Army to conduct quick-turnaround lateral-flow tests on drivers as a way to secure the reopening of the French border, though France is reported to have reservations about the accuracy of the method.
Buchanan told an emergency session of the Business, Energy & Industrial Strategy Committee this afternoon the plans were a "waste of time" adding: "You are better off having the trucks moving and nobody mixing.
"What we're doing by stopping the drivers and sending them all to a field in the middle of Kent is they're going to start mixing," he said. "This is actually counterproductive."
The RHA also slammed the government over a lack of provisions for drivers, including basic hygiene facilities.
"We don't have confidence the drivers are being looked after properly," said Buchanan.
"Whether that is hygiene facilities, access to food or places to rest.
"They need to know that if the weather turns and there is two feet of snow in Kent they will be safe."
RHA CEO Richard Burnett said later: "Hauliers have been working within the strict Covid protocols since the end of March.
"There are many serious implications to this latest situation, even lateral flow Covid testing will have a massive impact on the supply chain.
"Right now, HGV drivers caught up in this mess have limited access to toilet and washing facilities – the majority have none," he added.
"Denying them even the most basic facilities is not only putting their health at risk, it's exacerbating the very situation that it was supposed to prevent. For example, what will happen to those drivers who test positive?
"They will be unfit to drive but where will they go? They will be unable to quarantine with their families in Europe and what will happen to their vehicles? Who will be responsible for the deep cleaning of their cabs? And for those carrying return loads, what will happen to their cargo? This is going to be an extremely expensive exercise."
For many UK hauliers "already facing a very uncertain future" delivering Christmas goods to Europe would have been a "last-ditch attempt to save their businesses," Burnett added.
"Right now, it looks as though Christmas 2020, for UK and EU truckers alike, is going to be far from happy."
It came as food industry leaders also accused ministers of botching the announcement of a new Covid strain on Saturday by failing to warn ports and industry of the likelihood France would close its border.
"You didn't have to be Mystic Meg to know what was coming," FDF CEO Ian Wright told the committee.