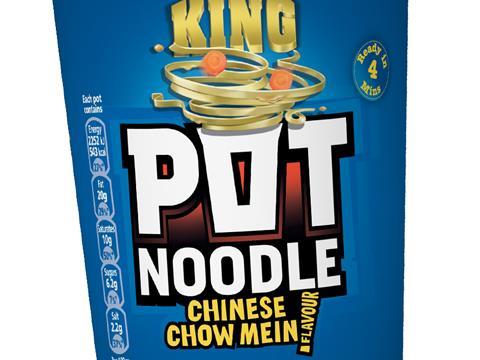 Pot Noodle has unveiled a king sized version of its Chinese Chow Mein variation.

Unilever's instant hot snack brand is confident the launch will drive category value by trading up fans of the hit flavour from the original 90g version to the 114g King Pot.

Chinese Chow Mein, which has one of the highest penetrations of all the Pot Noodle flavours, joins Bombay Bad Boy, Chicken & Mushroom, Beef & Tomato and Original Curry in the larger format. It is listed by Morrisons (rsp: £1.36), with other multiples expected to follow.

"Chinese Chow Mein has been one of our most popular flavours to date, and its addition to the King Pot range is a great way to kick off 2016 for Pot Noodle," said the brand's marketing manager, Monique Rossi.