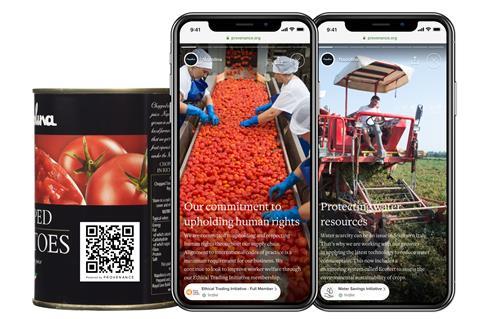 Princes is rolling out on-pack QR codes on Napolina tomato cans in a bid to boost supply chain transparency.
Scanning the codes, which have rolled out across Napolina branded canned tomatoes, takes shoppers to a website explaining where the tomatoes come from, where they are processed, who was involved, as well as their environmental impact and the journey from farming co-operatives to supermarket shelves.
The project will be extended to Princes' seafood products later this month - but only in the Netherlands.
The fmcg giant has also launched a Responsible Sourcing webpage, providing further insight for those who want it.
Princes said the system and webpage had been designed to be consumer-friendly, communicating the environmental and social impact of its products "simply and transparently".
The move would allow shoppers to "better understand the impact behind what they're buying".
"We are very aware that we can only build trust and loyalty with shoppers by giving them meaningful assurance on our brand values of transparency and our sustainability efforts," said Princes commercial director Neil Brownbill.
"By providing on-pack QR codes, we are engaging shoppers with a mobile-friendly experience that is supported by data from our supply chain and the Provenance platform."
It forms part of a wider project by Princes, mounted in partnership with transparency programme Provenance, which it said would "unlock greater supply chain transparency and enhance trust".
Napolina recently suffered a delisting of its entire range of dried pasta at Waitrose – though it held on to its non-pasta SKUs.