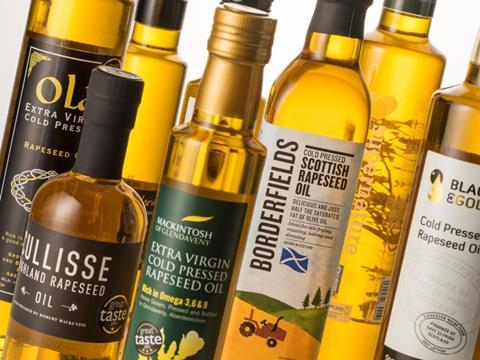 Scottish cold-pressed rapeseed oil could help reduce the risk of heart disease more than oils from other sources, researchers have claimed.
Food scientists from Queen Margaret University (QMU) working with The Scottish Rapeseed Oil Common Interest Group (SRO) – which comprises seven suppliers - compared Scottish oil with a range of products including cold-pressed rapeseed oil from England.
They found the Scottish oil had a more favourable ratio of omega 6 to 3 fatty acids, which is important to a healthy diet, said Dr Jane McKenzie, academic lead for Food & Drink Knowledge Exchange at QMU. Her team's research – which was funded by the government's Scottish Funding Council - showed the average ratio in Scottish oil was 1.8:1, slightly better than the 1.9:1 in cold-pressed rapeseed from other UK sources and the 2.4:1 from non-UK sources. It was also considerably better than the 12:1 in extra-virgin olive oils tested.
Scottish Rapeseed Oil Group members:
Cuillise, CCS Estates, Tain, Ross-shire
Borderfields, Hammond Food Oils, Scottish Borders
Mackintosh of Glendaveny, Peterhead, Aberdeenshire
Ola Oils, Inverurie, Aberdeenshire
Black & Gold, Stevenson Mains Farm, Haddington, East Lothian
Summer Harvest, Crieff, Perthshire
Supernature Oils, Gorebridge, Midlothian
"Our research suggests the fatty acid profile of Scottish cold-pressed rapeseed oil was different from that of oils from other origins and suggests an even more favourable contribution towards dietary factors to reduce the risk of heart disease," she added. "It can contribute a valuable source of antioxidants, which can help protect cells from damage and are important in the fight against disease."
McKenzie said her research findings would be used to help the SRO promote Scottish cold-pressed rapeseed oil in the UK and international markets by providing consumers with more detailed information about the nutritional content.
The Scottish Rapeseed Oil Group, which comprises seven rapeseed growers and producers, was set up by Interface Food & Drink, which aims to link the Scottish food and drink industry with the academic expertise available in Scottish universities.
"SRO has shown how companies that would normally be competing with one another can gain huge benefits by collaborating with one another," said Interface Food & Drink project manager Helen Pratt.
Cold-pressed rapeseed oil – produced by gently squeezing the rapeseed rather than heating it - has grown in popularity in the past decade. Kantar Worldpanel said 4.3% of Scottish shoppers bought cold-pressed rapeseed oil over the past 12 months, with 33,000 shoppers buying the product for the first time.