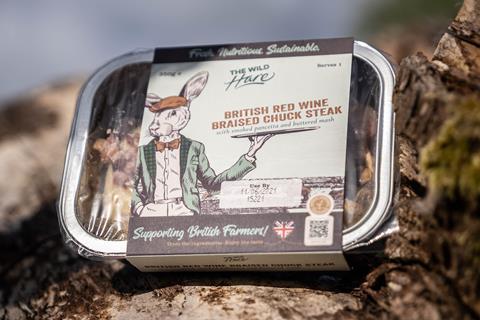 Sustainable ready meal brand Wild Hare has signed a deal with rapid delivery firm Getir to offer a select range for delivery within 10 minutes across London and beyond.
The Wild Hare ready meals – which are cooked fresh every week using produce from high-welfare British farms – are stocked by brands such as Whole Foods, Selfridges London and a handful of specialist retailers.
The deal is "set to enhance the geographical spread of its availability even further" Wild Hare said.
Having expanded across London since the start of the year, Getir is now available in Birmingham, Manchester, Brighton, Cardiff, Liverpool and Bristol, and expected to be operating in 15 UK cities by the end of 2021.
Wild Hare said it had found in Getir a company "similarly committed to environmentally-friendly methods", given it uses e-bikes and e-mopeds to deliver its products, whilst "championing an ethical stance on employment".
"Getir is making amazing strides, whilst maintaining an ethical, principled approach and it's something we're keen to emulate at Wild Hare. Through the partnership, we're hoping to expose as many consumers as we can to sustainably sourced food, and the vast reach and ever-growing popularity of Getir will really help us do that," said Dominie Fearn, founder of the Wild Hare Group.
"Our similar outlooks, married with our super convenient offering, makes our partnership a natural step and we're very pleased and excited to get started," she added.
Since launching in the UK in January, Getir has completed one million grocery deliveries across the UK and hopes to launch in the US before the end of the year. The Turkish company has secured more than $1bn in funding and is now valued at around $7.5bn.
"We are delighted to be working with Wild Hare and look forward to an exciting partnership with them across our ultrafast delivery service," said Neil Franklin, head of buying UK at Getir.
"As we continue to expand across the UK, we are looking to partner with new and popular brands to meet the needs of our ever-growing customer base. Every delivery we make is by e-bike or e-scooter so our silent and emission- free delivery is a perfect fit for Wild Hare – and the UK's net zero plans."
Getir will be stocking the following five Wild Hare meals: British Red Wine Braised Chuck Steak, British Chicken Dhal, Cheesy Roasted Broccoli & Cauliflower Bake, Butternut Squash Curry and Shepherd's Pie.