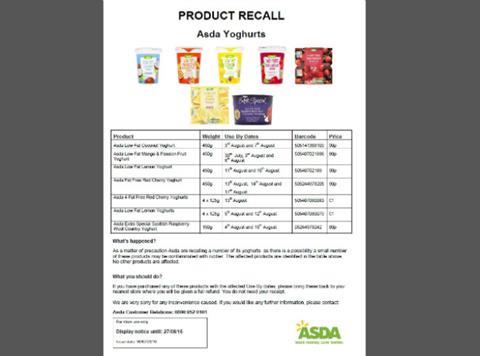 A major recall of own-label yoghurts sold by Tesco, Waitrose, Asda, Sainsbury's and Co-op is under way, after manufacturer Yeo Valley said they might be contaminated with pieces of rubber.
A total of 23 SKUs sold across the five supermarkets – as well as some branded lines from The Collective Dairy – have been pulled from sale, after the Food Standards Agency issued a recall notice on Sunday (31 July).
Consumers were advised not to eat the products, as the presence of rubber represented "a possible risk to health", the FSA said. Instead, consumers should follow point-of-sale advice displayed in the affected retailers.
Yeo Valley sells organic yoghurts under its own brand (which has not been named in the recall) but also has a major own-label manufacturing side to its business.
The company was not immediately available for comment.
Responding to consumer questions on Twitter, the company tweeted the following update:
@Thisisartofglam We can confirm that no YEO Valley branded products are affected by the recall only the products that are listed in (1/3)

— Yeo Valley (@yeovalley) July 31, 2016
Full list of products affected by the recall
Asda
Product: Asda Extra Special Scottish Raspberry West Country Yogurt
Brand: Asda Extra Special
'Use by' dates: 4 August 2016, 15 August 2016
Pack size: 150g
Product: Asda Fat Free Red Cherry Yogurt
Brand: Asda
Pack size: 450g
'Use by' dates: 13 August 2016, 14 August 2016, 17 August 2016
Product: Asda Fat Free Red Cherry Yogurt (4 pack)
Brand: Asda
Pack size: 4 x 125g
'Use by' dates: 13 August 2016
Product: Asda Low Fat Coconut Yogurt
Brand: Asda
'Use by' dates: 3 August 2016, 7 August 2016
Pack size: 450g
Product: Asda Low Fat Lemon 4 pack Yogurt
Brand: Asda
'Use by' dates: 5 August 2016, 12 August 2016
Pack size:4 x 125g
Product: Asda Low Fat Lemon Yogurt 450g
Brand: Asda
'Use by' dates: 11 August 2016, 15 August 2016
Pack size: 450g
Product: Asda Low Fat Mango & Passion fruit Yoghurt
Brand: Asda
'Use by' dates: 30 July 2016, 3 August 2016, 6 August 2016
Pack size: 450g
Product: Collective Dairy Wild Blueberry Yoghurt
Brand: Collective Dairy
'Use by' dates: 6 August 2016, 12 August 2016, 13 August 2016, 15 August 2016, 18 August 2016, 20 August 2016
Pack size: 150g
Product: Collective Dairy Wild Blueberry Yoghurt
Brand: Collective Dairy
'Use by' dates: 9 August 2016, 11 August 2016, 18 August 2016, 21 August 2016
Pack size: 450g
Co-op
Product: Co-op Rise & Shine Greek Style Yogurt and Raspberry
Brand: Co-op
'Use by' dates: All Use By dates up to and including 4 August 2016
Pack-size: 160g
Product: Co-Op Strawberry and Raspberry Low fat Yogurts (4 x 100g)
Brand: Co-op Low Fat
'Use by' dates: All Use By dates up to and including 15 August 2016
Pack size: 4 x 100g
Product: Co-op Truly Irresistible Limited Edition Mango, Brazilian Orange and Coconut Yogurt (150g)
Brand: Co-op Truly Irresistible
'Use by' dates: All Use by dates up to and including 8 August 2016
Pack size: 150g
Sainsbury's
Product: Sainsbury's Basics Fruit Selection Yogurts (2x strawberry 2x peach)
Brand : Sainsbury's Basics
'Use by' dates: 30 JUL through to 18 AUG
Pack size: 4 x 125g
Product: Sainsbury's Basics Strawberry Yogurt
Brand: Sainsbury's basics
'Use by' dates: 30 JUL through to 17 AUG
Pack size: 125g
Tesco
Product: Tesco Finest Strawberries & Cream Yoghurt
Brand: Tesco Finest
'Use by' dates: 30 July 2016, 4 August 2016, 7 August 2016, 12 August 2016, 16 August 2016
Pack size: 150g
Product: Tesco Low Fat Coconut Yoghurt 450g
Product: Tesco
'Use by' date: 8 August 2016
Product: Tesco Low Fat Lemon Yoghurt
Brand: Tesco
'Use by' dates: 5 August 2016, 10 August 2016, 11 August 2016, 14 August 2016, 18 August 2016
Pack size: 450g
Product: Collective Dairy Wild Blueberry Yoghurt
Brand: Collective Dairy
'Use by' dates: 6 August 2016, 12 August 2016, 13 August 2016, 15 August 2016, 18 August 2016, 20 August 2016
Pack size: 150g
Waitrose
Product: 125g Deliciously fruity raspberry low fat yogurt
Pack Size: 125g
'Use by' dates: 30 JUL through to 15 AUG
Product: Fragrant, creamy Scottish raspberry yogurt
Pack Size: 150g
'Use by' dates: 30 JUL through to 15 AUG
Product: Multipack Deliciously fruity low fat yogurt 2 strawberry, 2 raspberry
Pack Size: 4x 125g
'Use by' dates: 30 JUL through to 15 AUG
Product: The Collective Dairy wild blueberry yoghurt
Brand: The Collective Dairy
Pack Size: 450g
'Use by' dates: 6 August 2016 through to 21 August 2016
Product: The Collective Dairy Wild Blueberry Yoghurt
Brand: The Collective Dairy
Pack size: 150g
'Use by' dates: 6 August 2016 through to 21 August 2016