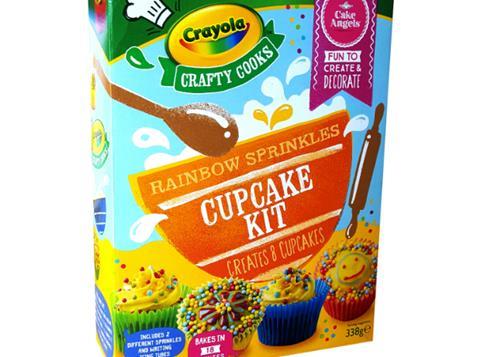 Fiddes Payne baking decoration brand Cake Angels has unveiled two Crayola-themed baking kits for kids.
Available in Sainsbury's from September, the Crayola Crafty Cooks Rainbow Sprinkles Cupcake Kit (rsp: £2.50/326g) features cupcake cases, sponge cake mix, rainbow crispies, edible confetti, writing icing tubes, and green and yellow icing sugar.
The second NPD, the Crayola Crafty Cooks Let's Bake Yummy Wildlife Friends Gingerbread Kit (rsp: £2.50/338g), includes cookie mix, cutter, red and yellow icing sugar, and colourful icing pens.
Cake Angels hopes the new products – which contain 100% natural ingredients – will increase children's social skills as they bake together, gaining "the power to express all that inspires them as they explore, discover, play, pretend and dream".
"Everybody's familiar with Crayola, and we are delighted to team up with the brand, which is loved by adults and children of all ages," said Maggie Walker, senior marketing manager at Fiddes Payne.
"We know parents and grandparents really value the time spent with their children in this type of hands-on, fun activity, and it brings friends and family closer as they create something together," she added. "We hope the new range will inspire and enable children to get even more arty and playful in the kitchen."