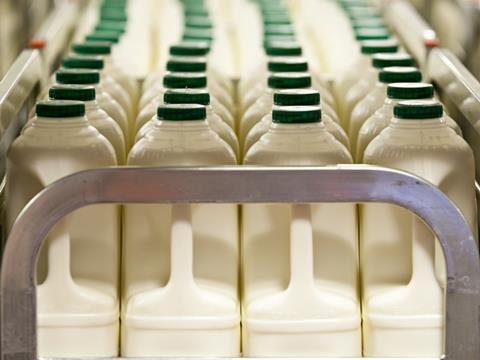 Dairy Crest Direct's new status as an EU and UK government sanctioned Dairy Producer Organisation (DPO) is a "major step forward" in putting the industry on a stronger footing, farming minister George Eustice has said.
Speaking at the official launch of the DPO last week, Eustice said the body – which represents the 1,050 farmers supplying milk to Dairy Crest, now had "greater power to negotiate the price of milk and give themselves more clout in the market place." Eustice encouraged other dairy farmers to look at adopting the model.
Currently, Dairy Crest Direct (DCD) has no official authority to negotiate on behalf of its members, with all contractual agreements at the discretion of Dairy Crest.
However, under the new DPO rules, the body will – from July – be permitted to collectively represent its members on milk price and contract terms with buyers, effectively giving it some of the powers of collective bargaining that co-operatives have.
"At a time when the UK dairy industry is facing considerable challenges, and when so many dairy farmers have no formal representation at all, I am determined to provide our members with a range of options to help in the management of their individual businesses," said DCD chairman David Herdman.
"The legitimacy, accountability and rigour provided within a DPO structure helps to future proof effective farmer representation in a fast evolving marketplace," he added.
"Let this be a sign to others in the industry that it's vital to have strong producer representation in the dairy sector – something that our dairy farmers crucially need, especially in times of market downturn such as now," said NFU dairy board chairman Rob Harrison.
"Now we need farmers across the UK to recognize the strength they can achieve through being part of a DPO, and crucially we need milk buyers to recognise and work with DPOs once they are established."