Bagged snacks have emerged as a prime area for M&A as the big boys buy up the likes of Tyrrells and Pipers
Britain's got the munchies. Last year the supermarkets shifted 12.3 million extra kilos of bagged snacks. That's an additional £148.6m, taking the total market to over £3.2bn [Kantar 52 w/e 30 December 2018].
Those numbers are looking pretty tasty. So much so, in fact, that it's not just consumers tucking in. Some of the world's biggest fmcg companies are on a snacking buying spree.
The past year has heralded numerous high-profile deals. KP Snacks owner Intersnack snapped up Butterkist, Popchips and Tyrrells (whose trademark characters are pictured above). Tayto took a punt on the Real Pork Crackling Co, Pop Notch and Bite UK. Unilever bought Graze for £150m and PepsiCo took Pipers Crisps for £20m.
Simon Peacock, partner at M&A advisory Alantra, confirms this is a sea change for the sector. "We saw a flurry of deal activity in bagged snacking, with 11 deals completed throughout 2018, all by trade buyers, which is unprecedented in the UK snacking industry."
So, what's driving all this? Will it continue? And which brands could be bought next?
There are many, well-rehearsed reasons behind the snacking boom. Society is cash rich and time poor, resulting in more of us eating on the go. The more Brits rely on snacks, the more variety they demand - particularly in terms of healthy options. Then there's the rise of the 'big night in', meal deals and consumers' growing culinary adventurousness, which are helping drive growth in premium snacks.
Startups are queuing up to plug the gaps in the market. Brands such as Graze, Popchips, Hippeas and Fulfil have pioneered healthier snacking. Ten Acre, Fairfields Farm (which acquired Ten Acre last year), Corkers Crisps and others have helped push hand-cooked crisps beyond the sharing fixtures dominated by Kettle, Tyrrells and premium own label.
"Retailers are crying out for products that distinguish them from the competition"
"This is a good time for entrants with new ideas, brands and concepts because retailers are crying out for products that distinguish them from the competition," says Shaun Browne, MD and co-head of UK corporate finance at investment bank Houlihan Lokey.
"The younger generation is less brand loyal. They're looking for new products that excite them, that are more eco-conscious, maybe support charities and are different from the establishment. They like to 'discover' new brands and use them to show how discerning they are. They want something more exotic than a bag of Walkers."
As these new players reach critical mass, they are attracting the attention of the giants. This comes at a time of critical change elsewhere in the market. "Increased M&A activity has been influenced by the battle for market share between the big four and the discounters," comments Ged Gould, senior director at private equity investor LDC.
"There's been an element of consolidation across the food supply chain as the major supermarkets look for ways to simplify supply chains and drive down costs and complexity in order to compete more effectively with the discounters. In addition, the weak pound resulting from the 2016 Brexit vote made UK targets more attractive for overseas buyers."
Overseas players hover
For proof of the appeal to overseas players, look no further than German giant Intersnack. It bought KP for £500m from United Biscuits (now Pladis) back in 2013. Since then, it has scaled up its ambitions. Not only has it turned around KP's core portfolio, but it has also added Butterkist, Tyrrells and Popchips to its roster of brands.
"The core KP portfolio has grown by £51m in the past five years; if we add Butterkist, Tyrrells and Popchips to that, our overall growth is £93.2m in just five years," says KP sales director Andy Riddle, quoting Nielsen sales figures for 2013 and last year.
"To put that in context, the bagged snacks market has grown by £294.4m, so KP has driven 32% of growth. We were very clear when Intersnack came in that our first job was to get the core portfolio firing and then we'd look to strategically acquire. That's what we're doing now."
These acquisitions were, as Riddle says, highly strategic. "Hand-cooked crisps were a missing piece of our offering, so Tyrrells was a perfect fit. With better-for-you snacking an important part of what we're looking to do, when we spoke to Popchips - the most successful branded launch of the past five years, contributing £22.5m to category growth - it seemed like an opportune moment to add it to the platform."
The lure of up-and-coming new markets also persuaded PepsiCo to join the acquisitions game. It has tried multiple times to enter the healthy and artisan snacking arenas on its own. Reduced-fat snacks Walkers Pops, launched in 2014, have since sunk without trace. And Walkers Market Deli saw sales sink by more than a fifth to below £3m [Nielsen 52 w/e 29 December 2018].
So it decided to look outside its portfolio with the purchase of Pipers in February. "It's a recognition hand-cooked crisps are a substantial part of the market and they need to be part of it," says one M&A expert.
Not only will it offer an entry into hand-cooked crisps, but some suggest the acquisition will allow the manufacturer to develop a 'good better best' proposition. That would put Walkers and Doritos at the entry level, Sensations and Market Deli at mid-tier and Pipers at the top. Plus, it will give PepsiCo a stronger hand in new channels.
"Pipers Crisps offers a slightly nuanced appeal and is geared towards the more premium end of the foodservice industry," says Cyrille Filott, global strategist for consumer foods at Rabobank. "Clearly, it's very difficult for Walkers to reach every part of the market, so Pipers represents a strong addition to PepsiCo's portfolio.
Will Hayllar, partner and head of consumer goods practice at OC&C Strategy Consultants, also sees it as a shrewd move. "It's difficult for a hugely successful but ultimately mass market brand like Walkers to be credible in the premium segment," he says. "The acquisition of Pipers is another step in that direction and demonstrates that it's hard to serve everyone with one brand in a world where consumer needs and motivations often fragment."
As we've seen, smaller players that are closer to the ground - and typically founded by people with passion for the emerging trend they are serving - are often better placed to build a following than the big corporates. Once these brands have reached scale among devotees, a corporate buyer can use their scale and established routes to market tobring them into the mainstream.
"Global businesses often have to spend to capture the hot snacking brands of the moment"
"Global businesses simply aren't structured to deliver groundbreaking innovation from within, so often have to spend exorbitant sums to capture the hot snacking brands of the moment," says Richard Taylor, managing partner at design agency Brandon.
"The recent Graze sale to Unilever for £150m, or RXBar's $600m sale to Kellogg's, are two cases that come to mind. Graze is a brand that started as a direct-to-consumer model and moved into convenience and then into the big four. RXBar went big for its simple ingredients and attitude that formed an identity everyone wanted to be a part of."
Big deals gallery: key M&A activity in snacking
The corporate effect
One criticism of these corporate buyouts is their ability to stifle the startup culture and slow the pace of innovation. But in snacking, it has more often than not acted as a catalyst for NPD. Since the 2013 Intersnack buyout, KP's marketing investment and NPD output has visibly ramped up a notch. Notable launches include McCoy's Chips, Hula Hoops Puft and Big Hoops. Other acquisitions have had a similar effect. Kellogg's 2012 purchase of Pringles preceded a busy few years in terms of flavour and format innovation.
Granted, these new products haven't always hit the mark - see the loss of distribution for Pringles Tortillas and the demise of McCoy's sharing bags - but they are evidence of a more innovative corporate culture.
That shift is coming alongside the development of brand incubator schemes, which also seek out new, exciting propositions.
Britvic has Wisehead Productions, responsible for brands including the London Essence Co and Thomas & Evans No 1, and PepsiCo has recently set up design studios around the world to develop new propositions.
That focus on innovation means M&A activity isn't likely to die down any time soon. "The nature of the food and snacking market is that there is always something new on the horizon," says Till Dudler, MD at Accenture Strategy. As he points out, many products have a "very local nature" - and the easiest way for giants to get in on those credentials is through a buyout.
OC&C's Hayllar says meat snacking will be one area to watch in M&A, as "many of the major players don't yet have an offering". "Likewise, it is interesting to see the emergence of other vegetable-based snacks, like Hippeas, which may be complementary to the portfolios of big snacking players."
Indeed, Hippeas has already attracted investment from the likes of Leonardo DiCaprio and consumer brand specialist Strand Equity Partners. So potential interest from a major snacking player doesn't seem that far-fetched.
That a chickpea-based snack has attracted the attention of a Hollywood star perhaps tells you everything you need to know about this market. Tastes and consumer habits are rapidly evolving beyond the standard crisp. And unless the giants continue taking a stake in this rapid innovation, they face being left behind the curve.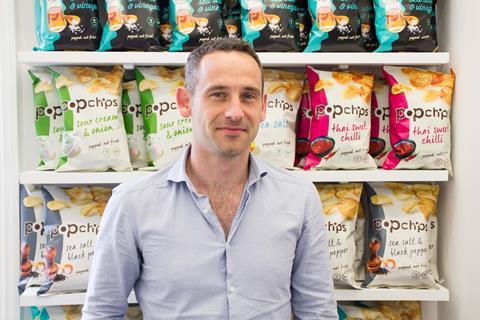 What next for Popchips following Intersnack deal?
In July 2018, Intersnack announced its third UK acquisition in a year: Popchips Ltd, which owns and operates the brand in the UK and Europe. Following the deal's completion last week, we caught up with former MD and UK founder Will Bowler to find out more.
When and why did you set up Popchips? I launched Popchips in the UK in 2012. The brand is originally from California and our previous investors still own the US business. It was created by a San Francisco entrepreneur called Keith Belling who wanted to shake up the category and create a product that was satisfying without being deep fried.
Who was your first major listing with? We were really lucky to launch with a number of great partners but the biggest listing on day one was Waitrose.
Snacking is a market dominated by giants. What challenges did this pose? The big companies and brands spend more on advertising than we were able to, which meant we had to take a different approach – focusing on one snacker at a time rather than big TV campaigns. The big brands also dominate feature space in supermarkets. However, UK retailers have increasingly looked to balance the big deals with the best mix of promotions.
How would you describe your approach to marketing? We spent a large proportion of our budgets on field and influencer marketing. As the brand grew, we were able to scale this but also increase our spend in broadcast media like outdoor billboards.
What attracted KP Snacks to Popchips? We have known the team at KP Snacks for a while and have always felt it was the right long-term home for the brand, as they are really focused on ensuring they have the right portfolio to meet the broadest range of consumer needs and occasions.
What's next for the brand? KP plans to continue the rapid growth Popchips has seen and introduce more people to the brand. I am confident Popchips will go from strength to strength.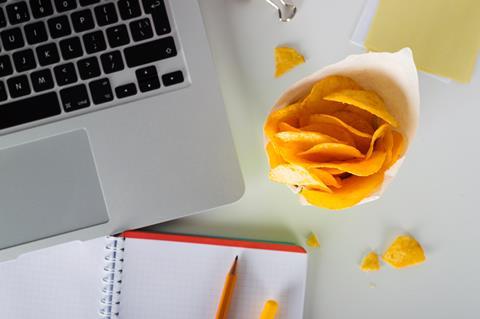 What to do with a brand once you've bought it
When Ben & Jerry's shareholders agreed to sell to Unilever in 2000, founders Ben Cohen and Jerry Greenfield feared their ethical stance would be lost.
But since the deal, Ben & Jerry's has continued campaigning: it's now a pioneer of the Freetrade movement and has supported issues including same-sex marriage. It's also grown to become the UK's biggest tubbed ice cream brand. So, what can acquisitive bagged snacks players learn from this?
"Smaller brands are in vogue right now and their cultures are among their biggest assets, so retaining the culture post-transaction is important," says Harsha Wickremasinghe, head of business intelligence at M&A advisory firm Livingstone. "If a large corporate buys a small, innovative snacks business and the culture is lost, a lot of the reason for making the acquisition has been lost as well." He cites Amplify's acquisition of Tyrrells as one example.
KP owner Intersnack now has two challenges as it takes over Tyrrells: to make savings through scale, and inject value back into the brand.
"Reducing costs will be an easier win," says Shaun Browne, MD and co-head of UK corporate finance at investment bank Houlihan Lokey. "The smart move would be to keep the manufacturing at Court Farm, because you keep the heritage and the story alive. But you move functions such as distribution, sales and marketing to Slough (KP's HQ). Centralising these functions is where Intersnack gets its money."
Similarly, it is understood that PepsiCo is planning to keep production of its latest acquisition, Pipers Crisps, at its Lincolnshire home. The brand was set up in 2004 by three Lincolnshire farmers. In 2008, director Alex Albone, who built the Pipers brand primarily through the pub trade, pledged to never sell through Tesco.
That might be one brand value PepsiCo might have trouble maintaining.