The Easter bunny was left disappointed last Easter, as egg sales tumbled by £36m. With Easter again in doubt due to Covid, what's in store?
Someone's not a happy bunny. Well, nor would you be if you'd missed out on the biggest sales bonanza British supermarkets have ever seen. As Covid-19 and the first lockdown were driving a 9.1% surge in grocery sales [Kantar 12 w/e 19 April 2020], Easter eggs weren't at the top of most shopping lists.
Sales of chocolate eggs and novelties slumped 10.4% to £305.3m on volumes down 2.6% [Kantar 16 w/e 21 April 2020]. The decline, worth £35.5m, was driven by dismal sales in the build-up to a locked-down Easter, followed by a fire sale in the wake of the event as the supers tried to shift excess stock.
"Many retailers and brands were discounting stock for weeks and even months after Easter," says Carol Oldbury, MD of premium own label and branded manufacturer Hames Chocolate, pointing to the 7.8% decline in average price in Kantar's numbers. "Due to the health crisis, most major retailers and manufacturers had leftover stock after the Easter weekend. This undoubtedly affected the average sale price of Easter eggs."
No one would blame the Easter Bunny for hanging up its bonnet and waiting for all this to blow over. But that's not an option for retailers, which depend on Easter as the second biggest sales opportunity of the year. So what's in store for Easter 2021?
"Many retailers were discounting eggs for weeks and even months after Easter"
Of course, the key problem last year was that retailers had anticipated demand in line with previous Easters. At the time buyers were making orders, no one could have imagined that, by Easter, we would be banned from mixing with other households or leaving our homes except for specific reasons.
Predicting anything right now is difficult too. But one thing seems certain: Easter 2021 will be anything but normal. With fewer people visiting stores to minimise the risk of infection, the impulse market has been hobbled. Even if restrictions are loosened following the rollout of vaccinations and a fall in the infection rate, there will be fewer family get-togethers, so fewer eggs bought as gifts.
Retailers are therefore approaching Easter "with caution" and ordering less stock, says Oldbury. "We can expect as we get nearer to the time this will be reflected in store and online, with some retailers running out of chocolate eggs altogether," she adds. "Although Easter eggs are often on display from January, the majority of sales are made in the immediate run-up to the occasion. Suppliers traditionally have a short window of sales opportunity."
Stock control
Better to run out having cleared your stock at full price than be left with excess eggs that you're forced to sell off cheap after the event. But with the government doing more u-turns than a new Deliveroo recruit right now – the PM shut schools on 4 January just a day after vowing to keep them open – getting the balance right is going to be difficult.
"It is going to be very tricky," says Emma Perrett, marketing controller at vegan chocolate brand Nomo. "We're really going to need to rely on the retailers getting their full ranges out as soon as possible and getting them in front of consumers. Last year, Tesco had its full range out and promoted early in February and did well because of it."
"It's going to be very tricky. We need to rely on retailers getting their full ranges out ASAP"
Relatively speaking, at least. Value sales of Easter confectionery fell 9.9% at Tesco last year [Kantar], which hardly seems worth celebrating until you consider the much greater losses suffered by Sainsbury's, Waitrose and Asda. Morrisons was the only one of the big four to see sales of Easter confectionery grow, with value up 7.6%.
"One of the reasons why Morrisons grew its confectionery sales during Easter 2020 is that it focused on Easter earlier than other retailers and enjoyed good sales before the pandemic took hold," says Oldbury at Hame Chocolate. "Lower stock levels could have meant there was less need to heavily discount prices when lockdown stalled sales."
Covid-19 aside, there are other challenges facing confectioners and retailers this year. Easter Sunday falls on 4 April, a week earlier than in 2020 and towards the beginning of the four-week window in which it can occur (22 March to 25 April). This narrows the timeframe in which seasonal Easter products can be sold and increases the pressure on retailers to get eggs under the noses of their shoppers.
"We know in the early months, people seek a little treat to beat the winter blues – enough that this period drives 30% of the category's total sales across the season," says Mars marketing portfolio director Christine Cruz-Clarke. "While shoppers aren't thinking about Easter Day just yet, new and exciting seasonal products can encourage permissible and impulsive treating."
"When lockdown came in shoppers focused on staples. No one was buying Easter gifts"
Of course, the order to stay at home three weeks before last Easter hit the impulse market hard in 2020. "It was massively hard for everyone," says Tracy McDonnell Goad, MD of premium chocolatier and fudge, brittle and honeycomb manufacturer Buttermilk Confectionery. "That was when Covid was all very new. Lockdown had just come in and shoppers were focusing on staples. No one was buying Easter gifts. People were so nervous in stores."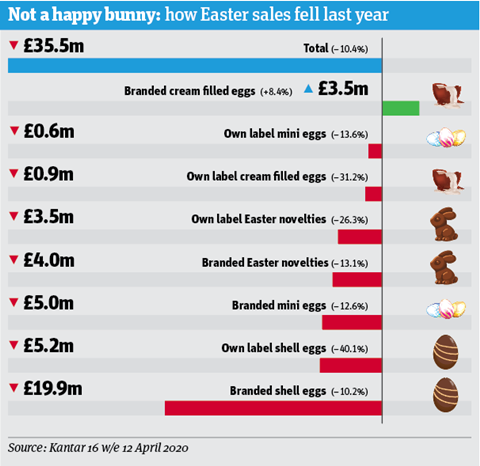 Ouch. Sales of Easter and spring seasonal confectionery melted away in the wake of Covid-19's spread across Britain last year. Value fell 10.4% on volumes down 2.6%.
But, as Kantar analyst Sophie Ellis explains, this performance was actually stronger than other Easter-specific categories, such as hot cross buns. "Total fmcg Easter categories declined by 17% versus 2019 due to lockdown," she says.
"Older shoppers impacted the category the most as they were more likely to be staying at home – as an example, retired shoppers spent £22m less than in the previous year," she adds.
Less engagement from elderly shoppers affected the Easter confectionery market in two key ways: this age group tends to buy more premium products, so sales of pricier lines were hit. Plus, many purchases made by the elderly are typically bought as gifts, but with far fewer families getting together, the gifting market suffered.
Only branded cream-filled eggs are up, by 5.9% on volumes up 12%. With such lines sold at impulse fixtures from the new year onwards, they were less affected by lockdown. Retailers also slashed prices to shift stock.
Cream-filled eggs
It might therefore come as a surprise that cream-filled eggs were the only Easter confectionery category to achieve growth last year, given that they rely heavily on impulse sales. In value terms, sales climbed 5.9% and volumes rose 12%. This is partly because most lines were on sale long before most of us had even heard of Covid – though the much higher volume growth also reflects the huge mark-downs retailers had to make later on.
Indeed, on the Tuesday after the Easter weekend, Tesco – which accounts for £1 in every £3 spent on Easter eggs – slashed the price of small Cadbury Easter Eggs to as low as 18p. Larger Easter eggs were down from £4 to £1 and single Cadbury Creme Eggs were being sold for 29p, down from 50p. All the other major retailers were also forced to slash prices, driving a 2.2% point increase in share of sales on deal [Kantar].
Easter novelties suffered the worst of any subcategory last year, haemorrhaging £7.5m or 17%. Meanwhile, shell eggs – by far the biggest category of Easter confectionery –suffered a 12.1% (£25.2m) drop. "We were hugely impacted," says Nomo's Perrett. "We normally see 80% of our sales in the two weeks before Easter, and we don't have any impulse lines that tend to drive earlier purchase."
"There's more focus on sharing formats, in line with what we're seeing in confectionery"
The fall in demand and the ensuing fire sale are also writ large on the performance of Easter's biggest chocolate egg brand: Cadbury Creme Egg. Full-year sales fell 10.1% on volumes down 2.6% [Nielsen 52 w/e 8 September 2020]. "Shopping habits have undoubtedly changed over the past year and will continue to evolve as Easter approaches," says Mondelez trade communications manager Susan Nash.
"This of course results in some formats within general confectionery becoming, at times, less popular with shoppers, particularly those designed for on-the-go consumption," she adds. "This may have some impact on sales of smaller Easter novelties this season too, with some shoppers preferring instead to pick up larger-format sharing packs, gifting products or shell eggs."
Formats
Nomo's Perrett shares that view. "There is a lot more of a focus on sharing formats this year, in line with what we're seeing in everyday confectionery," she says. "Small and medium shell eggs are what I see the retailers really trying to drive mass purchase with."
If retailers can make the most of these lines, it seems unlikely that this Easter will be as much of a flop as last year's. For one, Covid doesn't have the element of surprise that it had last year. Plus, many suppliers were forced to up their online game in response to the pandemic in 2020, which places them in good stead for the coming Easter rush. "As we saw at Christmas, online food buying jumped," says Kevin Flynn, director of retail at tech firm ThoughtWorks. "This gives us an indication of what to expect over Easter."
At present, there's nothing on the major retailers' websites akin to aisles stacked with Easter eggs that you'll typically see in stores, but many expect them to invest far more in e-commerce this year. Waitrose, which has a dedicated Easter store page on its website, says there are signs that this year's will indeed be stronger.
The retailer says searches for the word Easter on its website are already up 266% on last year, while queries for Easter eggs were up 300% over 28 December to 5 January. To meet that demand, Waitrose is betting big on its own-label ranges, with new additions to its No.1, Waitrose Easter and Heston lines including chocolate truffles, pomegranates, hens and a 'squiggle' egg.
"The earlier Easter falls, the better for roast dinners as the weather is colder and wetter"
That could be a savvy shout, given that many expect demand for more premium Easter treats to go through the roof following a winter of isolation. "My view is 2021 will be better because we have got into the habit of shopping this way," says McDonnell Goad. "With this new lockdown there has been less stockpiling. People want to treat themselves. This will help premium brands."
More mainstream brands (confectionery or otherwise) are also banking on a stronger year. Indeed, Aunt Bessie's marketing head Sam Dolan says the earlier Easter could stand in her brand's favour. "The general rule is the earlier Easter weekend falls in the year, the better, as the colder, wetter weather makes a roast dinner more appealing," says Dolan, adding that roast dinners have remained popular throughout the pandemic.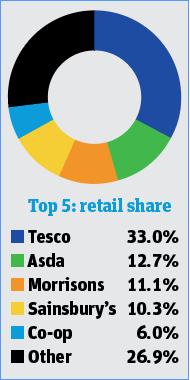 The differences in the major retailers' confectionery sales last Easter reflect a number of different factors. Chief among them is the extent to which they were forced to sell off excess stock at marked down prices after Covid-19 put a dampener on the build-up to the long Easter weekend in 2020.
Overall sales on deal stood at 47.4% in the 16 weeks to 12 April, up from 45.2% in the comparable period a year earlier.
Morrisons was the only one of the big four to grow sales. "Morrisons enjoyed an increase as shoppers purchased more volume per trip, driven by shell eggs," says Kantar analyst Sophie Ellis. "Although more volume went through on temporary price reduction promotions (than in 2019), full price sales added proportionately more than those on deal."
How early retailers began merchandising Easter eggs and the like also had an influence, as this helped drive a greater proportion of full-price sales.
Ellis points to Lidl as an example. "Lidl gained new shoppers and existing shoppers purchased more often. New shoppers mainly came in via mini eggs, including own label mini eggs, which added 156k new shoppers, and brands, which accounted for over 160k new shoppers."
The Co-op's relatively strong performance reflects the more general switch to smaller neighbourhood stores after lockdown began on 23 March.
Family gatherings
"We have found many people have been cooking a roast dinner at home for the first time as they seek to recreate family traditions in the absence of being able to physically come together," she says. "Easter represents a significant peak in demand for roast dinners and associated products such as roast potatoes, Yorkshire puddings and petits pois."
No one dares suggest that family gatherings could be possible by Easter, through fear of tempting fate. But whatever restrictions are necessary by then, confectionery brands think we will be in need of a boost. "Having had to remain away from loved ones during the pandemic has left many people feeling sentimental and more appreciative than ever," says Levi Boorer, customer development manager at Ferrero.
Ferrero is betting big on movie licensing deals with 100g eggs spanning franchises such as Black Panther, Thor and Captain Marvel, and a larger range of 220g eggs featuring Minions ahead of the latest film in the children's series in the summer. Mars, meanwhile, is pinning hopes on its biggest brands – Maltesers and Galaxy – to drive growth in the lead-up to Easter. "In previous times of uncertainty, we've seen consumers typically turn to mainstream brands they know and trust," says Mars' Cruz-Clarke.
Cadbury is also banking on that with the rollout of Peter Rabbit branding across much of its Easter range to mark the Netflix release of Peter Rabbit 2 on Good Friday. Mondelez is also launching new Fruit & Nut and White Oreo shell eggs and giving shoppers the chance to win £5,000 by finding one of 200 hidden golden Cadbury Creme Eggs to mark the brand's 50th birthday celebrations.
You have to feel for the brand. After all, if Covid-19 has proven anything, it's its ability to spoil a celebration.
Innovations in Easter 2021