Forget joke shop fangs, eyeholes in bed sheets and bones painted on your mum's old tights. Halloween has become the festival of creepy chic. Hip young things are spending growing amounts on dressing to kill at ghoulish gatherings every October - and fmcg wants in on the action.
The biggest brands in cosmetics, clothing, confectionery, beer, bakery, soft drinks and even one of the world's oldest champagne houses are all looking to cash in on Halloween's evolution. Their efforts are going far beyond sticking a jack-o'-lantern on a limited-edition label. To get noticed in today's environment, they have to scare the bejesus out of consumers.

Last year, Fanta gave us the chance to experience (in VR) being in a lift falling to earth from 13 floors up. Veuve Clicquot staged a sell-out event based on the seven deadly sins. Illamasqua and YSL ran in-store tutorials on creating freaky yet chic Halloween looks. Budweiser did King of Fears, a haunted pop-up fancy dress shop and a Nightmare Circus Party.

So what impact did all this have on sales? With the supers unlikely to ever dial up the fear factor as much as the brands - Bud's killer clowns were frankly terrifying and Veuve's sins were as raunchy as they were deadly - how can they cash in without alienating those of a more fragile disposition? And what's in store this Halloween?

One thing's clear: Halloween is becoming as key a date in fmcg's yearly sales forecasts as it is in young adults' social calendars. Its exact worth depends on who you talk to, and what exactly you count as Halloween spend. Mintel puts the total at close to £400m. Kantar Worldpanel, which only includes pumpkins, confectionery and bakery, says last year's Halloween was worth £117m to the supers.

Though estimates differ, analysts agree Halloween is now the fourth most significant sales opportunity for the supermarkets after Christmas, Easter and Ramadan. They say the festival's growth is being driven by a surge in new shoppers.
"You see a real split in demographics: 85% of parents of children under five buy into Halloween and they're still the biggest part of the market, but the other important and fastest-growing demographic is young millennials born between 1990 and 1999," says Mintel retail analyst Chana Baram.
"The fastest-growing demographic buying into Halloween is young millennials"
"Seventy-seven per cent of this age group participated in Halloween events in 2017 compared to around 60% in 2016. These people are spending a lot more on experiences rather than actual 'things'. So, when it comes to Halloween, they are looking to buy an experience and socialise with friends."

If it's an experience they're going for, young shoppers want to look the part. Kantar notes that 38% of consumers dressed up last Halloween. Hence the growing interest fashion and cosmetics brands are paying the event. Topshop tipped the 'corpse bride' and 'intergalactic goth' as key looks for Halloween 2017. It also teamed up with Netflix for an immersive experience to celebrate the launch of cult horror series Stranger Things 2 at its Oxford Circus flagship store.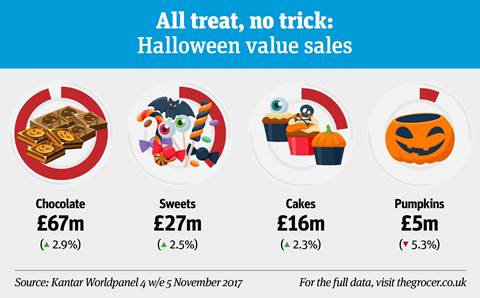 Find the full data at the bottom of this report
Creating an experience
While Topshop, Claire's, New Look and the like encouraged shoppers to create their own looks with seasonal ranges, the supermarkets went for a more off the peg approach. Costumes and decorations have become big business for the supermarkets, as the big four sell outfits for all age groups from adults to babies. To prove how serious it was about the event, Sainsbury's last year staged a 25% off sale for its Tu clothing and costumes just in time for Halloween. Its target market clearly went beyond kids. The supermarket predicted sales of adult costumes would double due to the influx of millennials.

Nielsen figures suggest this approach is on the right track. "Last year's figures show that 64% of sales went towards merchandise such as costumes and decorations," says sales effectiveness partner Joanna Parman. "Twenty per cent of sales accounted for confectionery, and 16% for pumpkins, though this number is in decline after a 12.2% drop in sales from 2016."

Indeed, as more Brits use Halloween as an excuse to dress up and get together, non-food is emerging as a winner. Wholesaler Tobar, which supplies everyone from Sainsbury's and John Lewis to garden centres and independents with toys and novelties, has noticed a surge in sales of indoor fireworks and adult-orientated Halloween products.

"Tobar has identified revenue is 45% higher in October against September and this is in no small part due to Halloween," says CEO David Mordecai. "Retailers have certainly grasped Halloween in a big way and we're getting more and more requests from retailers in France and Europe more generally. Five years back, Christmas started in mid-October but now Halloween marks the beginning of the build-up to Christmas."
That's especially true for the supermarkets, which account for 87% of Halloween sales [Mintel]. There's one thing they're missing in that build-up, though: the experiential factor. They are admittedly upping their game (last year's examples included Asda staff staging a mannequin challenge in its Kingswood branch and a Morrisons pumpkin carving challenge). However, experts believe they could do more.
Case study: Budweiser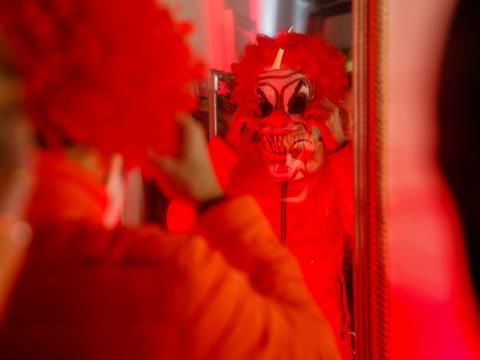 The King of Beers became the King of Fears last Halloween as Bud aimed for the in crowd. It teamed up with body glitter brand The Gypsy Shrine for a pop-up fancy dress shop complete with poltergeist clothes rails, killer clowns and more blood splatters than a Wes Craven movie. Then it hosted a Nightmare Circus Halloween Party serving, ahem, Bloodweisers.
"The grocery industry should also take inspiration from high street retailers like Topshop and its Stranger Things activity," says Tony Rhodes, commercial director at experiential marketing agency Mood Media. "Tapping into key cultural phenomena, getting creative with content and building social media interaction into in-store activations, rather than relying on generic product displays, is key for grocers looking to stand out."
James Roles, sales & marketing director at marketing agency Five by Five, is equally passionate about the need for attention-grabbing experiences. "Halloween isn't about kids and candy any more," he says. "It's being reclaimed by Gen Z and millennials. Special packaging on confectionery no longer cuts it - real success lies in creating grown-up, limited edition experiences."

For lessons on how to create a grown-up stunt, the supermarkets need look no further than the booze brands. Hobgoblin has long claimed to be the 'unofficial beer of Halloween' but many others now want in. Last year, Bud gave away party packs and staged a spooky experiential pop-up (see box, above). Casillero del Diablo splashed out a fifth of its marketing budget on a Halloween push. Brothers put more weight behind its Toffee Apple Cider. And Absolut devised a cocktail list featuring Bloody Marys (naturally) and Green Eyed Monsters, among others.

Big budget experiences are now becoming more prevalent outside of booze brands, too. The rewards for those that pull it off are not to be sniffed at. Take Fanta, for example. "Like Coca-Cola is to Christmas, Fanta is to Halloween and the brand is a key driver of soft drinks growth during the four-week Halloween period," says Coca-Cola European Partners customer marketing director Simon Harrison, quoting Nielsen figures. "Whilst overall soft drinks grew by 3.7% during Halloween last year, Fanta saw a boost of 26%."
"A fearful moment shared with a brand increases consumer connection"
CCEP says it splashed out millions on achieving this, with cash split between ­limited edition packs, above the line ­advertising, a Snapchat campaign and the VR elevator crash experience at London's Westfield Stratford shopping centre and Thorpe Park. This year, the brand will be running a 'Twisted Carnival' campaign featuring ­experiential activities, in-store and outdoor marketing and limited edition flavours.

Fear can be an effective way of standing out from the crowd and driving growth in spend, says Rebecca Smith, an analyst from consumer behavioural insights specialist Canvas8. "A shared experience with a brand during a fearful moment increases the consumer connection," she says.

"The science of surprise is important here. When humans experience surprise, we're pulled into the moment and have to focus on the here and now. Halloween is particularly fertile ground for immersive experiences which shock and surprise, and research shows that such moments are also more easily recalled."
Treating ourselves
Of course, amid all this buzz around millennials, Halloween is still seen by kids as an opportunity to consume a week's worth of calories in one sitting after traipsing around the neighbourhood all night (toy sales are also on the up, says Tobar, which tips Halloween slime as a trend for this year). Indeed, confectioners say the trick or treat market is booming.

"According to IRI, the Halloween sugar confectionery market has grown by 34% in two years and we don't expect this growth to slow," says Tangerine Confectionery marketing & category director Russell Tanner. "Last year we saw sales of our Sweet Champions Chews Halloween Assortment 200g bag increase by more than 6% to become the number one Halloween branded SKU."
Case study: Fanta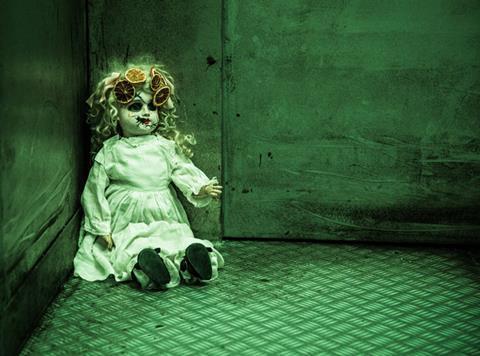 A live human autopsy, contorted faces on flickering TV screens, a masked figure in a rocking chair… Fanta pulled out all the horror clichés for its VR elevator crash experience at Thorpe Park and Westfield Stratford last year. Still, it was effective. It scared the living daylights out of the fragile lot here at The Grocer, and CCEP says it drove a 26% uplift in sales over Halloween.
Such products work well at Halloween because they can be split on the doorstep and doled out to trick or treaters. Perfetti Van Melle says it saw a 14% uplift in sales last Halloween, driven in part by 79% growth in its bags of Juicy Chews and Duo Stix as shoppers stocked up for Halloween night.

"People make more planned purchases than impulse as they stock up for trick or treat visits, entertaining at home and gifting," says trade marketing manager Mark Roberts. "Seventy-one per cent of households without children bought seasonal products in 2017 [IRI], suggesting there is a clear market for grandparents buying sweet treats for grandchildren, or couples preparing for the growing number of trick or treaters we're seeing."

And it's not just sweets manufacturers. Premier Foods says Halloween has become the third-biggest sales opportunity for its Mr Kipling and Cadbury cake ranges and has a host of new products for this year's season. Dr Oetker says families are baking more of their own cakes at this time of the year too. "There is a 29% uplift in value sales of cake decorations in this period, proving the potential," says head of marketing Riccardo Panichi.

Yet even the sweets market isn't all about the kids. Research by Kantar shows the amount consumers spend on treats depends on what they're doing for Halloween. Trick or treaters took home £14.8m in confectionery spend, while people watching scary movies at home or at the cinema forked out £36.6m. Essentially, people will spend more if they know they'll be eating the spoils themselves rather than giving them away at the door to troupes of ghastly children.

Mars Wrigley says there's a huge opportunity in scary movies, watched by 30% of consumers over the Halloween period. It tips sharing bags the winning format for such occasions. "Watching a scary movie is becoming an increasingly popular ritual that builds excitement in the run-up to Halloween and spans all life stages," says fruity confectionery portfolio director Dan Newell.

That's because for most of us, Halloween is about much more than merely what we eat, drink or wear on the occasion: it's about what we experience. "Over half of people in Britain say they enjoy taking part in Halloween activities," says Mintel's Baram. "Around a third more was spent on Halloween activities in 2017 than in 2016."

With this emphasis on experience, expect plummeting lifts and killer clowns to become the norm. Things could get even more shocking this October.