Since Covid-19 took over, Brits have faced an agonising choice: do they stay healthy, or down indulgent snacks by the bucket load? When the pandemic first hit these shores, indulgence clearly won out. "The instinct from even the best of us was to fill the cupboards with the staples we'd need," says Ben McKechnie, MD of healthy snacking wholesaler Epicurium.
By staples, we mean calorific, tasty snacks to numb the pain of a global crisis. Brits bought an extra 21% worth of crisps in the run-up to lockdown [Nielsen 4 w/e 22 March 2020], while week four of staying indoors saw at-home chocolate consumption reach "its highest point in the past two years, even higher than Christmas and Easter", according to Kantar.
Now Brits are starting to think twice about giving in to indulgence. Not only because the opportunity to work off calories is limited, but also because the World Health Organization advises that maintaining a healthy diet plays a "crucial role" in helping shake off coronavirus as quickly as possible. It's no surprise, then, that data from medical advice service Flawless.org shows Google searches for 'healthy snacks' are up by 110%.
"Healthy snacking is growing long-term, but growth has stalled in the last year"
The surge in interest online seems to be translating into a surge in demand. Unilever's Graze brand, for instance, has "seen a significant increase in sales and traffic to our website" says chief brand officer Pia Villa. "New subscriber numbers have doubled, and our one-off e-commerce orders have tripled."
So how likely are healthy snacks to win the battle for shoppers' baskets? And what better-for-you goodies are people choosing when the mood takes them?
There's no denying the lockdown has presented fresh challenges for the market. As consumers remain housebound and the news rolls on an endless cycle of doom, the nation's mood is being tested. That could have a strong impact on motivation to eat healthily. Indeed, an April poll by Streetbees of 1,353 adults found almost three-fifths (58%) snacked healthily only when they were in the mood.
At the same time, there are signs of consumers adjusting to the new norm. Although indulgence is the nation's chief choice during lockdown, Kantar director Giles Quick says "demand for healthier snacks is growing now as it was pre-Covid", when around 31% of snacking occasions were healthy [Kantar 52 w/e 22 March 2020].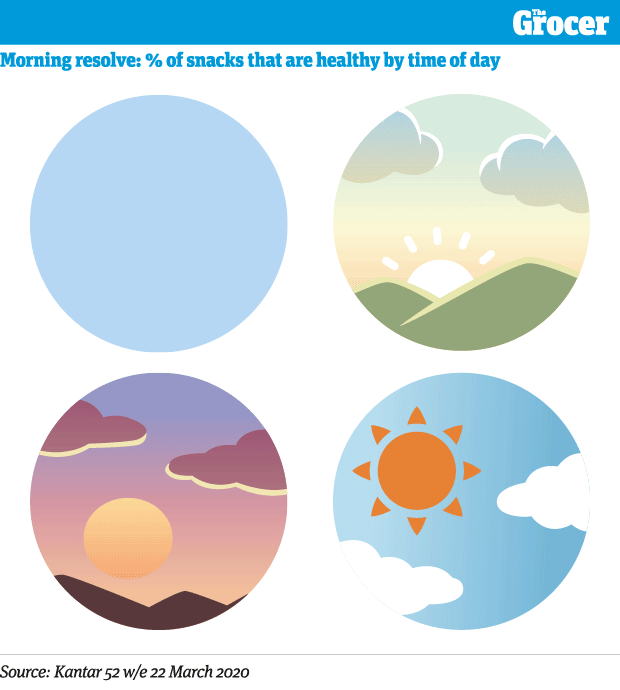 Right now, "snacking is one of the mega-categories that's doing incredibly well", says Kantar director Giles Quick.
Indulgent options like confectionery and crisps are seeing the biggest gains as people seek a distraction from the "reduction in liberty" he adds. "Typically during times of low consumer confidence, health has declined."
Nevertheless, "demand for healthier snacks is growing now as it was pre-Covid" Quick notes.
Around 31% of snacking occasions were healthy in the run-up to 22 March. Morning proved the most popular time of day at 41% of occasions being healthy.
It is indicative of a long-term trend towards healthy snacking options.
In the past year, Quick admits "growth has stalled" somewhat. However, it's still a pretty healthy picture. The most recently measured period shows only a slight dip in healthy snack servings of late – "flat if decimal figures are removed" according to Kantar.
That amounts to healthy options accounting for 31.4% of occasions in the 52 weeks to 22 March 2020 compared to 31.5% in the 52 weeks to 29 December 2019.
Graze's Villa has seen a similar pattern of behaviour. People's pre-virus health intentions still ring true, she insists. "In fact, three in five people are still trying to make healthy decisions when it comes to snacking," she says. "Before lockdown, traditional snacking was in decline, with consumers increasingly looking for healthier snacking options. We don't believe the current situation will change these attitudinal shifts."
Her faith in consumer consistency is buoyed by Makanish Varatharajah, marketing manager at Sri Lankan snacks maker Elakkia. "As we become more used to the new norm, health and goodness start to become more important again, as we notice our expanding waistlines and think about how we can lead slightly healthier lives," he says.
Waistline worries
The point about our collective waistlines is crucial. Because the growing fears over weight gain could be critical in driving sales of healthier snacks, says Adam Draper, MD of Nurture Brands, maker of the Emily snacking brand. "With the lockdown looking set to continue and people realising the more sedentary lives they're living are having effects on their waistlines, they will be keeping a closer eye on what they eat."
Indeed, Kate Percy, founder of Kate Percy's Real Fast Food, says the risk of an over-sized tummy has already "increased interest in calorie control and the number of calories per pack/serving".
Calories have, of course, been a long-standing marker of what constitutes a healthy snack. It's a measure that Public Health England heeded in its Change4Life programme, which promotes the idea of 100-calorie snacks. And it's one that consumers heed, too.
"There has been a surge in demand for functional foods that maximise health"
Calorie content emerged as the third most important marker of a healthy snack in an April survey of more than 2,000 consumers by Harris Interactive. That was close behind sugar content and being one of the 5 a day. Containing natural ingredients and being low in fat also emerged as important factors.
These wide-ranging consumer demands go to show how subjective the definition of healthy snacking is. "It means so many different things to different people – from holistic health and nutrition at one end of the spectrum, to 'no artificial ingredients' or 'added vitamin C' at the other," says Varatharajah at Elakkia.
In the era of Covid-19, though, there is an even longer list of consumer demands. Crucially, more shoppers are looking for products that will actively increase their wellness. "Since the start of the pandemic, there has been a surge in consumer demand for functional foods that maximise health, boost the immune system and reduce chance of illness, with the phrase 'immune system' in food talk up 66% month over month," says Laura O'Sullivan, sales & marketing director at health food supplier Good4U.
That is giving a serious boost to the gut health trend, which Epicurium's McKechnie predicts "will be the big winner in healthy snacking". It certainly rings true for kefir brand Biotiful. The spring's panic-buying saw "huge increases across the board" for the range, according to founder Natasha Bowes.
She attributes this to the "naturally immunity-boosting and naturally healthy" nature of its drinks, compotes and soft cheeses. "Given the current global pandemic, we are seeing increased interest in natural, functional, healthy snacking products which support your immune system," says Bowes.
Fibre-rich snacks also seem to benefiting from their links with gut health. Graze's Honeycomb Fibre Flapjack – which provides 3.8g of fibre per 100g – is "selling well", says Villa. Which proves "people want sweet, pick-me-up type treats to bring joy to their day, but also want something with added benefits".
Similarly, this desire for added benefits has given a boost to Itsu's Seaweed Thins, which are "naturally packed with nutrients: fibre, vitamin B12 and iodine – a nutrient missing from most foods, vital for wellbeing and effective metabolism" says Itsu head of marketing Natalie Sugarman. The bagged range has "experienced an amplification in sales, particularly in sharing bags and multipack formats, with sales of the sea salt seaweed flavour increasing by 78% in Waitrose".
It's not just about wellbeing, though. Mark Alldred, PepsiCo marketing director of better for you – future brands & value, points out the pandemic has represented a wholesale change in our lifestyles. "As a nation, we are being met with a new set of challenges, such as juggling home schooling and working from home, and shoppers are looking for a variety of options to cater for different consumption occasions throughout the day."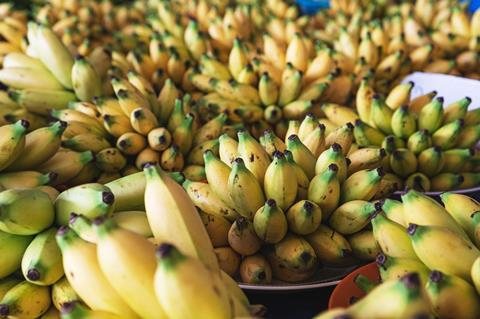 How fruit is satisfying Brits' hunger for snacks
Fruit & veg has emerged as a popular healthy snack in the pandemic. A fifth of Brits say their liking of fresh produce has grown since lockdown.
At least, that's according to a poll of 2,000 adults commissioned by Uber Eats, which this month partnered with New Covent Garden Market on a London delivery service.
"We want to do what we can to feed Brits' newfound interest in fruit & vegetables," says Toussaint Wattinne, general manager of Uber Eats.
Fruit wholesaler Compagnie Fruitière is similarly witnessing a growing interest. Orders for bananas "have remained very strong, with record volumes supplied as lockdown happened," says commercial director Simon Trewin. "Bananas are purchased as a healthy snack, with consumption focused more towards the earlier parts of the day." Demand for pineapple is also high, he adds.
It's not just fresh fruit, though. Producers of dried fruit are looking to tap Britain's need for virtuous snacks, too.
For South African raisin producers, healthy snacking is the biggest growth opportunity in the UK, believes Ferdie Botha, general manager of Raisins South Africa.
The non-profit company, which represents 700 growers, has reported an increase in year-on-year volume shipments, "with Covid-19 being one of the main contributing factors".
"The current situation is definitely benefiting our industry due to the rise in home baking and snacking," Botha adds.
"The assumption is that consumers are looking for categories that are healthy, affordable, versatile and have a good shelf life, which raisins offer."
Not just raisins. Fine food distributor Cotswold Fayre says it has seen sales of some Forest Feast dried fruit packs "increase rapidly during the country's lockdown, with 80% of this year's sales taking place in March and April". Now, that's some healthy growth.
Energy and taste
So it's little surprise that energy is ranking higher among the list of consumer demands. It's particularly important to snackers who have taken to high-intensity interval training "to break up the working day" notes Good4U's O'Sullivan. "Many have turned to high-energy snacks that give a boost of energy ahead of these sessions. As such, we have seen a spike in demand for our range of natural protein and energy balls."
Peperami and Jack Link's also highlight the appeal of protein content this time – something that occurs naturally in its meat snacks. "Natural protein has a broader, everyday appeal connected to healthier eating, and suits consumers seeking products that are easier to incorporate into an everyday diet, with a focus on energy and vitality," says marketing director Laura Trivulzio.
But there is a caveat to all this: no amount of on-trend claims will make up for poor taste. Only 20% of consumers agreed that most healthy snacks delivered on taste in our Harris Interactive survey. That is something that could hold the category back, particularly at this time. "Food is one of the few pleasures people can still enjoy during lockdown," points out Nurture Brands' Draper.
Cassandra Stavrou, co-founder of Proper, stresses that taste is the number one priority even in healthy snacking. "Although expectations on health are higher than ever, so too are peoples' demands on taste," she says.
That's backed up by KP Snacks' marketing director Kevin McNair. Brands such as reduced fat Popchips and protein-rich KP Nuts are "well placed because what we've done with both brands is ensure they taste good. Then they need to be healthy," he says.
That strategy could be vital to ensuring success beyond the specific conditions of the pandemic. "The challenge is to launch healthy snacks that can thrive and endure," says Calbee commercial director Jon Wood. And if there's one thing that endures, it's the ongoing quest for a snack that tastes indulgent without the guilt.
Innovations in healthy snacking


Daniel Selwood is The Grocer's special projects editor, managing Britain's Biggest Brands, Britain's Biggest Alcohol Brands, The Dairymen and Top Products – as well as contributing to news, analyses and category reports.

He joined the magazine in January 2016 as food & drink editor, having been at financial & legal publisher LexisNexis for eight years.

He began his journalism career in the mid-1990s at a general interest magazine in Sheffield.

Follow Daniel on Twitter: @danielmcselwood