Is there no one left in Britain who can make a sandwich? So screamed the Daily Mail's front page splash on 10 November, covering Greencore's recruitment drive in Hungary for its booming sandwich business.
The bigger story, from a grocery perspective, is that Greencore's £30m investment in a new Northampton factory (which it's having trouble staffing because of low unemployment in the area) reflects the fact more and more Brits are eating on the go.
Indeed, Greencore says its outlets, including most of the major multiples, are in double-digit growth when it comes to food on the go and expects the market overall to grow by a further 7% over the course of 2015. So what's driving this and how much of this growth is down to sandwiches?
The sarnie is still king of lunchtime, according to a recent poll by Him!, which found sandwiches are Brits' most popular midday food. Further research by Kantar Worldpanel backs this up: 65% of packed lunches contain sandwiches [16 w/e 1 March], though packed lunch consumption is down 10.9%.
The lunchbox's loss has been the supermarkets ' gain, says Greencore, which claims sales of sandwiches are up 10% in grocery retail. Kantar's read of the market, which covers all outlets (not just the multiple grocers), paints a slightly different picture: it says value sales are up 2.5% to £4.4bn, but volumes are down slightly [52 w/e 15 September]. Still, that's growth worth a staggering £107.6m.
"Breakfast is emerging as a key occasion for those in need of an on-the-go option…"
Greencore suggests the market's value growth is down to a phenomenon it calls "inspirational premiumisation" in sandwiches, with more interesting flavour profiles and formats, like grab bags and flatbreads, growing in popularity. Ginsters, meanwhile, suggests growing demand for healthier sandwich options is fuelling strong growth in its own branded sandwich range.
"We've revisited our healthy range of meal deal sandwiches over the last few months, launching some healthy but tasty options," says Jo Hartop, head of trade communications at Ginsters, adding that nearly half of Ginsters' sandwiches are now under 350 calories. The brand is now listed with Ocado , which suggests people are even eating takeaway sandwiches in the home.
Food on the go doesn't just mean sandwiches, of course. And when it comes to food items taken from the home in order to be eaten on the hoof or at a desk, Kantar says microwave snacks and pastries are booming, with respective volume growth of 14.3% and 10.9%. Such items are part of the newly defined category 'Hot, Quick & Tasty', which also includes fresh soup and microwaveable meals such as Innocent Veg Pots. The latter two are down in volume by 8.3% and 32.3% respectively, weighing down the overall category's growth to just 0.9% in value and 4% in volume [Kantar 52 w/e 14 September].
Growth has slowed in the Hot Quick & Tasty category through category decline in fresh soup and quick-serve microwaveable meals. In these two areas, prices have risen and as a result there are fewer shoppers in the category.

In microwaveable snacking, new shoppers are the main driver of growth, but shoppers are also buying more often.

For pastry, although shoppers are buying less per trip, there are more buying, more often and with increased prices.

On pricing, brands have continued to reduce prices, largely through price-cut promotions, while own-label mix has become more premium. Own label is now more expensive per pack in soup, QSMM and pastry thanks to premiumisation.
Simon Quirk, Kantar Worldpanel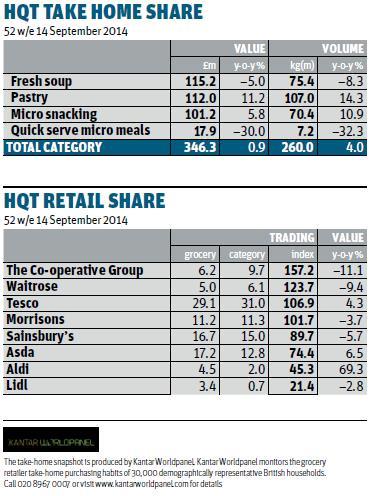 A lack of innovation, intense competition with own label in soup, and last year's mild winter have weighed down these sectors, say experts, as have price rises. "In these two areas, prices have risen and as a result there are fewer shoppers in the category," says Simon Quirk, analyst at Kantar. Fresh soup shoppers are buying less per trip, and QSMM shoppers are also buying less often.
Conversely, microwave snacks are up 5.8% in value, driven by both new shoppers and increasing sales to existing shoppers, and pastry has put on a whopping 11.2% in value. "For pastry, although shoppers are buying less per trip, there are more buying, more often and with increased prices," says Quirk.
Pastries
UK consumers have eaten 13 million more pastries and slices this year, and innovation has been the way to their stomachs, according to Hartop at Ginsters. "We have been particularly successful at launching special-edition flavours within pasties that have gone down really well with consumers," she says. "We saw a big uplift when we launched our Ham, cheese & Pickle Pasty earlier in the year, and our Festive range of products are always well-received."
"One of our campaigns changed perceptions around the quality of forecourt food"
Hartop also credits a £4m campaign, which included TV advertising, at the start of the year, and says the bread dough microwaveable H+Eat range, which includes a Hot Dog with Ketchup & Onions and a burrito, has helped the brand gain traction in the past year. "As a result, our market share rose and our sales increased during the on-air period. We also ensured that our products were promoted on aisle ends in the supermarkets during this," she says.
There are two definitions of food on the go: products bought from outlets such as forecourts with the intention of being consumed immediately, or those bought, taken home and then packed with the intention of being eaten on the move. For the most part, sandwiches would fall into the former group; soups and noodle pots the second. In either group, promotions are vital.
Why everyone is after a slice of one the go pie
Looking at the turnover of food to go outlets, it's no wonder grocers want a slice of the pie. Pret A Manger has reported sales up 10% year on year, and is forecasting a further 17% growth this year. Greggs reported a 48% jump in underlying profits this summer, and it is continuing to grow; like-for-like sales were up 3.2% in the first half, climbing further to 5.4% a boost in the third quarter.
Caroline Cromar, group food director at Pret A Manger, credits its growth to new product launches. Notable successes have been green juices , sushi salads and almond milks. It also launched a hot food section this autumn, offering two dishes - Macaroni Cheese Prosciutto and Macaroni Cheese Kale & Cauli. This will be extended in January with two further hot pots. To cater for demand outside the lunch hour, the hot food is available throughout the afternoon and into the evening. "There is more appetite for food later in the afternoon," says Cromar.
Meeting a need for food throughout the day has been key to the chain's success, allowing it to open a further 24 shops this year. Delivering the results, chief executive Clive Schlee said: "The improved economy has helped us, but the main driver is that people eat more throughout the day."
The store also plans to increase its breakfast offering in January. "We are seeing extremely good growth at breakfast, with porridge continuing to be one of our best-selling items," says Cromar.
Better coffee has been key to Greggs' sales growth, along with a new range of freshly made sandwiches including low-calorie options, and extended meal deals, the company says.
And petrol stations are ensuring they are no longer the place of last resort for the hungry. Tie-ins with successful food-to-go operators are increasing footfall to their sites, and are set to increase, according to Ilyas Munshi, commercial director of Euro Garages. "Customers are visiting our forecourts multiple times a day on different shopping missions. This has primarily been driven by the food and drink brand partnerships we have with the likes of Starbucks, Subway, Burger King, Greggs and Spar ," he says.
Food to go and coffee are big growth categories for Euro Garages, Munshi adds, and it plans to have 100 Subway and a similar number of Starbucks outlets at its forecourt sites by the end of 2015.
In HQT, Kantar notes a significant increase in volume sold on deal, from 37% to 42% over the past year. Posh pot noodle brand Kabuto claims its 66.1% growth on volumes up 67.8% [Nielsen 52 w/e 11 October] has been aided by price reduction and multibuy offers. It has also been helped by additional listings in Sainsbury 's and Tesco , and is set to grow further with a launch in Booths in the new year.
Deals
When it comes to grabbing a bite on the hoof, research from Him! suggests deals are key to driving impulse sales, with one in four consumers saying they have bought food-to-go items they hadn't intended to purchase because of a special offer. The mechanic doesn't seem to matter, as long as consumers think they are getting a bargain, suggests James Simpson, MD of on the go food specialist The FSC Group.
"Shoppers are beginning to see hot food as a key requirement, moving beyond pies to soups"
"With one retail client we've had two particularly successful campaigns," he says. "A free treat with any large coffee to encourage trial of our in-store baked confectionery , which delivered sustained double-digit growth post-promotion; and a two for £2 promotion on hot products to encourage trial and increase penetration of hot food. It was a very successful campaign and changed perceptions around the quality of forecourt food."
Meal deals are showing no signs of fatigue, according to Rachel Marshall, food to go buyer at The Co-operative Group . "The ever-popular meal deal option of sandwich/salad, drink and side snack at £3.25 continues to hold consumers' attention," she says. According to Mintel, price sensitivity is a particular challenge in the lunch market: 81% of everyday lunch purchasers spend £4.99 or less; 47%, £3.49 or less."
To ensure shoppers keep coming back to its meal deals, The Co-op has added hot lines to its winter meal deal offer. Indeed, offering hot options is identified as a top trend by Greencore. "Shoppers are now beginning to see hot food to go as a key requirement, moving beyond pies and pasties into soups and wraps," says a spokesman.
In particular, hot food is helping to develop breakfast-time trade. Pret A Manger says porridge is one of its best-performing lines. Moma! is also reporting brand sales up 40%, partially on the back of the introduction of porridge in a sachet format for office breakfasts.
"Breakfast is emerging as a key occasion for those consumers in need of an on-the-go option. Nearly half of the UK adult population does not eat breakfast at home every day, and one in three consumers are now eating breakfast out of home at least once a week," says Tom Mercer, founder of Moma! Foods, which has extended distribution of its single pot bircher mueslis, with increased listings in Boots and Waitrose , this year.
Convenience outlets are particularly well-placed to tap the morning rush hour, according to Amanda Heritage, head of convenience at field marketing agency eXPD8. "The convenience sector has seen a huge focus on breakfast food on the go in the last 12 months," she says. "Shoppers spend an average of £3.50 on breakfast to go during the hours of 6.30am to 11am, and with 27% of stores having coffee machines and 13% having a hot food counter installed."
Dairy Crest has targeted this sector with its Frijj coffee-flavoured milkshake range, launched in April. "Shoppers are twice as likely to buy breakfast from an in-store bakery than a fast food outlet, which highlights a key opportunity against this occasion for convenience retailers , particularly those with high traffic locations for the morning commute," says shopper marketing controller Adam Mehegan. He adds coffee-flavoured milk drinks are showing strong growth.
Location and display is all important, according to Dairy Crest. Research by the company found just 1.3% of convenience shoppers who visited the dairy chiller bought flavoured milk. When flavoured milk was repositioned within soft drinks , this figure increased to 22%. Other chilled snacks have also seen an uplift as a result of shelf space at front of store. Kerry Foods has been trialling this with its meat and cheese snack brands including Mattessons, LowLow and Cheestrings, and Richard Tyler, Kerry Foods' customer marketing controller, claims additional front-of-store fixtures are helping to grow sales of chilled snacking products by more than 250% in participating stores. "When we launched our dual-siting trials, we knew there would be an uplift, but the success of these trials has surpassed even our own expectations," he says.
Of course, front of store is traditionally the sandwich's turf. And as the battle for the on-the-go customer steps up in 2015, the sarnie will have to fight for its place there.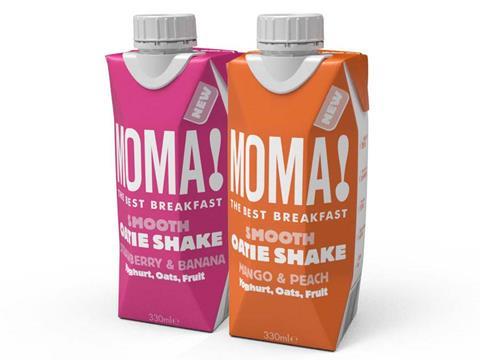 Smooth Oatie Shake
Launching: January 2015 
Supplier: Moma! Foods
Consumers want a yoghurt that is more convenient to eat on the go, says Moma!. So it is delivering a tetra pak Smooth Oatie Shake, which combines oats, yoghurt and fresh fruit. It will launch in Tesco in two flavours - strawberry & banana, and mango & peach. The 330ml pack can be stored either ambient or chilled (rsp: £1.89). Also joining its breakfast on-the-go range in January is a new flavour in its bircher muesli range, mango & passionfruit (rsp: £1.19/150g).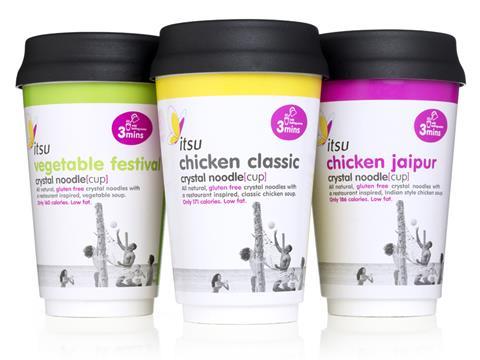 Crystal Noodle Cup
Launched: August 2014
Supplier: Itsu
Pot noodles for the posh. It uses a fresh broth paste instead of powdered seasoning, together with gluten-free clear noodles. Available in Chicken Classic, Chicken Jaipur and Vegetable Festival, the noodles can be prepared in three minutes by adding hot water. Stocked by Sainsbury's, Tesco, Waitrose, Ocado and indies (rsp: £2.29/58g-63g).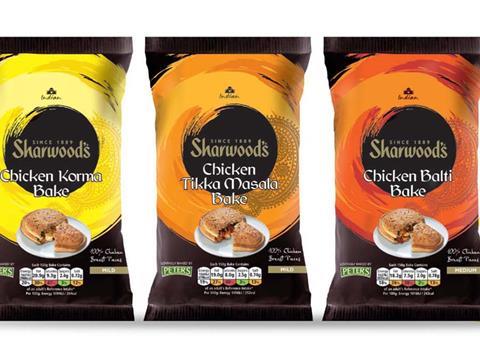 Sharwood's pastry bakes
Launched: October 2014
Supplier: Peter's Foods
The marriage of curry and pie, Sharwood's puff pastry bakes are filled with chicken in a curry sauce. They're ready to eat or can be oven-heated. Available in the four favourite curries - Chicken Tikka Masala, Chicken Madras, Chicken Balti and Chicken Korma - the bakes are sold in Asda (rsp: £1.50/150g).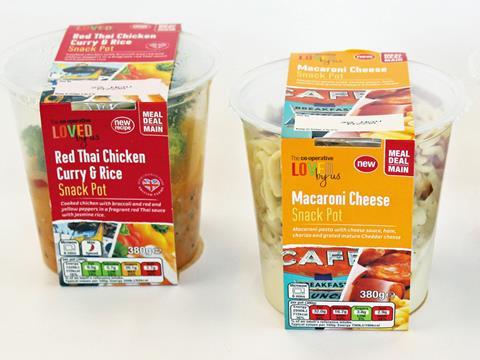 Protein Pots
Launching: January 2015
Supplier: The Co-operative Food
Intended for an afternoon snack or pre-gym protein boost, the Protein Pots (rsp: £2) come in Loved by us Smoked Salmon, Egg & Red Quinoa, and Loved by us Chicken Teriyaki. Also new this autumn are three varieties of Heat to Eat snack pots (pictured) in Thai Chicken, Paella and Macaroni Cheese, offered as a hot option in meal deals.