If all goes to plan, barbecue season could explode this summer. How is the industry bracing itself to build on last year's success?
Stand well back: barbecue season is about to explode. After an entire year of lockdowns and restrictions, Brits are desperate to be free of rules that, let's face it, have often been about as clear as the juices from an undercooked chicken drumstick.
At last, we have something resembling clarity. From 29 March, six people from different households (or any number from two households) can socialise outside. From 17 May, groups of six can gather inside and up to 30 people outside. All restrictions will lift on 21 June, unless Covid messes things up again. One thing looks like a dead cert, though: barbecue season is going to be a blast.
That's not just because the law requires most gatherings to be held outside. The postponed Euro 2020 football championships will kick off on 11 June and culminate a month later. Then, on 23 July, the Tokyo 2020 Olympics are scheduled to begin. And nothing fuels Britain's fervour for barbecuing like a summer of sport (except, perhaps, a heatwave).
So, what will Brits be barbecuing in 2021, and how can retailers make the most of the explosive opportunity?
"It's going to be another big one," says Kevin Smith, CEO of meat wholesaler DB Foods, which supplies high street butchers and caterers. "People have been trying to recreate that restaurant experience at home and on their barbecues. Because pubs and restaurants weren't open, there was a lot of pent-up demand and excess supply. People who might have bought rump or sirloin started barbecuing things like ribeye, tomahawk or T-bone steaks."
"People have been trying to recreate that restaurant experience on their barbecues"
This is reflected in the numbers. Steak saw the greatest growth of the major barbecue meats in 2020. It was eaten on 22 million occasions, up 103.7% year on year. There were a record 189.9 million barbecue meals, up 40% on 2019 and smashing the record 151.9 million that took place in 2018, when the World Cup and a blistering hot summer combined to spark a barbecue boom [Kantar 52 w/e 27 December 2020].
"Our business was about 50:50 retail and catering before lockdown but then it was like a seesaw – catering hit the floor and shop counters went through the roof," recalls Smith of last year. "People were stuck at home, the weather was good and pubs were closed. Just about the only thing they could do was go into the garden and barbecue. But when Eat Out To Help Out came in there was a real bunfight for steak because the retailers were busy and, suddenly, so were restaurants."
Steak spike
Steak volumes in the supers spiked by 24% last summer, driven partly by a 9.6% rise in cut-price deals [Kantar 26 w/e 9 August 2020]. AHDB estimates combined at-home and foodservice steak sales by weight overtook those of burgers (excluding takeaways) for the first time during Eat Out To Help Out. That would've been unthinkable in 2019 when, kilo for kilo, burgers outsold steaks by nearly two to one.
Steak is still a key battleground for the mults. This month, Sainsbury's ran front page wraparound ads with the Daily Mirror touting 21-day aged rump steak for £2.32 per 225g as part of its Aldi Price Match. Tesco is running two for £7 deals on sirloin, ribeye and rump steaks for Clubcard holders. As the days grow longer and shoppers begin dusting off their barbecue tongs, many expect the focus on steak to continue.
"Added value, flavoured steaks will remain a key area to add inspiration and innovation to retailers' ranges," says Hereford Cattle Society chairman Philip Allman. "With the Covid crisis and foodservice closures affecting carcase balance, we expect to see more premium cuts placed in retail. Because consumers are unable to eat out in their favourite restaurants, they will be taking inspiration from retailers' shelves or online to replicate their favourite summer meals."
"Just about the only thing people could do was go into the garden and barbecue"
The steak boom wasn't left to chance, of course. It was driven by a meat industry concerned about carcase imbalance: you can't just slaughter the parts of a cow that people want at any given time, so processors play a constant balancing act between demand for cheaper and prime cuts to maintain profits.
Concerns arose as the UK went into its first lockdown and shoppers began stockpiling, demand soared for cheap, versatile, freezable mince. Demand for pricier cuts simultaneously sank.
"At the beginning of the pandemic there was massive concern about carcase imbalance because demand for prime cuts was falling," says AHDB retail insight manager Rebecca Gladman. "We launched the Make it Steak campaign in early April to encourage people to cook steak at home. Retailers supported this on-pack and with online banners and fixture signage and we used activation with chefs to show people how to cook steak on the barbecue."
The big question now is whether the pubs and restaurants reopening on 21 June will find themselves in scrum for steak, pushing up prices.
"It depends on whether stocks have been run down and how willing people will be to go back to restaurants," says Gladman. She's far from convinced the whole UK will be out for dinner en masse, pointing out that only around 35% of people took advantage of the Eat Out To Help Out scheme.
"Pubs and restaurants won't be at full capacity for a long time. There'll still be a need for social distancing," she predicts. "The big unknown is around the vaccine rollout and how many healthy, affluent under-65s who are more likely to eat out will have been vaccinated by then."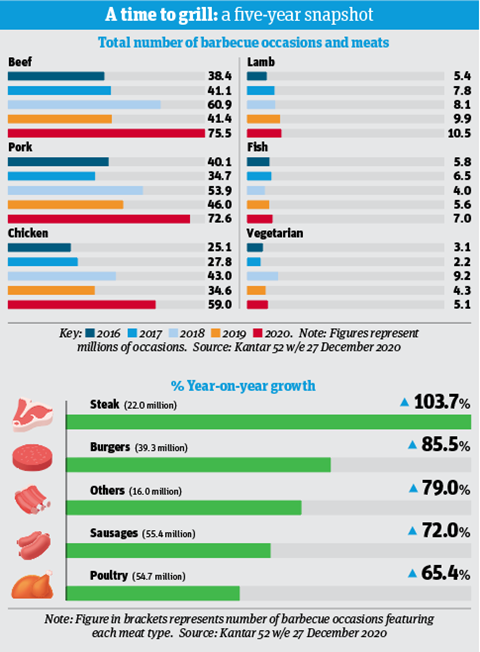 The first lockdown gave the UK a good excuse to fire up the barbie last year. There were a record 189.9 million barbecue meal occasions in 2020, a rise of 40%, as good weather added to Brits' reasons to grill over hot coals.
"This figure topped the football World Cup summer of 2018," says Kantar strategic insight director James Foster. "A combination of sunny weather at key moments and restrictions on visiting pubs and restaurants boosted this demand."
Steak saw the biggest increase of the most popular barbecue cuts, spiking by 103.7%. Burgers grew by 85.5% and sausages by 72.0%.
That dishes made with mince featured in 7.3 million barbecue occasions, a rise of 173%, suggests more Brits made their own burgers.
BBQs were boozy affairs in 2020. "Beer appeared at more than double the number of barbecues than in 2019," says Foster.
"As well as alcohol, sauces, pickles & condiments also featured at more barbecues, up 30 million occasions, as did vegetables, up 33 million," he adds.
Consumers spent an average of £4.39 each per BBQ occasion, a rise of 18%.
Key staples
So, more steak will probably be sizzling in homes than in pubs and restaurants this summer. They'll be joined on the grill by other key barbecue staples, such as sausages (up 72.0% in occasions) and poultry (up 65.4%), which appeared on more than twice the number of barbecue plates than steak last year.
And burgers featured in 39.3 million barbecue occasions, a rise of 85.5% on 2019, helping beef overtake pork as Britain's most barbecued meat in 2020.
Together, the staples could be the subject of some fancy cooking. After all, research by Kantar suggests that one in five Brits have tried to recreate restaurant experiences at home since last March.
"Consumers have been seeking premium, quality branded burgers for barbecues"
It's an endeavour that has definitely found its way to barbecues, says Sophie Lindfield, senior brand account manager at All About Food, which produces grocery products for the likes of Nando's, Gourmet Burger Kitchen and Pizza Express.
"Consumers have been seeking premium, quality branded burgers for barbecues," she says, citing IRI [52 w/e 9 August 2020]. "Chilled burgers saw a 26.4% spike last summer. As retailers cancelled promotions to help manage supply and demand, quality credentials of Gourmet Burger Kitchen and strong brand recognition gave the brand a platform to drive profitability and value in the category."
While producers of beef burgers enjoyed red hot growth in 2020, so did some makers of meat alternatives – in spite of plant-based appearing on fewer BBQ occasions overall. "We saw a 60% increase in sales compared to 2019's summer sales," says Simeon Van der Molen, founder of the Moving Mountains meat-free brand. "In summer 2021, we expect sales to grow by at least 30%."
Michael Hunter, MD of rival plant-based brand Meatless Farm, is similarly bullish. "The traditional idea of a barbecue has evolved to include more eco-friendly options such as plant-based meat alternatives and more adventurous dishes," he says, highlighting Meatless Farm's new sausage patties.
"Outdoor social gatherings like barbecues will become a way to see people and catch up on lost time and, as a result, barbecues will become elevated experiences. The traditional barbecue spread is going to get a real shake-up this year."
"The traditional idea of a barbecue has evolved to include more eco-friendly options"
That shake-up will come at a price. Brands expect punters to be prepared to pay more for what they're consuming around the barbie. Kantar strategic insight director James Foster suggests the same. "In 2020, spend on an average barbecue occasion was £4.39 per person, up 18% on 2019," he says. "In total, we spent £834m on barbecue occasions in 2020, £329m more than the previous year."
This is a classic recessionary response. Spend on big extravagances such as eating out is reined in (or outlawed, as in lockdown) so consumers trade up in grocery for relatively cheaper indulgences, such as steak or a premium burger.
Plant-based decline set to flip post-pandemic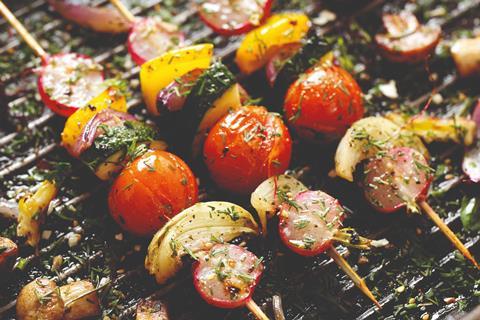 It's not often you see negative numbers for sales of plant-based products. But 5.9% fewer households bought burgers, sausages and other meat alternatives made from plant proteins last summer [Kantar 20 w/e 6 September 2020].
When it comes to barbecues, the decline was even more pronounced. In 2020, 36.7 million barbecue meal occasions didn't feature genuine meat or fish. That's a 6.6% decline on the 39.3 million meat-free barbecue occasions that took place in 2019 and the lowest number in five years [Kantar 52 w/e 27 December 2020].
Before meat processors start declaring the death of the plant-based trend, there are a few things to consider. First, lockdown and social distancing led to a 62% decline in the number of barbecues, with five or more people present in early summer [Kantar 16 w/e 9 August 2020].
"We've looked at where this loss of penetration for plant-based stems from," says AHDB retail insight manager Rebecca Gladman. "The vast majority was from people who are buying meat-free as an almost unconscious decision or for guests on social occasions."
There weren't many social occasions last year, of course. Which meant far fewer meat-eating households catering for vegan or flexitarian guests.
People shopping more online and visiting stores less frequently also had an impact, suggests Gladman. "Meat-free aisles are well merchandised so are effective at inspiring shoppers and driving impulse sales," she says.
Some suggest a decline in environmental news as Covid-dominated headlines had an impact. After all, sustainability concerns are a key driver for meat avoidance.
They could soon be back on front pages. According to Ipsos Mori, 65% of consumers believe climate change should be a priority of the post-Covid economic recovery plan.
So, with an end in sight for the virus, it's fair to expect plant-based to return to its former glory.
"The trend for meat-free occasions was in strong growth between 2015 and 2019," says Lactalis UK group marketing director Heloise Le Norcy-Trott. "In 2019, a third of people were cutting down on meat. Whilst this growth plateaued in the height of the health crisis, we expect the trends we saw pre-pandemic to return."
So, prepare to see plenty of faux burgers and meat-free bangers on barbecue grills this summer.
Affordable indulgence
That appetite for affordable indulgence has led to strong growth in exotic meats, condiments and pickles. "The barbecue sector is benefiting from UK consumers actively seeking out small, affordable ways to upgrade everyday eating rituals," says Dee Mapasure, founder of South African sausage brand K's Wors. She expects to see a repeat of last year's posher BBQs this summer. "Better weather and the imminent easing of lockdown means garden centres are already feeling the benefits of households preparing gardens and scrubbing down barbecues."
Indeed, a Money.co.uk survey last year suggested homeowners spent on average £4,000 per household on home improvements in the first lockdown, with gardens attracting most spend.
More recently, Argos saw sales of barbecues and gazebos triple over the weekend the government outlined its roadmap for easing lockdown.
World flavours
So, perhaps Brits are trying to make their gardens feel like the holiday destinations they haven't been able to visit. It's certainly an ambition that's been seen in their choice of table sauces, insists Deborah Milroy-Kent, head of condiments at AB World Foods
"Whilst travelling abroad has been virtually off the cards, more consumers are using condiments to explore and experiment with world flavour at home," she says, pointing to 40% growth in world sauces [Nielsen 52 w/e 31 January 2021]. "Increasing penetration and consumption of condiments should follow through into barbecue season."
Supplier EHL Ingredients reports growing interest in far eastern herbs and spices from retailers as they develop their 2021 barbecue ranges. "We've experienced an increase in demand for blends such as Middle Eastern baharat and panch phoron from eastern India," says EHL joint MD Tasneem Alonzo.
"More consumers are using condiments to explore and experiment with world flavour"
"Korean cuisine is gaining traction and the well-known barbecue style is a popular concept that people can try to create at home while restaurants are still closed. And with the Olympics expected to take place in Japan this summer, we predict blends such as togarashi seasoning will be popular among consumers looking to recreate a Japanese barbecue at home."
There are still lots of 'ifs' surrounding the Games. But if they go ahead, this year's barbecue season is in for boost. There's also the prospect of a Euro cup final (at Wembley) in July. After the year they've had, footie fans' hopes for a strong home performance have never been higher. One thing's for sure: if England (or Scotland or Wales) reach the final, the barbie season will go nuclear.
Innovations in barbecue 2021