Craft beer has shifted from cult favourite to mature market. But as growth begins to slow, are there signs it has reached its apex?
Growing up is never easy. Just ask the Inbetweeners: embarrassment, awkwardness and feelings of general unease are par for the course.

These growing pains even apply to the world of craft beer. Over the past few years, craft brewing has gone from being the energetic child with a cultish fanbase to steadily establishing itself as a market with its own big boys and serious shelf space in the mults.

But now the awkward teenage years are upon it. Granted, there is still plenty of growth going on. Over the past year, 5.7 million households bought into the market [Kantar 52 w/e 24 March 2019]. And overall value grew 16.4% to £178.2m.

But that represents a significant slowdown compared with the previous year, when sales of craft rocketed 54.6% [Kantar 52 w/e 25 March 2018].

And while the likes of BrewDog, Camden and Innis & Gunn continue their upward trajectory, many smaller craft businesses, such as Redchurch Brewery, Beer Boutique and The Bottle Shop, have run aground since the start of the year. Which raises the question: is the craft wave finally cresting?

The answer is complicated. And it starts with the overall craft landscape.

Crucially, big retailers are getting more experimental than ever when it comes to their craft ranges. When they started out, they played it safe by stocking those that already had substantial followings like BrewDog or those that were backed by bigger brewers, such as Camden Town.

With the latest range reviews, playing it safe has well and truly gone out of the window. Tesco's April review, for instance, saw it draft in a throng of more out-there brews from the likes of Wild Card, Thornbridge and Unbarred, while Waitrose added more than 70 new beer and cider SKUs in May, showcasing - among others - limited edition brews from Dark Star and Lost & Grounded.

Now the supermarkets are comfortable with the ins and outs of craft, they're becoming more ambitious in personalising their ranges and standing out from the crowd.

This spells bad news for smaller retailers. When Beer Boutique was forced to close all three of its stores earlier in the year, its founder James Hickson laid the blame squarely at the feet of Tesco and other mults.

"Supermarkets started to get a lot more aggressive about the width and breadth of their range, selling beers cheaper than we can actually buy them from brewers," he said at the time.

But range broadening also comes with its own issues for the mults. Because craft beer and cider is a highly fragmented market. "I've heard buyers saying there is a long trail of SKUs where the rate of sale isn't necessarily that high," says Jim Hopkins, category manager at Marston's. "Things like BrewDog will be the solid consistent sellers, but once you get past that top 10 it does start to drop off."

Craft beer shoppers aren't a particularly loyal bunch, either. So multibuys have become the mechanic of choice for craft cans.

"The biggest issue for beer brands in supermarkets is that true beer fans like variety and shop the fixture as they would in a bottle shop," says Simon Forster, founder of brand agency Robot Food. "That's why the cross-brand price promotions work for consumers and retailers but not necessarily brands."

All of which means greater risk for smaller players who've heavily invested to support a listing, Hopkins adds. "Buyers are conscious of the level of investment that is needed to support these craft listings, but the reality of dealing with the mults is that if you aren't hitting the rate of sale you will be delisted."
"True beer fans like variety and shop the fixture like they would in a bottle shop"
Another issue is that the supermarkets have become notorious among craft enthusiasts for selling out-of-date beer and ranging it ambiently (a cardinal sin in the eyes of many beer nuts, who insist cold storage is necessary to preserve the taste).

So we're ending up with genuine independent brands making it on to shelves that are potentially unable to generate long-term growth, combined with retailers that are unable to deliver consistently.

That means the bulk of craft supermarket sales are going to a small number of players, most of which are backed by bigger businesses anyway.

Indeed, of the top five craft brands in the UK - BrewDog, Camden Town, Innis & Gunn, Brooklyn and Goose Island, according to Nielsen - only BrewDog and Innis & Gunn are independent (though 22% of BrewDog is owned by PE firm TSG Consumer Partners). Camden Town and Goose Island are owned by Budweiser Brewing Co, while Carlsberg sells, distributes and markets Brooklyn in the UK. "Those brewers that have been bought and had investment get the platform, so they step up in availability - it can be harder for smaller ones to hit those minimum order quantities," says Marston's Hopkins.

It's a strategy that certainly seems to have worked for Camden Town, which added a whopping £5.8m (113%) to its value this year [Nielsen 52 w/e 20 April 2019]. Beavertown, meanwhile, has grown sales from a minuscule £817k last year to an impressive £4.9m since Heineken bought a 49% stake in it. That's a 496% increase, making Beavertown now the seventh-largest craft beer brand. With fresh listings in Sainsbury's it could be poised to make a serious dent.
Growth slowdown
Saying that, BrewDog is still king of craft beer. The Aberdeenshire brand added a cool £15m to its sales last year to hit £86.2m. Still, that marks a slowdown on the £32.4m growth in the previous year - suggesting even it isn't immune to the wider slowdown in craft.

Which suggests there may be a limit to how far craft can grow. There are early signs that the higher alcohol content of many craft beers may be hindering volume growth at a time when shoppers - particularly younger shoppers - are drinking less and less and generally have less money to spend.

Beer consultant Bill Simmons says brewers are understanding "they won't get the volume if they keep pushing these higher abv beers - they know they have to reposition".

Beavertown, for instance, has brought back its limited-edition IPA, Bloody 'Ell, as a core beer. Crucially, it has cut its abv from 7.2% to 5.5%, with the brewery claiming the beer had previously "stopped drinkers in their tracks after their second pint".
"The higher alcohol content of many craft beers may be hindering volume growth"
Camden, meanwhile, ditched its 6.2% India Hells Lager and replaced it with the 5.8% Juicy Lager. It has since moved into light beers with a 3% abv 'Week Nite' craft lager.

"Craft will always have those strong beers, but the no and low-alcohol boom has really taken everybody by surprise," says Simmons.

That's without mentioning the higher margin that often accompanies weaker beers. "The money is in bog standard IPAs of a normal abv, not the other stuff."

Meanwhile, the relentless focus on quality that first drew drinkers to craft beer has begun spilling over into other beer categories and is, to a point, driving shoppers back into lager and other ales. "People are getting their teeth into lager and driving a reappraisal," says Simmons.

"But real lager rather than the chemical stuff we were drinking for so long. People are being told it's not a sin to drink lager and that not all lager is just Foster's or Heineken.

"People are beginning to go back to cask brewers like St Austell and Harveys because once you embark on the search for nirvana, you always end up going back to the original," he adds. "And the people moving into these areas are the experimenters - they were the reason craft came about in the first place."

Still, a bit of perspective goes a long way. Craft beer is still one of the most powerful trends not just in booze but in fmcg - it may have slowed, but that 16.4% growth figure is one that would be the envy of many markets.
"Once you embark on the search for nirvana, you always end up going back to the original"
Craft cider
Craft cider, meanwhile, is a different story. Essentially, it still hasn't got off the ground. "What powered the craft beer scene initially was a long-standing dislike of some pretty ordinary beer," says Hamish Renton, MD of HRA Global. "There was a flight to quality. In cider the vanilla execution of standard products is just not as bad."

Kopparberg learned the hard way: despite much initial hype, its Crafted Warning spin-off brand was delisted in Asda, Morrisons and Waitrose this year after failing to reach a significant rate of sale. "It's an incredibly difficult category for the consumer to understand," says Kopparberg head of marketing Rob Salvesen. "If you look at beer there are five ingredients, but in cider it is very difficult to educate consumers about the different types of apples and hundreds of varieties."

The UK's tax regime also makes it harder for new producers to gain ground. In the US, small brewers get tax breaks and rates rise incrementally on what they sell. That has led to "urban cideries popping up everywhere in every major city", says Simon Wright, founder of craft cider brand Hawkes. By contrast, in the UK "cider is still very much a cottage industry with everything based in the south west", he says. That makes it hard to envisage the same kind of revolution we've seen in craft beer.

Still, Hawkes was bought by BrewDog last year, so has some financial heft now after years "bootstrapping our way along" says Wright. It is currently trying to boost the profile of UK craft cider scene by hosting Ciderama, a festival showcasing 25 producers in London this summer. So while craft beer has reached its awkward teenage years, craft cider might just be in its infancy.
Indie beer retail: head to head with the mults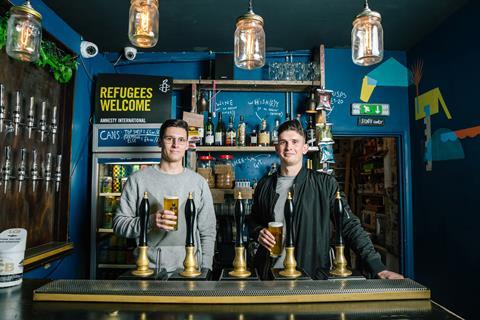 Supermarkets may be putting bottle shops under pressure, but indie beer retail has a fair few tricks up its sleeve.
The need to differentiate themselves from the mults has led to a blossoming scene of cross-purporse shops, taprooms and downright unclassifiable retail concepts.
Take London's Hop Burns & Black, which sells a combination of high-end craft beers, chilli sauces and vinyl records, and regularly hosts evening clubs with prominent beer writers.
"All that's happening in indie retail is the same thing that happened a long time ago when the supermarkets started putting prices down and putting small shops out of business. Every time something becomes popular they hover like vultures," says beer consultant Bill Simmons.
"What the independent retailer has to do is diversify and be more creative. If you're going to go head to head with the supermarkets and just sell beer then you're never going to win.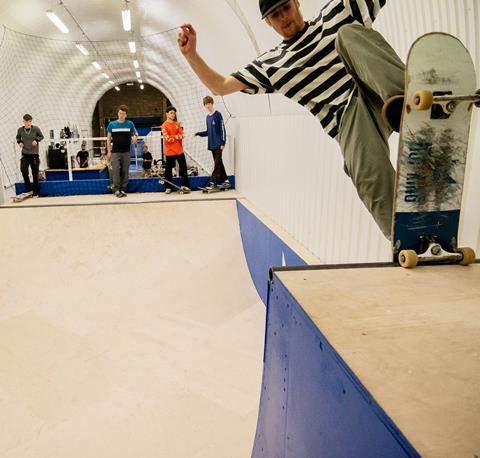 "They need to limit their ranges to beers with real quality and become premium outlets, become taprooms, and introduce experiences."
Meanwhile, brewers are placing growing importance on direct-to-consumer retail through taprooms and brewhouses, which verge from the traditional to the quirky.
London brewery Hop King's taproom near London Bridge, for instance, is also a fully functioning skate park.
"Since we opened in November 2018 we've had short of 2,500 skaters come through our doors," says the brand's founder Ben Hopkinson. "It's an open, accessible space where everyone's welcome.
"Which means I can get 2,500 people in that weren't necessarily into drinking better beer and getting them interested."
This, says Hopkinson, is "better than us just banging on about a triple-hopped IPA"
Innovations in beer and cider 2019