You can tell a lot about a society by the oil it cooks its food in. Climate change, economics, geopolitics, demographics, health trends, online influencers and celebrity chefs such as Joe Wicks and Jamie Oliver, even the tweets of Donald Trump - what's bubbling away in our frying pans reflects them all.
Believe it or not, all of the above have influenced this year's boom in sunflower oil. An extra 4.4 million litres were sold in the past year - an 8.4% rise that's delivered 9% value growth [Kantar Worldpanel 52 w/e 28 January 2018]. The same goes for the 1.4 million (8.1%) fewer litres of extra virgin olive oil sold, cold pressed rapeseed's 21.1% jump and the total market's 5.4% gain on volumes up 1.4%.

But how? And what do Joe, Jamie and Donald have to do with any of this?
One vital piece of the jigsaw is how retailers are approaching the sector. With the discounters overtrading in oils and driving most growth, a full-on price war is in the offing. Sunflower is a key weapon of choice, with Tesco cutting the price of own-label five-litre packs to £3.50 in April. Asda and Morrisons followed suit with the KTC brand.

This is loss leading, contend many. "There are crazy prices in the world food fixture, where much of the bulk vegetable oil is stocked," says one well-placed source. "Asda, Tesco and Morrisons have all been at £3.50 for five litres. At that price you don't cover the cost of the oil, let alone the cap and the label."

The bonanza on sunflower oil is linked to what has become one of grocery's biggest seasonal sales opportunities. "Promotions began in the four weeks prior to Ramadan (which started on 16 May) and most was sold in the first two to three weeks," says KTC commercial director Paresh Mehta. "Strong numbers on sunflower oil are mostly down to heavy periods of promotions and the good deal you get on basic commodities like rice, flour and oil in world foods. We have no control over the price. Ultimately, if Tesco goes down to £3.50 on own label, Asda and the rest will want to match it. It's a catch-22 situation."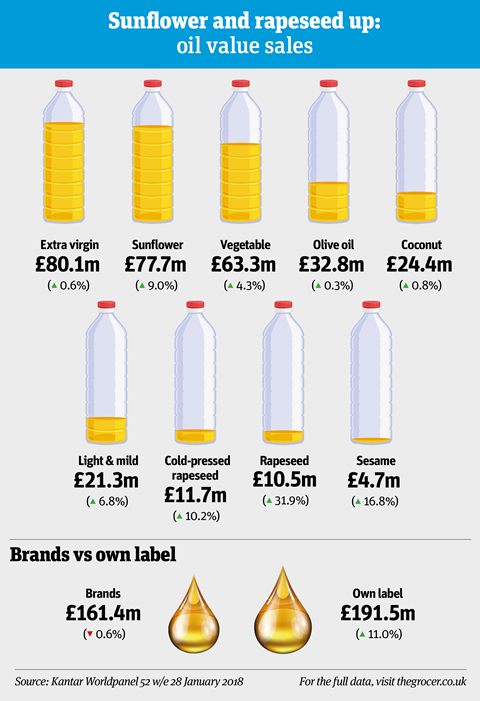 Prices have since returned to around the £4.50 mark. It's still a good time for the retailers to be piling high and selling cheap, given current availability. Global sunflower oil production has hit record highs in the past five years, up 23% on average [Mintec]. Russia and Ukraine - the world's two largest producers, accounting for 23% of global production apiece - have increased annual output by an average of 23% and 28% respectively in the past five years.

"New figures for 2018/19 show a global increase of 5% year on year, with ending stocks up 9% for sunflower oil," says Mintec analyst Corrina Hutchings. "The increase in production is largely driven by the Ukraine, which is forecast an 11% increase, with ending stocks forecast to more than double last year's. The competitor vegetable oils are also looking to see an increase in production. This includes soybean, rapeseed and palm."

Dramas playing out on the geopolitical stage add further volatility, says Mehta. "Buying groups in India and China will decide whether or not to buy soya oil depending on what Donald Trump says he will do on duty rates," he explains. "This has a massive impact on market sentiment and price. Recently there was one shipment that got detoured to a different country because of a tweet from Donald Trump."

So that's how the leader of the free world (and the world's biggest soybean producer) is influencing what's sizzling in the world's frying pans. Jamie Oliver, meanwhile, can take a bow for his influence on the boom in cold-pressed rapeseed oil. In 2013, the chef began trumpeting the oil's nutritional and culinary credentials, calling on foodies to swap from imported extra virgin olive to domestically produced cold-pressed rapeseed oil.
Drive to cold-pressed rapeseed oil
Indeed, cold-pressed rapeseed oil is in strong growth, up 10.2% to £11.7m [Kantar] on volumes up by more than a fifth, making it one of the market's strongest-performing oils. "This has been the case for the past five years," says Lawrence Frohn, business manager at Hillfarm Oils. "The driver is mainly coming from consumers and chefs realising that cold-pressed rapeseed oil is a far better all-round product than extra virgin olive oil. It's healthier, more versatile and cheaper."

The latter holds particularly true now. Olive oil production across the Mediterranean was hit hard by drought in 2017, heaping yet more pressure on UK retail suppliers following the pound's Brexit-related crash in 2016. Save for increases in labour and packaging costs, domestic rapeseed producers have not faced the same challenges as rivals in olive oil. This has allowed them to keep prices down and steal share.

"Price inflation driven by raw materials cost increases and adverse currency have led to volume decline in the olive oil market," says Mark Church, MD of Princes-owned branded and own-label supplier Edible Oils Ltd (EOL). "However, household penetration has remained flat as consumers change shopping behaviour, moving to smaller pack formats and switching between brand and customer own brand."

That's not the only change. "There is data to show there's switching going on from olive oil to sunflower," says Walter Zanré, MD of Filippo Berio UK, pointing to Kantar analysis [52 w/e 31 December 2017] that shows roughly a third of sunflower volume growth came from consumers switching from other oils.

Of course, no one's suggesting foodies are ditching extra virgin olive oil to pour cheap sunflower oil over their bruschetta. At the cheaper end of the market, sunflower has stolen share from rival veg oils (see Crisp 'n Dry's decline, for example) as raw material savings have been passed on. At the pricier end, many say there's an opportunity for Flora sunflower oil to convert olive oil shoppers. Indeed, some say a surge in featured space promotions for Flora this year is an attempt by Princes, whose EOL division manufactures the brand, to offset plummeting sales of its Napolina line. Church will only say that Flora is the "main sunflower oil brand to command a premium" and appeals to "more affluent and health-conscious shoppers".

It's a description that would also suit the target consumers of Napolina and its major olive oil rival, Berio. Both have been forced to cut back on promotions by soaring raw material costs and the pound's weakness; both have seen their average realised price go through the roof, Berio's by 9.9% to £4.16/unit and Napolina's by 17.4% to £3.53/unit [Nielsen 52 w/e 31 March 2018]. This could make Flora more attractive to more price-sensitive olive oil shoppers.
Inflation hitting investment
"Cost inflation has impacted Napolina's ability to invest in promotional activity to the same levels as last year," confirms commercial director Neil Brownbill. "Napolina remains a major player and was volume brand leader over the 12 weeks to 21 April [IRI]. Napolina brand awareness remains high at 74%, supported by our unique cross-category strength in Italian cooking."

Despite all this, Napolina has suffered the greatest volume loss of the year, shifting 2.4 million fewer litres of oil, a decline of 26% [Nielsen]. Such huge losses illustrate the importance of promotions, and more specifically extra virgin olive oil, purchased only twice a year by the average household [Kantar] and therefore reliant on featured deals to encourage impulse sales.
Deals are crucial
All this makes one thing clear: deals are crucial in cooking oil, whether at the pricier end of the market or value lines. "The best we've ever seen on a gondola end promotion is a 40% uplift - you can expect an uplift of 5% in other sectors," says Zanré. "Because of the lack of frequency in the sector, you can get a lot of volume on strong promotional deals."

This sensitivity to price may be part of the reason own label is mopping up the brands' lost volumes in extra virgin. Branded sales have crashed 9% on volumes down 22%, while own label has grown 10.1% on volumes up 1.4% [Kantar]. Of course, a key driver of own label's growth - 11% on volumes up 2.9% at total sector level - is the rise of Aldi and Lidl, where sales are up 18.1% and 39.4% respectively. Now the big four are increasingly fighting the discounters at their own game. "Aldi and Lidl have about 25% of the olive oil market and only about 12% of grocery, according to Kantar, so they massively overindex," says Zanré. "The other retailers have tried to manage this with a move to everyday low pricing on private label. This will be hitting their margins. EDLP might work in baked beans, but it doesn't in olive oil."

This is happening in all sectors, not just olive oil. "It's natural for consumers to fall back to own label during periods of food price inflation," contends Paul Fraser, MD of Frylight brand owner MH Foods. "Own label quality in pouring oils is generally perceived to be close to that of branded. The exception is Frylight, where we use patented technology to deliver a highly functional product, which is hard for own brand or others to match."

So it's little wonder that many brands are following in Frylight's footsteps and launching spray oils. The Groovy Food Co has launched a virgin avocado oil cooking spray (see p49), while Napolina has launched a trio of 200ml spray olive oil formats. "Spray oils are now an important part of the category," contends Brownbill.

Such NPD could prove useful, given that brands are suffering across the board. In spite of the strong growth in cold pressed rapeseed oil, brands are on a slippery slope. Borderfields is down 4.6% on volumes down 2.9%, for example; Hillfarm has lost 13.7% of its value and 12.8% of its volume.

"All retailers have their own brand of cold-pressed rapeseed oil and most are putting more emphasis on them," says Frohn at Hillfarm. "Our overall business is growing so we have not been impacted, as we do supply some own label brands. Our PR for our Hillfarm brand continues to inform the consumer with the information they want to hear - health, versatility and provenance."
Slowdown in coconut oil sales
Coconut oil brands need to do the same. Its huge growth in recent years to become the fifth-biggest oils sector in the supers [Kantar]has all but ground to a halt in the past year. Value sales have inched up 0.8% on volumes up 6.1%. A year ago, Kantar reported growth of 27.2% on volumes up 47.7% [52 w/e 26 February 2017]. No prizes for naming a key contributor of the slowdown.

"Over the past 18 months every retailer has put own label coconut oil in," says Tim Rees, MD of Vita Coco, which has seen its sales slide 9% on volumes down 14.3% [Nielsen]. "Aldi has had a huge impact. It has a much wealthier demographic than many people give it credit for and last year had the third bestselling coconut oil in the country [Kantar]."

Again, the mults have responded by rationalising branded ranges and increasing own label. "Typically, when the interest in coconut oil began, the retailers would have had three SKUs across two brands," continues Rees. "They'd have had a premium brand such as us, Lucy Bee or Groovy, and a tertiary brand. Typically, they've moved the tertiary brand into world food, introduced own label and culled the branded offering."

Lucy Bee has been hit particularly hard, with a y-o-y decline of 45% to £1.1m on volumes down 39.9% [Nielsen], and Groovy Food Co down 42.3% to £2.8m on volumes down 37%, making them the two biggest branded casualties after Napolina.
The switch to own label has driven a 5% decline in average price per unit in coconut oil [Kantar]. "There is a deflationary impact, with rsps much lower here vs branded products, which is causing the slowing of growth in coconut oil," says Church at EOL, which has launched 300ml jars of coconut oil and a spray format under the Pura brand.

"The range is aimed at making the coconut oil trend more accessible to cooking oil shoppers via a liquid format blended with rapeseed and sunflower to dial up benefits such as omega-3 and lower saturated fat content versus solid coconut oil."
Celebrity influencers
Some will take issue with Church's comments regarding the satfat content of coconut oil. Vita Coco and Groovy see addressing confusion over the relatively high satfat levels of coconut oil as key to branded success in this sector. Vita Coco has enlisted a number of influencers, including Fearne Cotton and, yes, Joe Wicks to spread the word. It saw a boom in sales after increasing media investment to back up the findings of BBC programme Trust Me, I'm a Doctor, which found coconut oil did not raise low density or 'bad' cholesterol levels. "We put a lot of media amplification behind this and boosted sales by over 50%," adds Rees.

Most agree the coconut oil bubble hasn't burst quite yet, pointing to its versatility and growing clarity over its health credentials. "We're confident we'll see growth pick up again. A study by the BMJ concluded coconut oil did not raise bad cholesterol and in fact boosted good cholesterol," says Groovy founder Rosie Hayward.

Still, coconut oil has competition. "Our expectation is there'll be an expanded range of quality oils coming onto the market," says Gary Hannam, CEO of extra virgin avocado and olive oils brand Olivado, a prediction that's borne out in our rundown of notable new launches. "There is a growing trend to quality oils, as consumer concerns about health and product quality grow."

New entrants might have their work cut out on securing promotional space in the coming year, given that olive oil supplies are beginning to replenish and brands will soon be in a better position to promote to win back share. "As private label contracts are renewed, supermarket buyers will be conscious that value has been driven out of the category," says Zanré. "Now I expect we'll see the pendulum swing the other way."

With relations between Russia, Ukraine and the west looking increasingly frayed, the pendulum could also be about to swing against sunflower oil too. They do produce almost half the world's sunflower oil, after all. And it could only take another Donald Trump tweet to halt this boom in its tracks.
---
Innovations in oils 2018