As the likes of Juul and pod devices come to the fore, vaping is starting to take centre stage in supermarket strategy and display
When grocery retailers describe eye-catching merchandising and inventive displays in store as "theatre", they're not claiming the average supermarket matches the glitter of the London's West End playhouses. But a splash of invention in the aisles can make shopping a darn sight more entertaining.

Were all the world of the mults a stage, the gravel-voiced villain would be played by tobacco - wheezing throughout increasingly unpopular performances from behind the house curtain.
Download the PDF version of this report
---
Not only do ciggies not, figuratively speaking, put bums on seats like they once did; they're also increasingly in danger of being upstaged by a company of hot, young performers called vaping.

In both absolute and percentage terms, the vaping category revelled in double-digit growth over the past year, up 12% in value on volumes up an ovation-worthy 23.6% [Nielsen 52 w/e 8 September 2018]. While that £184m value in grocery accounts for no more than a quarter of the UK's total vaping market - the vast majority of sales come from specialist stores and online retailers - the £19.7m surge nevertheless suggests a star in the making. And it's 'pod mod' devices - compact, easy-to-use closed systems - that have had a big hand in driving growth.
"It took just five weeks for US sensation Juul to grab an 18% share of Sainsbury's vape sales"
Hogging centre stage right now is Juul, the pod mod sensation from the US. It launched in its homeland more than three years ago as a disruptor, drawing accusations of targeting young people through its flash drive-like design, fruity flavours, and use of youthful models in its social media-centric marketing.

Insisting its product was meant only for adult smokers, Juul went on to reach almost $1.3bn (£1bn) in the US through 90,000 points of sale. That was by August 2018, three months before Sainsbury's became the first major UK retailer to stock Juul. Having made its UK debut in July via 228 vaping stores, it is now available from 1,400 specialist outlets as well as 1,692 Sainsbury's branches - c-stores and forecourts as well as supermarkets.
It took just five weeks for Juul to grab an 18% share of Sainsbury's vaping sales, which are spread across 15 brands including Ten Motives from BAT (up 11.6% across the whole of grocery to £36.9m [Nielsen]) and PMI's singular 'heat not burn' Iqos device.
"We're happy with the first months of performance," says Juul's UK sales director, John Patterson. "We're now the second-biggest brand in Sainsbury's; we've helped re-establish overall growth of the category. Ultimately, that's the role we want to play: bringing cigarette smokers over to Juul."

Juul is also marking a change in the way supermarkets merchandise vaping products. Having been previously unloved and hidden in the tobacco segment at kiosks, Sainsbury's is now showing vaping devices some affection. Juul is on the main floor in 282 stores, with a full shelf dedicated to the brand's products, including a starter kit and flavoured refills. Finally, Sainsbury's has added a touch of theatre by becoming the first multiple to place an array of colourfully packed brands on gondolas.

Patterson gives "a lot of credit" to Sainsbury's buyers for their vision. "They really owned the process. We supported them in seeing the value in increasing their range and looking at alternative ways to build awareness around the category."

Being able to touch and feel products is important in the vaping buying process, says Patterson, so Sainsbury's new approach marks a sea change. Still, "it's early days for understanding the impact", he adds.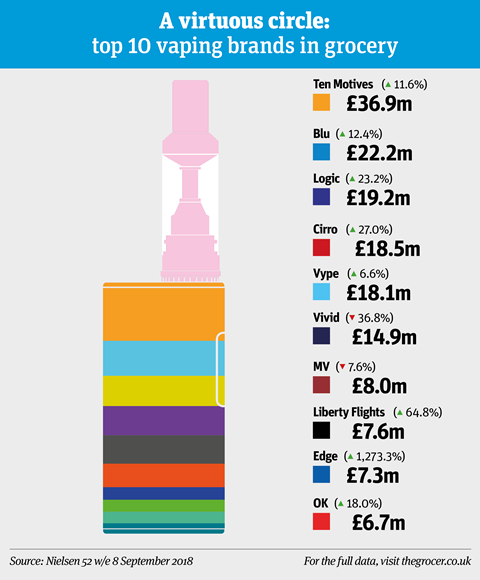 Find the full data at the bottom of this report
Juul competitors

However, Juul is far from the only story in pod mods right now. Other brands to enter the market include Vype's ePen 3, launched last summer in six colours. Maker BAT describes it as "the cutting edge of closed-system vaping technology", "stylishly compact" and the company's "best vape ever".

It was preceded in March by MyBlu from Imperial Brands' Blu brand. The one-step 'click and go' design for changing its nicotine liquid pod allows users to "switch between flavours in seconds". It's available in more than 11,000 grocery outlets, says Blu UK head of trade marketing Chris Street. "We are increasingly seeing a trend within all supermarkets to pursue category-enhancing retail display solutions. We work with all our customers to help provide suitable in-store displays tailored to their shoppers, which will help the UK's smokers make the switch to something better in vaping."
Nick Geens, head of reduced risk products at Logic Compact maker JTI UK, agrees the mults "are definitely responding to the growing vaping category."

Amid all this activity, Juul will have to work hard to win dominance. Particularly because rules in the UK are far stricter than its US homeland, says Blu's Street.

"The regulatory landscape is markedly different here compared with the US, where fewer restrictions exist. For instance, in the US, manufacturers can produce e-liquids with considerably higher nicotine strengths. This suggests products offering a particularly high strength as a USP could present an appealing proposition. However, in the UK and Europe, manufacturers are unable to gain a competitive advantage by offering higher nicotine liquid strengths, as EUTPD regulations cap the content at 1.6%.
The evolving restrictions around UK vaping ads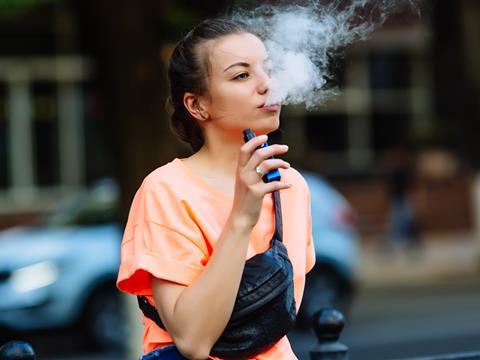 November 2014 was a historic month for vaping. A slackening of the UK's advertising rules allowed brands to show devices on TV for the first time.
Three commercials made their small screen debut. Just weeks later, they were all banned.
The first two, for VIP Electronic Cigarettes, featured a woman 'sexily' exhaling vapour. It attracted almost 200 complaints to the Advertising Standards Authority, which said it "indirectly promoted the use of tobacco products" – a contravention of ad regulations.
The final advert was for Vape Nation. Its seemingly innocuous scenes of people delighting in their e-devices was censured by the ASA because it could "encourage non-smokers to use e-cigarettes, and we therefore concluded the ad was irresponsible".
If marketing was tricky for vaping then, it's since become a minefield. Rules began tightening up in May 2016, when the EU Tobacco Products Directive II kicked in and introduced harsh restrictions on the advertising of e-cigs. That was followed in February 2017 by a new rule in the UK's CAP Code prohibiting the advertising of "unlicensed, nicotine-containing electronic cigarettes in some non-broadcast media".
At the end of 2018, the ASA issued advice on section 22 of the CAP Code. It concerned the regulation of marketing communications for electronic cigarettes – which, for the purposes of the section, are "any product intended for inhalation of vapour via a mouth piece ('vaping'), or any component of that product including, but not limited to, cartridges, tanks or e-liquids".
The advice included five key tenets:
Ensure your ads are socially responsible
Don't target, feature or appeal to children
Don't confuse e-cigarettes with tobacco products
Don't make medicinal claims and take care with health claims
Ensure you don't mislead about product ingredients or where they may be used
"Add the restrictions placed on social media activity in the UK, which don't exist in the US, this means the UK is a very different playing field, and strategies that bring success in America cannot necessarily be replicated on these shores."

There is, however, another US-UK schism that might well benefit Juul (as well as its rivals): the governments' differing views on the physical effects of vaping.
In the States, where vaping is apparently higher among high school students than adults, the dramatic warning from the surgeon-general's office is that "e-cigarettes can contain harmful and potentially harmful ingredients, including ultrafine particles that can be inhaled deep into the lungs". And in September, the FDA launched a hard-hitting ad to caution young people about "the real cost of vaping".

In the UK, meanwhile, there is less concern over the health risks. Smokers are almost twice as likely to quit if they use e-cigarettes rather than nicotine replacement therapies such as gum, a study led by Queen Mary University of London found last month. This gave extra credence to Public Health England's pro-vaping stance - most recently updated last year to say "vaping poses only a small fraction of the risks of smoking, and switching completely from smoking to vaping conveys substantial health benefits".

Unsurprisingly, vaping suppliers and retailers are delighted by the UK's view of their industry. "We support ongoing efforts by groups such as Public Health England to further advocate for vaping products and encourage greater choice for consumers," says a BAT spokesman.

"However, we would like to see more collaborations between local councils, who now run local tobacco cessation programmes, and the industry to get these products into the hands of consumers."

It's to that sort of end that the UK Vaping Industry Association will hold a one-day business-to-business conference in May. Titled 'Seizing the vaping public health prize', the event in London will "explore the roles of the public health sector, the media and employers in promoting vaping over smoking".

Such calls for greater engagement with vaping - and the return this year of UKVIA's April campaign VApril - could ensure a hale and hearty future for the category as it takes its turn in grocery's spotlight.