As consumption of bottled water continues to rise, pressure is growing on suppliers to act on the plastic waste generated
Bottled water may want to rethink its name. For the humble water bottle has been at the centre of a scandal. Not that Brits are turning their backs on water itself. Consumers threw back an extra 103.6 million litres over the past year, which led to an 8% rise in the market's value to over £510m. It's more the stuff around it that's the problem. Yes, we're talking plastic.
There's no escaping the fact this is a market drowning in PET. In London, the backlash against single-use plastic bottles has led mayor Sadiq Khan to plan a network of water fountains and bottle-refill stations across the city in town centres, shopping malls, parks and squares.
Plastic bottles have also been a driving force behind government plans for a deposit return scheme, as environmental audit committee chair Mary Creagh warned of the "700,000 plastic bottles ending up in our streets" every day.
Such moves have put renewed pressure on suppliers and retailers to help dredge the UK's ocean of plastic bottles - growing an estimated 13 million each year. And this pressure could force the category to change fast.

If water brands want to keep appealing to consumers, they need not only to act ­sustainably but also be seen to be taking action, advises John Letford, UK sales development controller at Danone Waters UK, owner of big-hitting brands Evian and Volvic.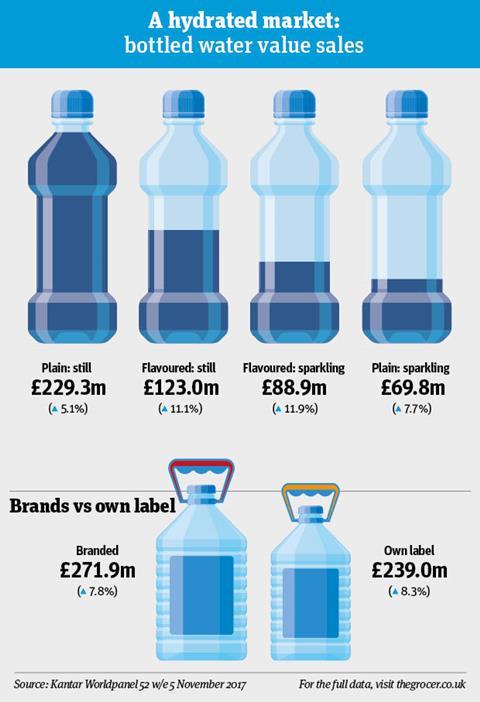 Click to expand or click for popup table

"Environmental concerns, particularly around plastic, continue to develop. Shoppers will begin to make choices based on evidence that suppliers are acting responsibly," he says. "It is therefore likely the category will see a shift towards more demonstrable ­evidence that brands are supporting and effecting change."

In January, Danone announced its aim to make all its Evian bottles from 100% recycled plastic by 2025. The move will see the mineral water brand adopt a 'circular' approach to plastic usage - meaning investment will go towards not only removing plastic waste, but also towards removing the need for virgin plastic in production. Danone says it is a "pioneering" move. Maybe. It's definitely a step away from what's going on in much of the rest of the bottled water category, where recycling is the main focus.

Coca-Cola European Partners, owner of Glacéau Smartwater, is one of the keen recycling advocates. The company is "passionate in our belief that none of our plastic bottles should end up as litter or, worse, in the ocean. We want all of them to be recycled," says Coca-Cola's customer marketing director, Simon Harrison. "However, with recycling rates in this country having stalled, we understand the concerns being expressed around plastic bottles."

That's why CCEP also has ambitions to ensure its packaging is "as sustainable as possible" and is championing reform of the UK's recycling infrastructure.

Harrogate Water is similarly pushing the recycling agenda. It works with Keep Britain Tidy "to understand consumer behaviour towards recycling and the barriers and enablers" says the brand's marketing manager, Nicky Cain.

It also kicked off its recycling initiative, The Incredible Shrinking Bottle, last summer to encourage on-the-go shoppers to crush their bottle and put it in a recycling bin in the street, or take it home to be recycled.

Cain insists bottled water should be given some slack. "There's no doubt that bottled water is, unfairly, taking the brunt of adverse publicity in the debate over plastic. PET represents 2.1% of litter, and bottled water represents only 19% of the soft drinks category," she says. "Bottled water is not only the healthiest drink, it is also the most environmentally friendly of all soft drinks, and PET has the lowest carbon footprint of any packaging."
Alternative packaging
Not everyone is buying that argument, though. That's why other brands are looking at alternative packaging. One Drinks has set a target of increasing the percentage of recycled materials in its PET range from 25% to 50% later this year. More interestingly, the brand last month announced plans to add a carton and a can to its water portfolio.

Cans, in fact, are the next big thing for smaller water brands striving to underscore their green credentials. CanO Water puts plain water in a resealable can that's fully recyclable as a "solution to plastic pollution". Brand co-founder Ariel Booker says aluminium cans "are infinitely recyclable and have the highest recycling rate of any water out there. Recycle a can and it could be back on the shelf in as little as six weeks."

Ugly's flavoured fizzy water is served in cans that are "100% aluminium and 100% recyclable". "Sustainability is a big focus for us, and we work every day to reduce the impact of our product on the environment," says CEO and co-founder Hugh Thomas.

With trendy packaging and flavours, Ugly is in a beautiful place. Because, plastic aside, the past year has gone swimmingly for the bottled water ­category - especially when it comes to flavoured varieties. Shoppers took home an extra 33.5 million litres [Kantar Worldpanel 52 w/e 5 November 2017] as the health bug ­continued to bite and shoppers looked for alternatives to sugary soft drinks. "Reaching for a bottle of water from a chiller in preference to a sugary drink has become normal, especially for younger consumers," says Harrogate Water's Cain.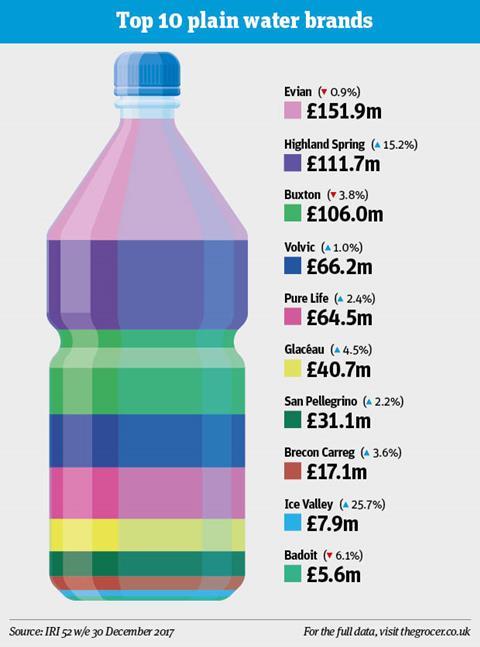 Click to expand or click for popup table

And that trend will continue, believes One Drinks' com mercial director, Paul Vita, supported by shoppers "trying to lead more active lifestyles and the growing understanding that water hydrates just as well as expensive, complicated sports drinks". Fear not just of sugar but also artificial sweeteners will play a role, he adds.

Being the closest alternative to a soft drink, sparkling flavoured water did particularly well, with 11.9% growth in value worth £88.9m.

"Flavoured water continues to drive growth in the bottled water market," says Katerina Gilbert, marketing director at Clearly Drinks. "Thanks to creativity within the sector on product development, innovative packaging and creative consumer engagement, still and sparkling flavoured water is rivalling the big brand ­carbonates and sugary soft drinks on a worldwide scale." Gilbert also believes April's impending sugar tax on soft drinks has helped drive consumers into bottled water's low-calorie, low-sugar embrace.

Ed Jones agrees. He's senior customer marketing manager at Vimto, which last year made its first foray into the flavoured water category with Vim2o, aimed at health-conscious consumers.

"The soft drinks levy is good news for the water category," he says. "As more and more consumers become aware of what they are putting in their bodies and seek healthy ­alternatives, those that can offer consumers great taste and low-calorie, low-sugar water drinks are winning."

It's not that Brits have "fallen in love with water" insists Clark McIlroy, managing director of food and drink distributor Red Star Brands. "They're just running away from something else." By which he means sugary carbonates - especially cola, volume sales of which were outstripped by water last year for the first time. British shoppers bought 1.77 billion litres of plain water across the total retail market in the 52 weeks to 15 July 2017 - passing cola at 1.72 billion litres [IRI].

Not even sugar-free colas are safe from opprobrium, says McIlroy. "Consumers no longer view diet or zero drinks as healthy. Instead, consumers view health as a lifestyle choice to fuel their body with brands that are adding a functional benefit and harnessing an emotional connection, often found within the water category."

It's not just flavoured lines that have benefited. You only need to see the growth in plain still and sparkling - up 5.1% and 7.7% respectively in value - to see the impact on the category as a whole.

"The move away from sugary drinks is helping plain bottled water," says Samantha Greatbanks, marketing manager for Hildon. "Sugary soft drinks are increasingly being replaced by plain ­bottled water in school lunchboxes. In December 2016, Mumsnet highlighted that plain water should be the thirst quencher of first choice for school lunchboxes."

It's the same mindset that saw consumer concerns about sugar in food rise significantly last year, says Karen Crowley, head of marketing at Highland Spring. She reckons punters are attracted to bottled water for its "lack of calories, sugar, preservatives and additives together with its convenience and refreshing taste" - and she notes the "heavy switching from fruit juice, fruit drinks, cola and fruit squash into water".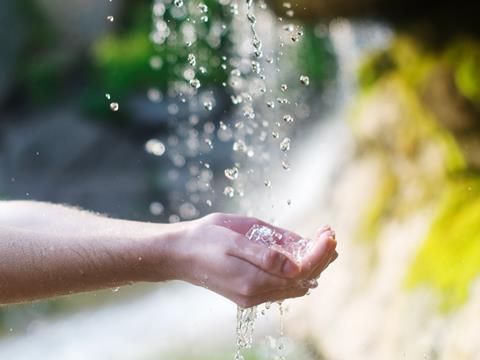 Brands push up ad spend by a fifth
Ad spend is up a fifth, driven by investment from San Pellegrino, Perrier and Robinsons.
Volvic remains the top advertiser. At the beginning of 2017, it renewed its TV sponsorship with E4 and launched its 'Find Your Volcano' campaign with 'empowering' limited edition on-pack labels.
San Pellegrino massively upped its investment with a TV and outdoor campaign encouraging consumers to 'enhance your moments'. The TV spot shows people enjoying San Pellegrino across the world.
Following its high-profile 'Babies' campaign in 2016, Evian toned down the media spend last year and concentrated on its Wimbledon sponsorship.
Source: Ebiquity
It's part of "big plans" for FitWater this year following outstanding early sales for the brand, says Scott Meredith, UK sales director at Lucozade Ribena Suntory. "Less than a year after first hitting shelves, this growth is set to continue throughout 2018 and beyond."

That brands such as Highland Spring are benefiting from this switch is testament to their power. It would be all too easy for water to fall into the realms of a commodity, with price becoming the most important factor. But that branded water is growing at the same pace as own label - values are up 7.8% and 8.3% respectively - suggests there is far more than price at play. Brands still have 53% share in the bottled water category overall, rising to 60% of the plain still and 63% of the flavoured still sub-categories.

"Brands remain major players in the category, showing that consumers are still looking for specifics when choosing," says Crowley.

Harrogate Water's Cain agrees that "strong brand identity, providing reassurance of quality and provenance, is a strong influence on consumer choice, acting as a brake on the commoditisation of the entire sector. If shoppers are switching from other beverages, distinctive style and identity can play an important part in the switch."

One point of differentiation for brands is offering extra benefits. Nichi Boca, founder and MD of Fresh Organic Products, says more and more shoppers are looking for something beyond standard water. "The growing health, wellbeing and fitness trend in the UK is pushing the plain drinking water category forward and encouraging brands to innovate NPD to cater to the expanding market.

"As shoppers look for simple ingredients, authentic nutritional benefits and ­transparent provenance, healthier, more premium and more artisanal functional water is a key growth area in the category, and ­consumers are willing to look further and pay more for it."

Fresh Organic Products' Aqua Carpatica water brand is "packed full of electrolytes and minerals, including calcium, magnesium and potassium". It's a similar selling point to FitWater, launched last summer by Lucozade Sport as its first move into the bottled water category - and hailed as the brand's "most ambitious" NPD in seven years.

FitWater sells itself as a purified spring water to "help consumers replenish what they lose in sweat". It contains four "key" electrolytes that "contribute to a reduction of fatigue and improve normal muscle function". The brand kicked off a £3.5m push in late February featuring heavyweight boxing champion Anthony Joshua.
Functional water
Right now, the functional water market continues to be led by CCEP's Smartwater, which moved last May to bolster its dominance by announcing the rollout of its first flavoured variants: Berry & Kiwi, Lemon, and Green Apple. The big brand is under increasing pressure from smaller rivals such as Sparkling Ice and Vit Hit - and more functional players are pouring on to the pitch all the time. Some are more niche than others.

Take Protein Water Co, launched nationwide in August. Its Muscle Maintenance range provides 20g of protein in each 500ml bottle, while this year's Skin Maintenance lineup offers "beauty in a bottle" with "a 10g hit of the highest quality form of hydrolysed collagen protein available in the UK".

Even more esoteric is Love Hemp Water, which rolled out in early 2018 claiming to be the first functional water in Europe to contain natural cannabidiol hemp extract. While it won't get you high (it lacks THC), it claims to have "wide-ranging benefits of cannabis oil to health and wellbeing".

Love Hemp Water co-founder Adam Pritchard is confident about his prospects. "Functional water is where there is some incredible innovation happening," he says. "Brands which are bringing genuine ­innovation and function at an everyday achievable price point for consumers are in a fast-growing category and can expect to achieve good growth."
Smaller formats
Most of these waters are appealing to the grab-and-go market. As shoppers look for a quick hydration fix, smaller formats are winning. "The bulk of bottled water sales are made up of immediate consumption formats," notes CCEP's Harrison. He cites the example of the Smartwater 850ml sports cap bottle, which is "an ideal option for busy, on-the-go consumers".

Water in a 500ml format remains one of Nestlé Waters' bestsellers "due to the product versatility as it can be enjoyed on multiple occasions" says Silika Shellie, UK head of category & shopper development.

However, small is not always better, warns Ruth Simpson, group marketing director for Aqua Pura owner Princes. Yes, as bottled water "continues to be a habitual purchase and a part of everyday life" it is the 500ml singles and multipacks that are "seeing particularly strong year-on-year growth at 9%".

But she adds that larger formats such as five-litre "are still selling well, particularly in urban areas where consumers are less keen on the taste and quality of tap water". These consumers are buying bigger bottles to use at home and they are conscious of price. "Five-litre bottles offer a larger amount of quality water at an affordable price."

With increases across all still, sparkling, flavoured and plain, it's good news for virtually all shapes and sizes of bottled water. It just may need to lose its bottle.
Innovations in bottled water 2018: click the picture for full product information
Downloads
Image, Size 61.38 kb

Image, Size 76.25 kb

PDF, Size 28.66 mb