As Brits ramp up the number of soups, salads and more exotic options in their lunchboxes, could the era of the sandwich be over?
It's not often a choice of sandwich overshadows a high-level security breach. Yet when housing minister Dominic Raab's aide leaked intricate details of his daily routine in April, it wasn't the potential for harm that caught the imagination of headline writers.
The real shocker was that he ate the same thing for lunch every single day. "He has the chicken caesar and bacon baguette, superfruit pot and the vitamin volcano smoothie," confided the aide. "He is so weird. I get it for him. I go to Pret. That's how I know. It's the Dom Raab Special." The revelation inspired numerous thinkpieces in the nationals about whether it is weird to have the same lunch every day.
The message was clear: lunch habits such as Raab's have no place in modern-day, foodie Britain. And data on what we put in our lunchboxes suggests we are indeed getting more adventurous. According to Kantar Worldpanel, when it comes to making our own lunches, sandwiches have been steadily in decline since 2014. In fact, we made sandwiches a staggering 182 million fewer times last year than we did four years previously. By contrast, the number of soups and salads in our lunchboxes have grown 6.6% and 5.1% respectively. We're also looking beyond standard British fare for inspiration. Although still relatively small, the number of Italian, Indian and Far Eastern lunchboxes has shot up over the past year.

All this can be explained by consumers wanting to spice up their lunchtimes. An extra 15 million lunchbox choices this year were made because consumers "fancied a change". It's goodbye to the standard ham and bread in a lunchbox and hello to salads in jam jars and colourful bento boxes.

So are the days of the sandwich numbered? How can brands regenerate interest in the humble sarnie? And how will the lunchbox evolve with diversifying tastes?
"A wider range of options are available, so a decline in sandwiches is not surprising"
It's easy to get carried away with the idea of Brits falling in love with Thai salads, Indian tiffin boxes and Italian arancini for lunch. But for many, the sandwich remains a staple. The sarnie accounted for 55% of all lunchbox occasions while its nearest rival - soup - was just a tenth of that figure, with just over 5% of all occasions.

Kingsmill stresses there is plenty of mileage left in the sandwich. "A wider range of lunchtime options are available, from sushi to sausage rolls, so it's not surprising that we're seeing a gradual long-term decline in sandwiches," says Zoe Taphouse, category director at Kingsmill's parent company Allied Bakeries. "However, despite this pressure, the humble sandwich remains the nation's most popular dish."
Generational divide
There is a generational divide at play, though. Younger consumers are more likely to stray away in favour of new and exciting options, says Kantar. "The 16 to 34 age group are driving this move to more adventurous lunchtime cuisines, with Italian and oriental food now making up 4% and 2% of their carried out lunches respectively," explains Kantar consumer insight director Grenville Wall. "This still only accounts for a relatively small number of lunchbox meals, but we expect the trend to continue as shoppers become more experimental."

Older generations tend to be more habitual in their lunchtimes, believes Warburtons innovation & product marketing director Darren Littler. "I remember my dad once said to my mum that he really liked cheese and beetroot sandwiches," he recalls. "For 10 years, that's what he got for lunch." He's not alone; research by Deliveroo found one in three Brits do a Dominic Raab and have the same lunch every day. For now, this demographic isn't going anywhere. The age group driving the steady increase in lunchbox occasions is the 45 to 64-year-olds, who are consuming 8% more than last year. The increase in the retirement age is likely to make the older generation even more important.

It's not necessarily good news for bread. Even if the sandwich remains king of lunchtime for now, it's possible simple everyday lunch options will all but disappear as new generations come up. Already younger consumers have made their mark in the form of an 8.3% decline in the number of cheese sandwiches consumed over the past year, according to Kantar. The chicken sandwich was an even bigger casualty, down 16.7%.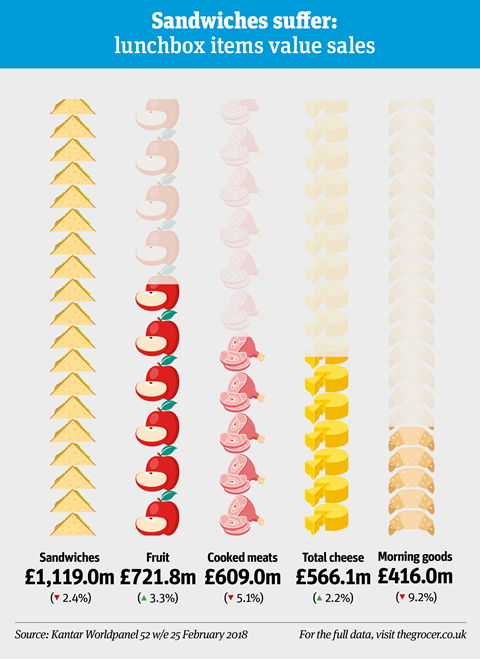 Lunchbox items value sales 2018
Warburtons' Littler doesn't believe a cheese or chicken sandwich apocalypse is on the cards, though. He points to Warburtons research that named cheese the nation's most popular sandwich choice. There is still demand for simple options among the up-and-coming generation, he says, just with a twist. "We're still eating cheese sandwiches," argues Littler. "But there are many different styles of cheese and bread. So instead of sliced white, it might be in a sandwich thin or a deli bun."
"We're still eating cheese sandwiches. But there are different styles of cheese and bread"
The brand is certainly doing its best to inject a little bit more excitement into the sandwich. In the first half of 2018 alone, Warburtons launched three new products. The Pulses & Seeds Batch loaf, containing 11 pulses, seeds and grains, made its debut in March. The next month heralded the launch of its Bistro Deli Buns, followed by Brioche Deli Buns in May. All of which could easily jazz up a classic cheese and bread combo.

Others are looking to revamp the sandwich with world influences. Experimental retailer food-to-go ranges have led the charge. Sainsbury's claimed a supermarket first with the launch of steamed Asian buns last May, and Waitrose has listed a chicken katsu bento box with a wakame seaweed salad and wasabi lemon mayo. Now more brands are getting in on the act. Jake & Nayns' revamped its range of filled, microwaveable naan breads this year to tempt consumers looking for more exotic options. The target market is certainly growing. The number of Indian-inspired lunchboxes shot up by more than 80% over the past year, albeit from a small base.

Another area in strong growth is Italian food, present in 18% more lunchboxes last year (as with Indian, this is growing from a small base). One company looking to capitalise on this trend is Crosta & Mollica. The Italian brand has secured listings in Sainsbury's and Waitrose for its piada, a traditional flatbread and regional street food originating in the Emilia-Romagna region. "Piada is the Italian fast food sandwich. You just heat the bread in a dry pan and fold it," says Crosta & Mollica founder James Orr, who makes regular trips to Italy for inspiration. "What it brings to the UK is a new style of flatbread with all the benefits of a wrap in that it is a lighter alternative to a traditional sliced sandwich.

"Piada are very simple - generally they have only five or six ingredients, and one of those is extra virgin olive oil," Orr adds. "Clean ingredients are one of the reasons we've seen the success we have."

Which brings us to another major trend influencing the UK's lunchboxes: health. According to Kantar, an extra 18 million more lunchbox occasions were driven by a desire for "health benefits" last year. Health means different things to different people, but it's likely to be a further blow to the sandwich. The bad press around carbs shows no sign of stopping, despite the government's Eatwell guide recommending they make up a third of your daily calorie intake. The BBC's Truth about Carbs, aired at the beginning of June, made uncomfortable viewing for bread and pasta aficionados. In the documentary, doctor Xand van Tulleken named beige carbs as the "ones to avoid" and highlighted their role in the national obesity crisis.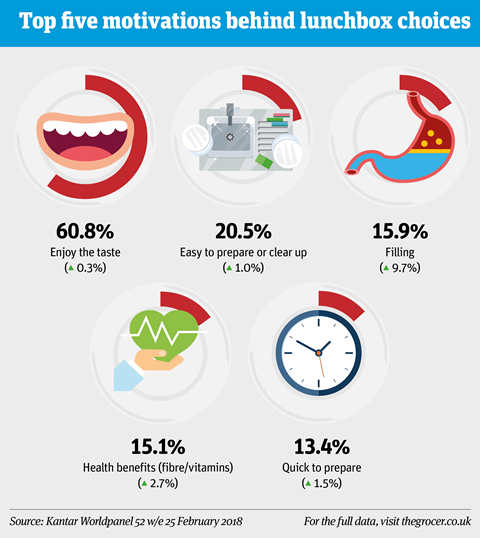 Top five motivations behind lunchbox choices 2018
Healthier breads
It's hardly a new challenge for bread brands, which have been battling negative perceptions for years. They are fighting back with healthier lines. Both Kingsmill and Warburtons have launched new seeded variants in recent months. Hovis attributes much of its growth over the past year to its Seed Sensations lines. "We are certainly seeing increased interest in products with added seeds and grains," says Sara Green, head of insight at Hovis. "Seeded plant bread is in 11.3% value growth."

Hovis targeted carb-dodgers with the launch of its Lower Carb loaves last June, and Warburtons set its sights on the gym crowd with the addition of Protein Thin Seeded Bagels to its range last September. Even wraps and flatbreads, typically seen as a more virtuous option, are trying to up their game. Healthier variants include a seeded wrap from Sainsbury's and beetroot and spinach wraps from Morrisons.
Aldi, which stocks spinach and sun-dried tomato wraps, believes this is playing to a more discerning crowd. "While the traditional white loaf still has its place, our customers are becoming more adventurous, as well as seeking lower-carb options such as wholemeal wraps and pitta breads," says Julie Ashfield, MD of buying at Aldi.

Even with all this innovation, more and more people are finding sandwiches and wraps are just not enough to quell their hunger pangs on a daily basis. "Consumers are no longer purchasing a sandwich five days a week, they are mixing this up," says Wayne Greensmith, head of category marketing for Adelie Foods. "We have seen with the growth of other categories such as salads, with consumers eating less bread and wanting more flexibility." The figures back up his argument. There were an extra six million soup lunchbox occasions last year, and an extra four million involving salads [Kantar].

Salad giant Florette says this all comes back to the same motivation of health. "Consumers are no longer satisfied by the category heartland of sandwiches and are increasingly opting for healthier, nutritious choices," says category controller Polly Davies. Spotting this demand, Florette has launched a new range of meal bowls to "provide a convenient and healthier meal solution" for lunchtimes.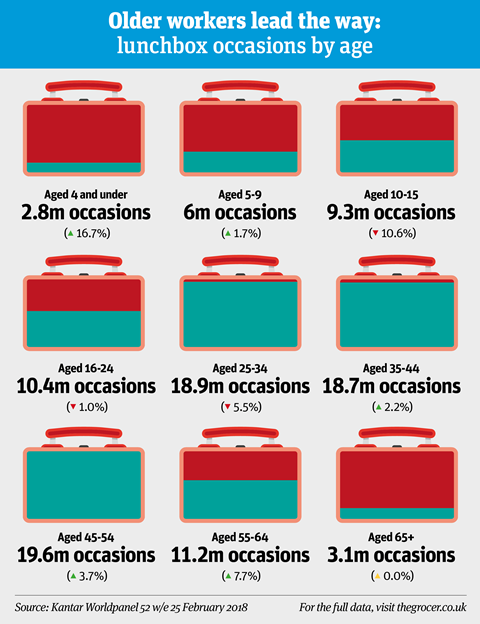 Lunchbox occasions by age 2018
All this ties in with the increasing appetite for vegan fare. Accurate or not, many consumers believe a plant-based diet is healthier. Veganuary heralded the launch of a number of meat-free options in supermarket food-to-go aisles - Asda unveiled a falafel & houmous sandwich and Boots offered its first vegan meal deal - and momentum seems to be building across lunches in general. Over the past year, the number of vegetarian lunchboxes is up 60%, according to Kantar.
"People are interested in a vegan lunchbox that offers something different to a falafel"
On the catering scene, vegan options are now becoming the norm. Faye Dayan, co-founder of catering service Dayan & Webb, says veganism has become so mainstream among corporate clients that they are looking for a variety of options - perhaps showing the way ahead for retailers. "People are interested in a vegan lunchbox that offers something different to a falafel," she explains. "We have a vegan lentil and oat loaf with pear, walnut and squash salad that is really popular, even among customers that aren't vegan." Options such as the Co-op vegan onion bhaji sandwich shows this more experimental approach is already filtering down to retail.

BBC Good Food is also noticing an interest in new vegan recipes for lunchtime. Views of its vegan recipes have grown by over 150% in the past year. "We've seen a huge rise in the number of vegan lunch options on offer as well as the interest in vegan cooking," says Rebecca Hughes, digital food editor at bbcgoodfood.com. "Our most popular vegan lunch recipes include chickpea curry jacket potatoes, garlicky mushroom penne and linguine with avocado, tomato & lime."
Many consumers will be making these recipes the night before and heating them up at work. Kantar data shows over 20 million more lunchbox occasions this year (an extra 4%) were prepared on another day. "As consumer confidence continues to slump, it's no surprise the UK public is carefully managing budgets. And what better way to do so than reheating leftovers?" points out Kantar analyst Alex Foch. "It is an even more attractive proposition given the lack of effort required. Convenience is vital, particularly given that 'ease of prep' has been selected as a need an extra 10 million times this year."

It's clear today's lunchers are a pretty demanding bunch. Not only do they want convenience, but a pick of healthy and vegan options, all with exotic flavours to boot. So innovation will be crucial to retain the nation's interest in the lunchbox. Tim Wittekind, head of NPD & innovation at Signature Flatbreads, believes street food will be the next inspiration. "Restaurants like Dishoom in Covent Garden are selling twists on British favourites such as the 'Bacon Naan'," he points out. "In turn street food vendors are influencing consumer tastes with filled dosas and Asian bao buns. This is amplified by end users sharing these dishes on Instagram and other social media. Manufacturers need to be developing in line with these street food trends as consumers look to make these dishes at home."
Global street foods set to transform UK lunching habits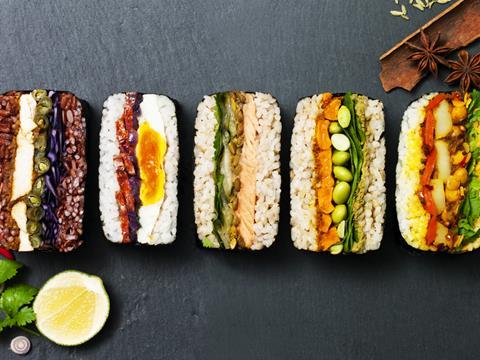 Street food is set to be a heavy influence on the nation's lunchbox habits. We've already seen Asian steamed buns take the lunch scene by storm, resulting in a three-strong food to go range at Sainsbury's, and there are plenty of as-yet untapped street food trends lining up to be the next bao bun.
The Grocer's sister publication FoodSpark believes Japanese street food onigirazu (essentially a sushi sandwich) has plenty of potential to take the crown. The delicacy is made the same way as sushi with a seaweed wrap, except the rice is moulded into a sandwich shape for filling. Onigirazu (above) has already inspired the launch of a London-based company, Norigami, after founder Arthur Liegeois noticed a gap in the market for healthy, free-from lunchtime options.
"Onigirazu was part of the bento boxes that mothers would cook for their kids on the way to school, and they would put in all their leftovers and vegetables," he says. "I couldn't find anyone doing it as a commercial brand. I thought: 'It's too good to be true, but if I did it myself, I would want to bring in all the various influences I've seen through travelling the world. What if I could design one recipe from each part of the world that I liked?' And that's how Norigami was born."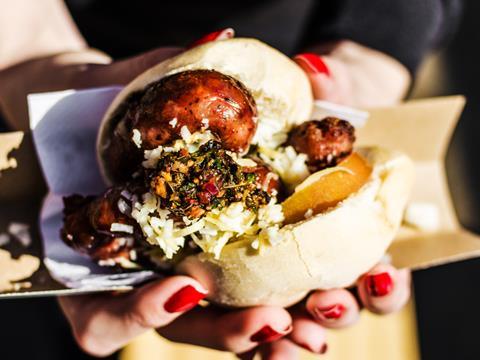 Another hot street food trend is choripán (above). These Argentine hot dogs have chunks of chorizo in a crusty roll with spicy chimichurri sauce. The food is popping up as a cool eat in the US, and though a couple of UK chains have got on board, such as Cau and Gaucho, choripán is yet to become well known over here. As UK consumers show an increased appetite for all things spicy, it may well prove a hit.
Finally, one street food that could hit the spot with pastry lovers is boureka/borek (depending on if you're Israeli or Turkish). These baked, filled pastries are made of a thin flaky dough known as phyllo (or filo), and make easy handheld lunch eats.
Street food trends
There are plenty of unexploited street food trends. The Grocer's sister publication FoodSpark has identified South American choripán as potentially the next big thing (see box). Japanese onigirazu (in essence sushi sandwiches) could also be a hit, if the rise of in-store sushi bars is anything to go by.

Of course, this is all geared to adult tastes. But it's important not to overlook the children's lunchbox market. The government is curbing the number of children eligible for free school meals, which is likely to reverse the four-year decline in kids' lunchboxes.

If packed lunches do take off again, healthy options are likely to win big. Parents are under more pressure than ever before to make sure their kids eat well (some schools have even reportedly removed lunchbox items they don't deem healthy enough). All this focus on health has the backing of the government. In November, it aimed to help parents make the right choices with the publication of healthy eating guidance for children. Many of the dishes sounded as if they had come straight out of a Deliciously Ella cookbook. Example lunch recipes for one to four-year-olds included the likes of Thai tofu curry and salmon & pea risotto, with mid-morning snacks ranging from avocado on toast to rice cakes with houmous. This advice was followed swiftly by Public Health England guidance in January recommending that children were limited to a maximum of two 100-calorie snacks a day.

The guidelines have made snacking the biggest battleground in children's lunchboxes. The past six months have heralded an abundance of launches that fall under the magic 100-calorie mark. Knowing children are unlikely to eat anything purely for health reasons, this new generation of snacks also claims to appeal to tastebuds. KP Snacks added a chilli SKU to its low-calorie range Hula Hoops Puft at the beginning of the year that proudly talks about its health credentials while "still tasting great". At just 71 calories per bag, the crisp falls safely under PHE's threshold.

Potato-based snacks that make the grade are few and far between, though. Many brands are looking to popcorn, grains and peas for tasty, low-calorie options. In the popcorn arena, KP is launching its first Butterkist snack packs this summer with the aim of providing a lunchbox option (though these are slightly over at 127 calories per 30g bag). Propercorn has also unveiled a "delicious and fluffy" popcorn range for kids at just 56 calories per pack. The Simply Sweet and Tomato Ketchup flavours aim to provide a "lower sugar, lower salt alternative to crisps".

There are plenty of smaller brands giving the establishment a run for its money in the healthy snacking arena. Boka cereal-based snack bars, which boast all green traffic lights, were developed with PHE guidelines in mind at just 96 calories each. Indie Bay pretzel bites are under 100 calories per 26g bag and pack in 5g of protein. Again, these promise to pack in taste as well as health. "I was sick of the snacks with hidden sugars pretending to be healthy, but also that the more obviously healthy options were returning home from school untouched," says founder Dafna Bonas. "There had to be a better way to make great choices easy, to offer the proverbial carrot, not the stick."
Bepps, which describes itself as the UK's first black-eyed pea puff brand, was founded under a similar premise. The bags contain just 92 calories, plus calcium and vitamin A. Bepps founder Eve Yankah stresses she wanted to create a healthy snack that didn't leave children feeling they were "missing out". "It has to taste good or people won't eat it," she stresses. The brightly coloured packaging and flavours were intentionally designed to mimic popular snacking brands on the market.

Crucially, Yankah says her product is designed to straddle both the children's and adult snacking markets. The same could be said of many of her contemporaries including Butterkist, Boka and Indie Bay. When it comes the lunchbox snacking, the lines between the generations are blurring. So much so that many of the trends seen in the adult snacking market - where calories are only one of many considerations - are influencing children's options.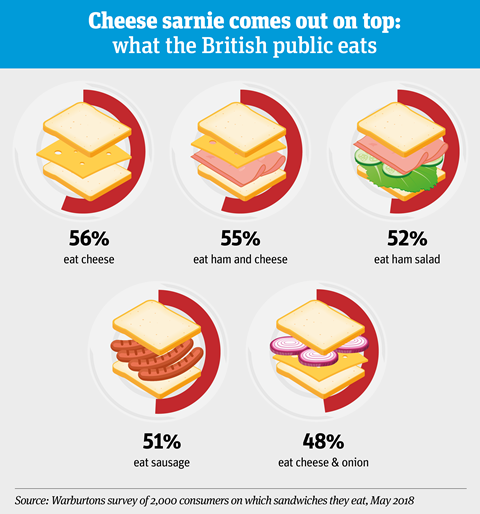 Clean eating for kids
Take the obsession with clean eating, for starters. We may associate the term with young foodies following a Hemsley sisters cookbook, but the trend is spilling over to kids, too. Many of the aforementioned brands are keen to highlight their emphasis on natural ingredients. The Propercorn snack packs proudly state they contain 'no junk'. Indie Bay snacks contain only "natural, healthy ingredients", which has earned it listings in Whole Foods Market and Planet Organic. Bepps is made using the "finest organic black-eyed peas", sourced directly from farmers in South America and West Africa, and are free from additives such as MSG.
"The trend in natural and wholesomeness has also had an impact on kids' yoghurts"
The Collective yoghurt brand has also noticed this desire for all things natural. "A key trend in the category, particularly during the key occasion of lunchtime, is that consumers are becoming increasingly health-aware, looking for wholesome products that contain natural, clean ingredients without having to compromise on taste and the overall product experience," says co-founder Amelia Harvey. "This trend in natural and wholesomeness of lunch products has also had an impact on the kids' yoghurt category."

This insight inspired its five-strong Suckies range of yoghurt and fruit pouches for children. Not only do they fall beneath the 100-calorie threshold, but they claim to have the lowest average sugar content per 100g of any of its rivals in the kids' yoghurt market (all without artificial sweeteners). The natural approach seems to be working. The Collective's children's range is growing at 65% year on year, now worth £2.5m.

For some parents, though, there are even more demands on top of natural credentials. This is where companies such as Nush, the dairy-free yoghurt brand, come in. Founder Bethany Eaton noticed consumers were "increasingly looking for nutritious free-from and vegan yoghurts". To cater for the growing market in children's lunchboxes, the brand launched Nush in a Rush - dairy-free yoghurt tubes suitable for children over six months of age as well as "time-poor adults" - in April.

Chickpea puff snack Hippeas also says free-from credentials are a key part of its appeal. "Pulse-based, extruded products such as Hippeas naturally tick key attribute boxes such as low-calorie, high-protein and fibre and gluten-free," says UK managing director Craig Hughes. "We expect to see these trends reflected in back-to-school season this September. Shoppers are looking for snacks with the whole package: high-quality ingredients, strong health credentials and delicious taste profiles."

Healthy snack brand Eat Real tells a similar story. Its range of gluten-free, lactose-free, vegan and kosher snacks launched four years ago to capitalise on the free-from boom. Now it has set its sights on the children's lunchbox market with its 99-calorie Kids Veggie Straws, developed with both Public Health England guidance and current trends in mind. "The growing demand for free from products that are suitable for kids' lunchboxes reflects the overall consumer trend for healthier snacking," says Debbie King, director of sales & marketing at Eat Real. "People are looking for alternatives to traditional potato crisps and parents want to ensure their children can also benefit from a free-from diet, whether at home or at school."
"Parents want to ensure their children can benefit from a free-from diet at home or school"
Another trend to cross over from adults to kids is gut health. We've had the likes of Yakult for years, so the concept is nothing new. But gut health is set to boom this year as a range of new options such as kefir storm on to the market. Kefir brand Bio-tiful says its products, containing billions of gut-friendly bacteria and packed with vitamins including B2, B12, A, K and D are "the perfect addition to any healthy lunchbox".

They may also present an alternative to the sugary dairy drinks commonly favoured in the playground. "Nutritionally, dairy is a key component to any child's (or adult's) diet as it provides essential key nutrients, vitamins and minerals," says Bio-tiful. "However, not all dairy is created equal. Some dairy products on the market can be high in sugar or contain additional ingredients that water down the nutritional benefits - that's where Bio-tiful products come in." With no additives and a low calorie count, they would also win the PHE seal of approval. The 100ml kefir weighs in at just 58 calories and the new Kefir-Quark, launched in February, contains 60 calories per 100g.
Lunchbox classics may see 20% calorie cuts in government plan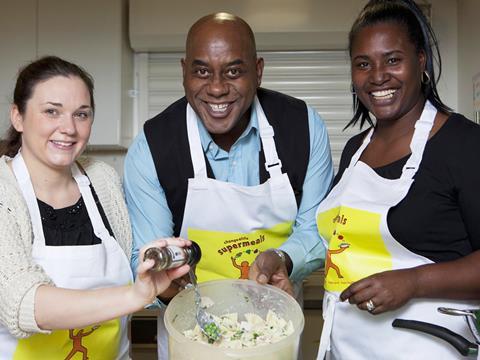 We've had the war on sugar, now it's the war on calories. The government is determined to tackle the rise of obesity and calorie restrictions are its latest tool, which could have a significant impact on what the nation puts in its lunchboxes.
In December Public Health England (PHE) unveiled calorie guidance, followed by guidelines under PHE's Change4Life campaign. The campaign has had plenty of celeb endorsement, including Ainsley Harriott (pictured), and this time it focused on snacking.
PHE advised parents to stick to a maximum of two 100-calorie snacks a day for their children. Currently, children are consuming an average of three unhealthy snacks and sugary drinks a day, with about a third consuming four or more. The result, says PHE, is that kids are consuming three times their recommended sugar intake.
"The extent of children's snacking habits is greater than the odd biscuit or chocolate bar," says Alison Tedstone, chief nutritionist at PHE. "Parents have told us they're concerned."
The campaign to limit unhealthy snacking has already secured the support of Tesco, which has pledged to help parents choose healthy snacks that contain 100 calories or fewer. The Co-op has also promised to "provide tasty and healthy snacking products".
This work is supported by a larger-scale government initiative to cut 20% of calories in popular foods by 2024. In March, PHE urged the food and drink industry to do one of three things: change the recipe of products, reduce portion size or encourage the purchase of lower calorie products. Popular lunchbox items are firmly in its sights - it is looking at cutting calories in ready-made sandwiches, meat products and savoury snacks.
"The simple truth is on average we need to eat less," says PHE chief executive Duncan Selbie. "Industry can help families by finding innovative ways to lower the calories in the food we all enjoy."
Changing perceptions
There are clearly plenty of options available for health-conscious parents. Yet these innovators will have to work hard to change perceptions. It may be slightly out of date, but a Mintel survey in January 2017 found 45% of parents believed there weren't enough healthy savoury snacks for kids. Unless things have changed radically since then, it's likely parents are struggling to find the right options. Propercorn believes this is partially down to a lack of signposting in store. The brand is now calling for retailer support to merchandise healthy snacks in an easy, straightforward way. "Parents are increasingly looking to retailers to help them make the right decisions when it comes to feeding their family," says co-founder Cassandra Stavrou. "So healthier snacks for kids need the backing of retailers and clear signposting in store. We've seen a willingness to get behind the new PHE guidelines but there still isn't a dedicated healthier section for children in the snacking aisle."

If anything, this focus on health could be good news for the children's snack category. It is certainly raising the stakes in innovation. But there is one category that's being left out in the cold by the government mission to curb obesity: children's drinks. Its guidance for young children was clear that water or milk were the best option for hydration. The 257-page document made no mention of squash (other than the butternut variety).

That hasn't yet translated to a mass squash exodus. The number of lunchboxes containing mineral water is growing by 2%, but squash is growing even faster at 2.7%. Even so, juice and squash brands are keen to shout about their health credentials in preparation for any tough questions.

Drinks brand Juiceburst recognises PHE's campaign to encourage calorie control "has meant parents and pupils are becoming increasingly sugar savvy". Despite the furore over the amount of naturally occurring sugar in juice, the brand positions itself as a healthy option for children. It has even secured support from schools to hammer this message home. "We shout from the rooftops about having no added sugar, and no artificial colours, flavours or sweeteners," says Sarah Brooks, head of marketing at Juiceburst parent company Purity Soft Drinks. She points out one bottle is equivalent to one of your 5 a day and is all natural. "All of these great benefits led us to become the first drinks brand to bring a 'Schools Approved' range to the market, compliant with English government schools legislation."
Robinsons also launched a new variant - Fruit Shoot Juiced - in February to appeal to this newly health-conscious market. The range, which is 50% water and 50% juice, is "sweetened only with real fruit" and is free from preservatives, added sugar, artificial colours, flavours or sweeteners. To strengthen its health credentials, there is a brand partnership with PHE's Change4Life on top of its £3.5m marketing campaign. It hopes to show there is a healthy, safe middle ground between plain water and sugary drinks.

Coca-Cola is similarly mindful of the changing climate. It has reformulated "lunchbox favourite" Capri-Sun to contain 50% less sugar and launched low-sugar variants such as Oasis Zero, Sprite No Sugar, Fuze Tea and Fanta Zero. "We've been catering to the health and wellness trend by investing in lower and zero-sugar ranges," says Simon Harrison, customer marketing director at Coca-Cola European Partners.

There is certainly plenty of food for thought in the lunchbox sector. Whether it's the adult or children's market, consumers are becoming more demanding. The successful are responding with plenty of innovation to meet that demand. Those that fail to innovate, be warned: the habitual, Dominic Raab-style eaters may not be the ones influencing Britain's lunchboxes for long.
---
Innovations in lunchbox & back to school 2018