Brits' wine habit is putting a serious hole in their pockets: shoppers splashed out a whopping £5.5bn on wine and champers over the past 12 months - £192.7m more than last year. There's a caveat, though. We're not actually drinking that much more wine: volume sales are up just 0.8%. So nearly all of the added value is down to prices surging and premiumisation. Ouch
Higher prices mean the sector as a whole is raking in the cash, but not everyone's invited to the party. Middle of the road brands are struggling to make headway thanks to increased competition from own label - £161.3m of the sector's growth this year came from own-label sales - and consumers who want to drink less, but better.

Accolade Wines frontrunners Hardys and Echo Falls are down a combined £39.2m, while Treasury Wine Estates' Blossom Hill is down £23m, and posher rivals such as Barefoot (up 29.3%) and Yellow Tail (up 22.6%) have gained share. In fact, every other brand of the UK's 10 biggest - barring Hardys, Echo Falls and Blossom Hill - is in growth [IRI 52 w/e 3 February 2018].
So just how much more expensive has Britain's wine habit become? Why are Brits going nuts for supermarket slosh? And how can the sector's Big Three return to growth?

Prices are up thanks to a weaker sterling and a year of poor harvests. This has cranked up the pressure on suppliers, many of whom have had to bring significant cost price increases to the trade. "Premiumisation and Brexit-fuelled uncertainty have driven prices up across almost all sectors," says Kantar Worldpanel analyst Laura Christen.

The Brexit effect is most visible in champagne: average price per litre has skyrocketed by 9.1%. Even among its posher shopper base this has proved hard to swallow. Customers are turning to more affordable own-label champers in droves, sending sales of branded champagne plummeting by 19.4% on volumes down almost a third (30.9%), as own-label sales have risen 23.5% [Kantar]. This has led to serious losses for the likes of Lanson (down 16.5% to £28m) and Heidsieck (down 28.6% to £9.4m) [IRI].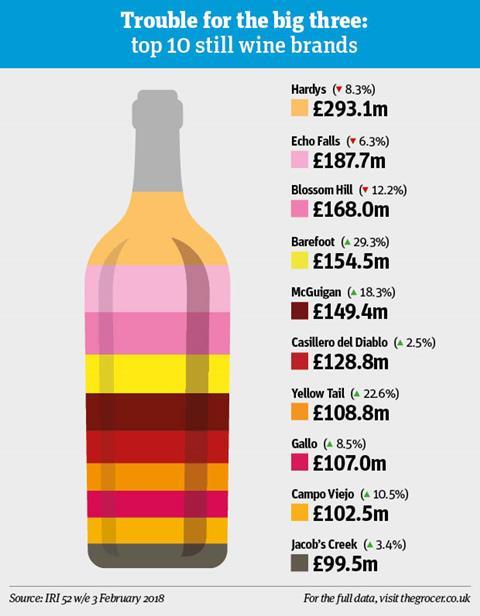 Click for popup table

The explosion in champagne's price (and, to a lesser extent, that of prosecco, which is up an average of 2.6% to £8.70 per litre) has forced consumers to look for alternatives. Even prosecco's rapid rise over the past five years is slowing: value sales grew at 7.4% this year, compared with an eye-watering 30.1% increase last year.

And so 'non-traditional' sparkling such as English sparkling wine has "taken the limelight this year" - to the tune of 21.6% value growth - says Kantar's Christen. This success was "boosted by innovative new products" such as Asda's "progrigio", she adds. Not to mention it's approximately 20% cheaper than prosecco by the litre.
"The biggest brands are struggling because of increased competition from own label"
The picture is similar in still wine. Consumers have been drawn to the lower prices of own-label compared with branded (£5.90 vs £6.80 per litre), and the fact own label prices have risen at a slower rate (+2.7% vs +3.8%) can't have done any harm.

The turmoil of number one brand Hardys is a particularly poignant example of how damaging Brexit-related price increases have been. Sainsbury's slashed its range of Hardys products from 13 to four last year, with sources claiming the pound's weakness combined with Hardys' comparatively low retail price made it simply unfeasible for the mult to absorb a cost price hike.

"Brexit had such an immediate impact," says category shopper and insights director Andrew Nunney at Hardys and Echo Falls owner Accolade Wines. "There has been a rebalancing of the cost base for suppliers, and this is really at the heart of why prices are going up - it's not surprising."
Own-label advances
But there is more than just price pushing punters towards own label. Retailers have "really upped their game in terms of quality and focus", says Nunney. "We know it as own label but really it's a retailer brand. It is part of their overall statement and corporate image."

Some supermarket own-label lines, such as Sainsbury's Taste the Difference, are more recognisable than many consumer brands, Nunney argues. Given the current economic turmoil, there's a clear commercial advantage to prioritising these. "They're likely to be able to make a higher margin because they don't share it with the brand owner."

The discounters know this well. Having spent the past few years investing in the quality of their vino but remaining consistent on price, the strategy is paying off. Value sales of wine at Lidl grew by almost a third (27.5%) - the biggest increase of any retailer this year - with big gains for Aldi (up 12.7%) as well.

The mults "just weren't prepared for the success of Aldi and Lidl's model of smaller, compact ranges with all products EDLP," says one industry source. "Consumers have seen through bogofs and artificially inflated offers. They understand how discounts work and, worryingly for the retailers, they don't trust those offers are truly to their benefit."
"Consumers have realised they don't need to pay over the odds - alcohol is no exception"
Aldi buying MD Julie Ashfield adds: "British consumers have realised they do not need to pay over the odds - and alcohol is by no means an exception. We continue to drive growth in sales via our UK-based buying team, who monitor for the latest trends and ensure the category is constantly evolving."

Own label may be selling like hotcakes at the moment, but Treasury Wine Estates' Tom King stresses big names still have "a huge role to play". He should know: Treasury has spent the past two years battling its way back to value growth for its brands after "two years of challenging sales performance".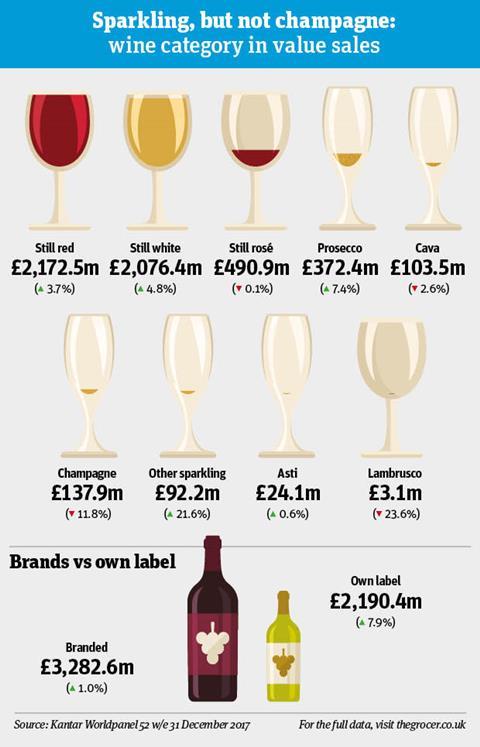 Part of this is down to tapping the desire for more quality branded offerings. Treasury's high-end brands such as Wolf Blass and Lindeman's, last year down £255k and £19m respectively, are now growing at 15.9% (up £11.1m) and 7.6% (up £4.3m). Wolf Blass benefited from a considerable TV and in-store activation push, while King claims the key to Lindeman's resurgence has been "a laser-like focus" on its 'Bins' range.

Mid-market brand Blossom Hill is still in long-term decline. But King adds this is "unquestionably slowing as a direct impact of the strategy we put in place since we bought the brand in January 2016". That involved repackaging the range to give "more standout on shelf", ditching unprofitable lines and investing in "key SKUs" such as Classics and White Zinfandel.

Another source of hope for brands is the increasing appetite for craft and artisan products. Lanchester Wines head of commercial operations Barney Davis says the "boom in craft beers and gins" is now making its way to wine. Many brands are now casting off tradition when it comes to labelling, marketing and even ­bottle shape to look more distinctive. "Unusual bottle shapes are becoming more apparent on-shelf in the category," says Toni Ingram, head of marketing for wine at Pernod Ricard UK, which owns Campo Viejo (up 10.5% to £102m), highlighting "disruptive packaging" as a key emerging trend.

The message is that wine brands, whether owned by supers or suppliers, need to demonstrate their value - and what differentiates them from the competition - above all else. Market share is now "not the only thing that's important," says Accolade's Nunney. "We need to have long-term, ­sustainable brands that are profitable and build the right foundations."

Because the future is uncertain. For the moment Brits seem happy to splash more cash on slosh, but value growth with no ­volume growth is not necessarily sustainable in the long term. And Brexit is ­drawing ever closer. It's enough to leave anyone ­reaching for the bottle.