Cooking sauces are now pioneer territory as Brits demand new frontiers in health and authenticity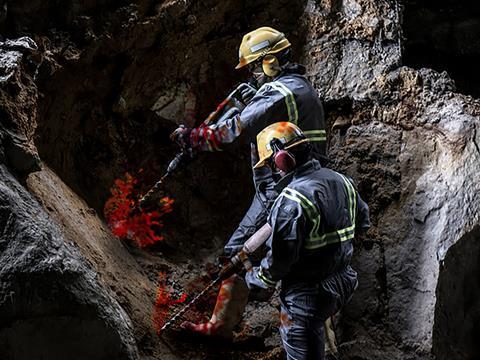 Brits can't cook. Or so claimed chef Angela Hartnett last month, when she told BBC Four's Desert Island Discs that, far from becoming a 'foodie nation', Britain was unhealthier than ever because most consumers don't have the time, skills or cash to make a proper meal.

Yet the cooking sauces category tells a different story. Sales have fallen 2.9% (£22m) to £752.3m on volumes down 0.7% - with experts blaming the rise of scratch cooking and a failure to engage shoppers hungry for more exotic flavours. Indeed, the only sub-category in growth was 'other world cuisine', which encompasses pastes, rubs and spice mixes from around the world.

So what is going on? Was Hartnett wrong about Britain's foodie credentials? And what does that mean for cooking sauces?
British shoppers are definitely getting more confident when it comes to whipping up their favourite Italian meals in the kitchen. The "strong year-on-year growth in the passata category" is evidence of the continued popularity of scratch cooking, says Neil Brownbill, marketing director for Napolina.

Most of the growth is coming from younger consumers who haven't yet started families and are seeking an authentic alternative to jars, says Clive Davies, UK sales & brand manager at Conserve Italia, whose Cirio brand reports "steady growth" in passata sales. "People are moving away from pseudo dishes and are looking for healthier, true authentic flavours and brands," he adds.

Sales of tinned tomatoes are also on the up, says Marcus Blowers, category insights manager at fine food specialist RH Amar, which distributes the Mutti brand of Italian tomatoes, passata and pizza sauce. "This is largely being driven by the premium end of the category as shoppers look for quality, healthy ingredients for cooking authentic Italian dishes at home from scratch."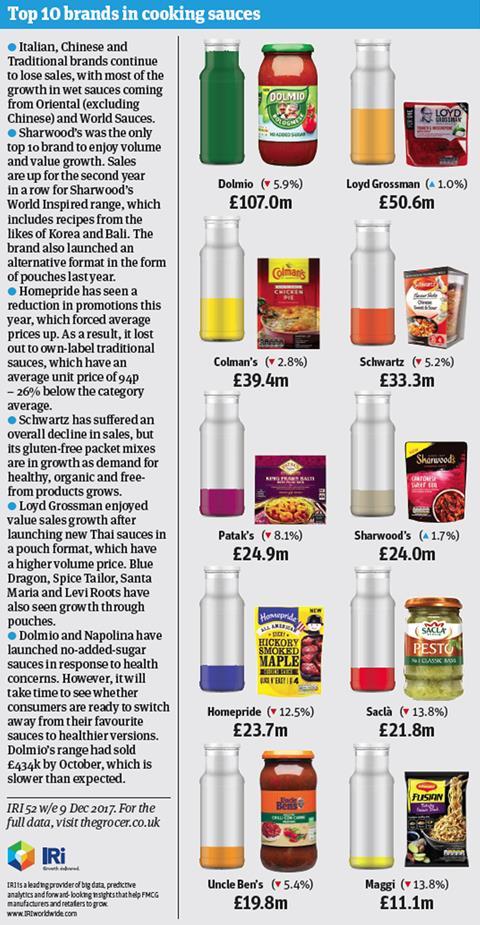 It's not just tomato bases that are benefitting from Brits' cooking confidence. Consumers who want a middle Eastern meal or Thai curry are turning to jars of harissa and curry paste, rather than a ready-made sauce.It's all about appealing to shoppers who need an easy and quick meal solution, but still want to feel like they are cooking.

"This increasingly means providing a complex and time-hungry element of a recipe rather than just a pot of sauce that can be dumped on pasta," says Adam Bass, MD of kosher brand Providence Deli.

In his case, Providence Deli is enjoying particular success with its harissa paste, which has picked up a number of listings in the mults. "Harissa can act as a strong base for slow-cooked meals. It also works as a spicy condiment," says Bass.

Mediterranean ingredient brand Belazu has seen a similar trend. Its range of Middle Eastern culinary pastes - including rose harissa, zhoug and chermoula - has seen a 45% surge in sales. "The fact that people are spending more on experiences, travel and eating out has led to home cooks scratch cooking," says commercial director Peter Oden.

And for these experiential consumers, the more adventurous the better. According to a 2017 survey by Great British Chefs, self-proclaimed British foodies are looking to try new flavours. They are more likely to own Thai fish sauce (63%) than brown sauce (62%), and over half have a jar of harissa (51%) stashed in their store cupboard.

Premium Indian brand Geeta, for example, is benefitting from an increased interest in Indian street food. Its best growth comes from its pastes and spice mixes - both packaged in foil pouches designed to serve two. "We attribute this to the growth of smaller households, the popularity of sharing plates and street food and the perceived health benefits of semi-scratch cooking," says category manager Sally Campbell.

However, it would be wrong to suggest all Brits are knocking up adventurous dishes with harissa and the like. Our national fondness of jarred sauces and ready meals isn't likely to disappear any time soon. Liz Forristal, head of consumer & market insights at Mars Food UK, says it all comes down to age. "We do see younger consumers under index on wet sauces and switch into scratch cooking, but it's really a life stage thing," she adds. "Once they start families, we tend to see them switch back into cooking sauces."

Indeed, while Italian cooking sauces slumped £11.3m (3.1%), volumes were actually up slightly (+0.3%), with losses driven by a 3.1% drop in average prices. "We've seen penetration either growing or remain flat throughout the year," says Forristal.

Ian Nundy, marketing manager for Dolmio, says the shift away from multibuys to deeper single price promotions is largely accountable for this value problem. His brand has certainly felt the pinch; Dolmio sales slumped £6.7m on volumes down 5% last year.

But the shift to own label is having an even bigger impact. While branded sales fell 7.5% on volumes down 7.2%, own-label value sales were up 5.3% on volumes up 6.9%. "Prices are dropping because shoppers are increasingly switching into the discount channel, meaning they are paying less per jar," says Forristal. "The multiple retailers have reacted by going hard on own label, which has a lower price proposition and therefore also impacts on overall value sales."

Aldi and Lidl, which grew sales by 6.5% and 19.2% respectively, have both expanded their cooking sauce lineup over the past year, according to Kantar analyst Amy Derbyshire. Aldi has increased its range by 39%, adding 31 SKUs, while Lidl has launched several new luxury SKUs at "competitive price points", as well as a Creamy White Wine sauce in a 500g jar (rsp £1), which has racked up just over £1m sales in the last year.

The mults have responded by overhauling their own-label ranges with new premium SKUs, such as Morrisons' new lineup of Indian sauces, which includes Goan Vindaloo Sauce and North Indian Karahi Sauce (rsp: £1.55/350g).
Brands playing catch up
However, branded innovation has been lacking, particularly in Italian. "The Italian pasta sauce market hasn't really innovated itself into growth," says Richard Taylor, managing partner at Brandon, a brand design consultancy that has worked on Cook Italia. "The fixture is awash with £1 copycat brands and consumers are at a loss as to who is offering anything different, so their default modus operandi is to simply plump for own label."

Much of the recent innovation from Italian brands has been around 'healthier' sauces, with both Napolina and Dolmio launching no-added-sugar ranges in 350g jars aimed at smaller households on a health kick.

"Our core sauces are hearty, healthy and wholesome and there is very little added sugar in them, but we recognise that for some people it was a barrier to purchase," says Dolmio's Nundy.

Despite the buzz around sugar-free NPD in grocery at the moment, however, these healthier jars aren't exactly flying off shelves. Dolmio's no-added-sugar range launched in August and by October it had drummed up sales of just £434k, which was "worse than expected" given the size of the Dolmio brand, says Kantar's Derbyshire.

While big brands are doing "the right thing" by offering healthier versions of their sauces, they also need to innovate around taste and flavour if they want to drive growth back into the category, says Hamish Renton, MD at HRA Consultants. "I'd say the brands have collectively been a bit conservative," he says. "They should be working harder on innovation and chasing the next big flavour trend."
This could be why Mr Organic's Healthier Choice pasta sauces, which have no added sugar or salt and are 100% organic and vegan, claim to have seen "significant sales growth" since launching into Waitrose in September 2017. Mr Organic has experimented with ingredients such as on-trend meat alternative seitan in its sacues, and co-founder Valerio Simonetti believes this combination appeals to health-conscious consumers.
Loyd and Sharwood's buck trend
Innovation certainly seems to have paid off for Premier Foods: its Loyd Grossman and Sharwood's brands were the only two top 10 brands in growth last year. It says sales of its Loyd Grossman pouches were up 11.7% to over £4.1m following the addition of Thai sauces. Meanwhile Sharwood's pan-Asian World Inspired range, launched at the end of 2016 with flavours such as Hunan Smokey Chilli and Spicy Goan Curry, continues to go from strength to strength after being poured into pouches last year. "The pouch format has allowed shoppers to trade up and is a convenient choice," says Yilmaz Erceyes, brand director for savoury meals at Premier Foods.

The success of these World Inspired sauces reflects growing demand for "international foods from specific countries now, not just regions" such as the Caribbean and Middle East, adds Tasneem Backhouse, joint MD of EHL Ingredients. "Consumers are now open to more distinct, unusual flavours with exotic sounding names."

Peruvian, Brazilian and Lebanese cuisine will grow in popularity over the coming year, Backhouse predicts, while the Winter Olympics in PyeongChang this February means Korean food "will be on the menu".

Brits may not all be cooking pros just yet, but culinary culture is gaining ground among adventurous young shoppers. So if cooking sauce brands want to revive flagging sales and claim market share back from own label, they'd best pay attention and start innovating.
---
Innovations in cooking sauces
Click on the images below for full product information
Downloads
PDF, Size 50.19 mb

PDF, Size 8.96 mb