What would Popeye eat today? From the early 1930s to his retirement in 1994, he would gain enormous strength by gulping down spinach. (It made sense: leafy greens are a superfood, after all.)
In 2020, he may be tempted to stray away from a can of veg. With the likes of cereals for gut health, high-protein soups and soft drinks with added vitamins, functional food and drink has come a long way since Olive Oyl's main squeeze finally hung up his cap and pipe.
A good thing too, because today the cartoon sailor man's needs would likely go beyond just wanting to punch his love-rival Bluto into the stratosphere. The coronavirus has emerged as a new arch-enemy.
Indeed, in the wake of the pandemic, a growing number of Brits are making like Popeye and eating for strength. That is creating a fresh demand for functional foods.
Before the pandemic hit, the functional market was under threat. Although it remained big business – according to Kantar data, the nation spends more than £20bn a year on food and drink chosen for health reasons – it was in decline.
Kantar says Britain's appetite "for an ever-increasing number of benefits from each product" had stalled along with consumer confidence, due to a belief that eating healthily costs more.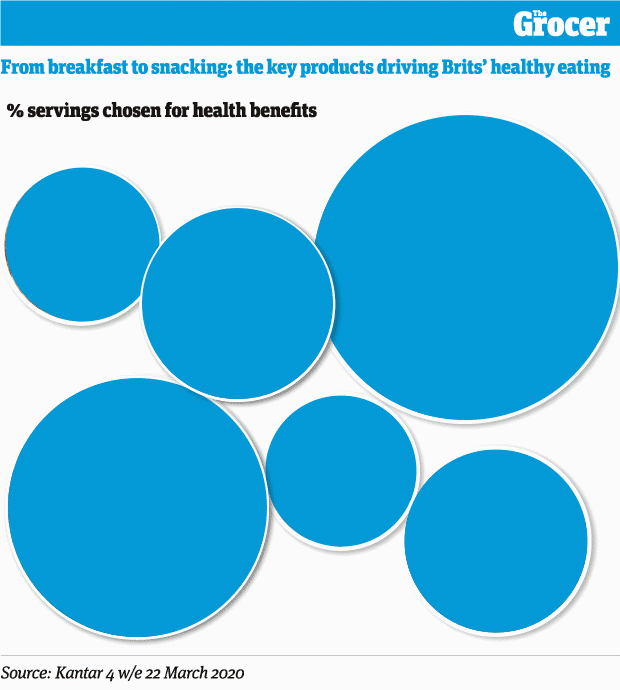 Before coronavirus hit home, healthy eating was declining in importance. There were 25 million fewer food and drink servings chosen for health reasons in the full-year period – a trend driven by decreasing consumer confidence.
Kantar says this mirrors behaviour seen in the 2008/09 recession, which was driven by perceptions of healthy food costing more.
However, health is still big business. Brits spend £20bn a year on food and drink for health reasons. Dried fruit, nuts, pulses, breakfast cereals, honey, yoghurt and olives are key products.
Many of these are eaten first thing in the morning: a fifth of all breakfast servings are chosen for health reasons.
Snacks have been chosen less for health benefits over the past year. Indeed, there was a 7% decline in the number of afternoon snack servings chosen for that reason, despite the increasing number of snacks boasting functional claims.
The advent of lockdown halted that trend in its tracks. Suppliers say interest in all things functional is back up as consumers concentrate on maintaining their wellbeing.
"We have seen significant demand for our products, particularly in the last two weeks of March, where we saw sales more than double," says Alice Bream, senior brand manager at healthy cereal maker Lizi's.
"While initial panic buying has fallen off, we are still seeing sales above the same period in previous year – averaging out at 30% uplift."
Its low-sugar and high-protein granolas, which are normally bestsellers, are performing even better than usual.
"Consumers are seeking healthier lifestyles during these challenging and unnerving times," adds Bream.
"We anticipate that immune-boosting products will continue to grow"
"The trend for functional foods is by no means new, but consumer concern to look after their health during the Covid-19 episode has certainly accelerated this trend."
A key need state during the pandemic is immunity, Bream believes. While there is no diet scientifically proven to ward off or limit the effects of coronavirus, that hasn't stopped shoppers from seeking out preventive measures.
"We anticipate that immune system boosting products will continue to grow during this period as consumers look to maintain and enhance their health."
Bola Akintewe, brand manager for Nurishment, has seen that appetite mirrored in demand for its vitamin-containing milk drinks. There was a "spike in sales" in the four weeks to 22 March, he reports.
"Shoppers are looking for immunity boosting nutritional items, leaning into vitamin C mainly. As it aids the body's absorption of other minerals like iron, boosting the immune system, demand has surged," Akintewe explains.
"Nurishment is one of the few brands that offers this vitamin, along with eight others and four minerals, and still guarantees high protein and energy content."
Immunity drinks
Other drinks brands are enjoying similar success with immunity boosting claims. Take Tetley. Many of the brand's functional teas are performing strongly, says Peter Dries, director of customer & shopper marketing.
He cites particular success for Tetley Super Fruits Immune Peach & Orange, Tetley Super Fruits Multivitamin Summer Berry and Tetley Super Herbal Multivitamin Turmeric & Camomile variants – up in volume sales by 33.6%, 343.1% and 618% respectively in the four weeks to 21 March.
"With the spotlight on wellness and wellbeing, and the desire to do everything possible to heighten our immunity, it's no surprise that products with the functional benefits of boosting immunity and benefiting overall health and wellbeing have done particularly well," Dries adds.
Another beneficiary of the trend has been Moju. Co-founder Rich Goldsmith says immune function support has been the key driver of increased demand for its functional drinks, which include a Grapefruit, Strawberry & Lime Vitamin C Shot and Ginger, Turmeric & Orange Vitamin D Shot.
"We expect this to continue as strict social distancing measures are kept in place," he adds. "There are a number of key contributors to the normal functioning of the immune system, which includes sufficient levels of key nutrients such as vitamins C and D and gut health.
"Some of these are more difficult than others to achieve through a balanced diet alone, such as vitamin D." The last point is crucial. At this time of year, "most people should be able to get all the vitamin D they need from sunlight" according to the NHS.
But the government's stay-home instruction means soaking up the sunshine isn't as easy as usual. (On that basis, the Scottish government advised people to take vitamin D supplements last month.)
And deficiency could pose a serious health risk, suggests research published this month by scientists at Queen Elizabeth Hospital Foundation Trust and the University of East Anglia.
"Not everyone has a garden to sit in the sun, so it's important to get vitamins elsewhere"
It highlights a "very significant correlation" between a country's mean-average vitamin D level and its number of coronavirus-related deaths. "The most vulnerable group for Covid-19 is also the one that has the most deficit in vitamin D."
It's why functional food has an important role to play right now, insists Lawrence Mallinson owner of James White Drinks, which makes fruit & veg juice drinks such as Big Tom, Beet It and Zinger shots.
"Not everyone has a balcony or a garden to linger in the sun, so it's very important to get your vitamins and nutrients elsewhere," he points out.
Of course, health isn't just about vitamins. To truly stay in tip-top condition, Brits need to adopt a healthy lifestyle – which is proving trickier than ever now.
"By being at home and having limited exercise, your metabolism is also likely to slow down and you might end up storing fat more easily," Mallinson says.
That's where another area of functional food comes in. People are doing their best to exercise at home, as evidenced by the recent boom in bicycle sales and the enormous popularity of the daily online PE lessons by Joe 'The Body Coach' Wicks. To keep them going, they are turning to sports nutrition.
So says market leader Grenade. "With an increase in determination to keep fitness levels on the rise comes the need to snack and eat accordingly too – meaning Grenade's range is still very much in high demand," says the brand's head of category Mike Simons.
He highlights Grenade's Carb Killa range as "great for consumers who are finding themselves snacking more. The high in protein and low in sugar healthier snacking alternatives help to keep consumers' cravings at bay, while still featuring a nutritious offering to compliment shoppers who want to continue to lead an active and healthier lifestyle."
Vitamin Well reports a similar trend. Sales of its Nocco and Barebells sports nutrition brands were "300% in March 2020 versus the same period last year" according to marketing manager Carlotta Cattelani.
That's partly down to their broad appeal, she claims. For instance, Nocco's core energy drink – made with green tea extract, caffeine and six vitamins – suits "mainstream consumers looking for an alternative to traditional caffeine-based drinks" and is "an easy way to ensure you're getting enough essential nutrients in one simple hit".
Coronavirus boosts sales of CBD food and drink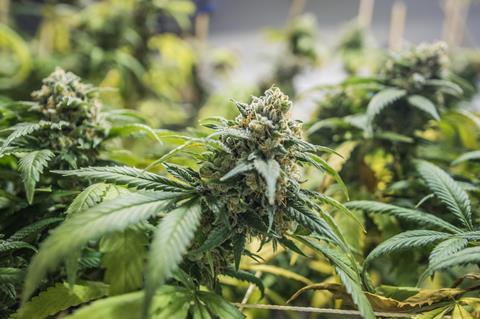 The pandemic has boosted appetite for all things CBD. "There has been a significant increase in the demand for wellness products amid coronavirus," says Love Hemp MD Tony Calamita.
New figures from Alphagreen, an online store for CBD groceries, appear to back up his claim. Interest in cannabis-related goods has more than doubled since March, claims the retailer, which offers the likes of supplements, confectionery and hot beverages.
Of the eight million people already buying into CBD, "the vast majority are using products to relieve pain and for pain management purposes; others to tackle insomnia and to address anxiety," Alphagreen adds.
That appeal will only increase during the pandemic, insists Melanie Goldsmith, founder of CBD startup Pollen. "It's only natural that people are searching for ways to make them feel better, and we've definitely noticed our community is increasingly engaged with the idea of self-care," she says.
"The reasons people are turning to CBD are myriad, and it is because of this that CBD is seen by many as a one-stop shop. Why buy countless supplements designed for specific functions, when research behind CBD suggests it could support many of them at once?"
For Hannah Glasson, founder of CBD-infused sodas InTune (pictured below), DTC sales have "more than doubled during the lockdown" thanks to another advantage: "Our core benefit is focus, and this is highly relevant."
Simas Jarasunas, co-founder of 'smart drug' brand Brite Drink, can back that up. Its Liquid Focus drink isn't CBD, but does promise similar benefits.
"This is the time when mental clarity and performance is needed more than ever," he says. "When working from home you still have the same deadlines and projects while dealing with increased uncertainty and distractions at home."
Complete nutrition
That premise of one simple hit also lies behind the growing 'complete nutrition' category – typified by the likes of Huel, Soylent and Feed.
They are at an advantage at this time thanks to their predominantly direct-to-consumer models and the long shelf lives of their powered meals. That's according to James McMaster, CEO of Huel – which has "experienced unprecedented demand since Covid-19 hit".
"Despite challenging circumstances, we have sold two meals every second across 64 countries over the past month. Fortunately, we have established a reliable and robust supply base across raw materials, manufacturers and distributors," he says.
McMaster claims the products are an "affordable" way to get everything you need. "Each serving is nutritionally complete, and provides the recommended balance of protein, carbohydrates, fibre and fats, plus all 26 essential vitamins and minerals," he adds. "So, it's a simple way to stay in control."
McMaster's not the only one to have benefited from such a proposition. So too has Alan Bird, the commercial director of Purition, which makes powdered meals from ground nuts, seeds, fruits and vegetables.
"Since lockdown we have seen sales continue to grow," he says. "The increased demand has been easily managed, and our customer service rate is still very high. We have an efficient production method, meaning our products are of optimum freshness.
"Perhaps the most common feedback we are getting is that consumers love the natural, nutty taste of Purition. People are looking for foods that are healthy and nutritious, even before a low sugar or low carbohydrate reason to buy."
Plus, he reports that "buying real food rather than ultra-processed food has been fundamental for consumers during lockdown".
It's a sentiment that would certainly resonate with the spinach-chugging Popey
Innovations in functional food 2020


Daniel Selwood is The Grocer's special projects editor, managing Britain's Biggest Brands, Britain's Biggest Alcohol Brands, The Dairymen and Top Products – as well as contributing to news, analyses and category reports.

He joined the magazine in January 2016 as food & drink editor, having been at financial & legal publisher LexisNexis for eight years.

He began his journalism career in the mid-1990s at a general interest magazine in Sheffield.

Follow Daniel on Twitter: @danielmcselwood