The time of the 'dirty' burger is over. Consumers are seeking out cleaner, more sustainable and more exotic fare for their BBQs
Food fads come. Food fads go. And one that's following in vodka jelly and fondue's footsteps right now is meat products with names that might make the more sensitive swoon: 'dirty' burgers welded together with cheese and stacked so high with toppings you need a prehensile jaw to eat them, low & slow pork butt and hot dogs that sound more like they belong at Ann Summers than on a grill.

Thankfully the hipsters have grown up since the filthy food craze. Southwark craft beer joint The Ring no longer sells The Huge Pole, an eight-inch 'dirty dog' that City AM called one of London's best in 2014, for example. Granted, most of the supers still stock Red's Dirty Burger Sauce and Asda, Morrisons and even M&S sell 'dirty' fries as sides, but using such terms to describe food suddenly seems rather out of date, especially in light of Britain's new obsession with cleanliness.

Of course, 'dirty' doesn't actually mean dirty - it's widely taken to mean decadent, comforting, containing many ingredients and messy to eat. Nor does 'clean' eating, the trend that's now transforming the Great British barbecue, mean actually clean. You'd hope that goes without saying. So, what does it mean? And what does it have to do with the barbecue, the last bastion of decadent bangers and burgers?

Don't panic just yet. We're not saying sausages and burgers are about to go the same way as the fondue. After all, Brits barbecued one or the other on almost 66 million occasions last year and they remain a staple of the barbie. Burgers were served at 31.5% of the 106 million barbecues that took place in Britain last year. Sausages appeared at 30.6% of occasions. But their share of the grill is falling. Only fish and primary cuts of lamb and pork are in growth [Kantar 52 w/e 3 November 2019].

"In the summer our eating habits change," says Rebecca Gladman, retail insight manager at AHDB. "It's increasingly about lighter, healthier, quicker things. Products that we have seen come into play include pork medallions, which we have been doing a lot for in terms of marketing. Products that fit well with flavour trends such as the rise in Mexican, Vietnamese and others are doing well."
"In summer our eating habits change. It's more about lighter, healthier, quicker things"
Part of the appeal of meats such as pork and chicken - which haven't lost as much share of barbecue occasions as primary beef and burgers - is that they work well as conduits of flavour. They are also staple proteins of many of the cuisines that are gaining popularity. "We are now such global eaters and that means we are seeing big changes in what people are barbecuing at home," says Ben Bartlett, barbecue chef and founder of the BBQ Buddy dry rubs brand.

Bartlett suggests low & slow, a style of cooking from the southern states of the US that mainly involves heating pork or beef for long periods at low temperatures, has had its day. That is important. Low & slow helped usher in the 'dirty' food movement with fashionable barbecue joints such as London's Pitt Cue, Leeds' Red's True Barbecue and Bristol's Grillstock. It didn't last. Grillstock went bust in 2018 and Red's was bought out of administration last June. Pitt Cue closed up for the final time the same month.

That has played out in the retail market. Grillstock's retail range, which launched in 2015 to offer delicacies such as Smokehouse ribs and pulled pork joints in the mults, is now consigned to history.

"It was all about pork shoulder or butt, chicken wings, ribs and beef brisket but now people are looking for something different," says Bartlett. "There's been a move to Korean and other Asian cuisines such as Japanese and Filipino as well as South American. In parts of the southern hemisphere they barbecue a lot of fish and that's coming through here. We're all getting greener and more health-conscious and the retailers are improving their fish ranges. It's a huge opportunity."
Fish on the BBQ
The numbers back that up. Fish was cooked at 5.4 million barbecue occasions in 2019. Granted, that's just 5.1% of total occasions. But it represents a 41.9% increase in just five years.

The increasing popularity will be in part fuelled by the health trend. Health was a factor in 17.4 million barbecue occasions over the past year, which represents a massive 63% increase on the year before. And fish represents a more virtuous option than bangers and burgers, which are both down in number of occasions.

But the trend is also down to the efforts of retailers, who are stocking ever more fish options with fresh, clean flavours. See Tesco's chilli & lime salmon kebabs, M&S's chargrilled squid flatties, Ocado's barbecue trout with ginger & lemongrass glaze, Booths' lemon & pepper salmon kebabs or Waitrose's lemon & herb salmon mini burgers as examples.
"The retailers are improving their fish ranges. It's a huge opportunity"
Their efforts are similarly paying off for lamb, which is the fastest-growing barbecue meat of the past year [Kantar]. Retailers have come up with a host of recipe suggestions for consumers who are eager to try something new. Waitrose, for example, has been running recipes for dishes such as Spiced West Country Butterflied Lamb Leg with Mint Salsa, while M&S has been suggesting its shoppers try barbecuing Indian Spiced Lamb Shoulders. Such recipes, along with growing sales of more convenient lamb koftas and shish kebabs driven in part by the trend for Middle Eastern cuisine, have helped drive the use of lamb at the barbecue up by 48.6%.

This is doing more than just broadening culinary horizons. It's also driving sales. Because the growing variety of barbecue products and recipes is key to the overall growth in barbecuing in the UK. Occasions in 2019 may have fallen in comparison to 2018, when Brits fired up their barbies a record 127 million times thanks to the blazing hot summer and World Cup, but the general trend is upwards when you take out weather and sport-related spikes.
Innovation
Jason Winstanley, head of research & insight at poultry processor Moy Park, says innovation has helped avoid "barbecue fatigue" among consumers. "The greater variety of products available in the retailers is driving people to engage with barbecues more often during the summer months," he says. "You often get people rushing out for the first barbecue of the year as soon as the sun starts shining, but by the time they get to June they're bored of it if there are only sausages and burgers."

This is another point in favour of Asian cuisines such as Filipino and Japanese. Not only do they tie in nicely with the 'clean' trend, but they offer plenty of opportunity for flavour exploration. According to Winstanley, these cuisines are of growing interest to retailers' product development teams.

"We are only just scratching the surface in terms of consumer awareness of other barbecue cuisines," he says. Even areas of the US could present an opportunity. "Knowledge of flavours from anywhere other than Tennessee or Kansas is a bit sketchy. There is an opportunity in terms of dishes from Alabama, Louisiana and elsewhere."

Offering something genuinely new can boost profits, too. "With any kind of added value product there is a potential to see benefits to margin," says Winstanley.
"We are only just scratching the surface of consumer awareness of other BBQ cuisines"
Added value doesn't just apply to flavours. There is also a greater appetite for more premium meat products that can demonstrate quality and provenance. "The interest in meat quality is in line with the move towards 'clean eating', with consumers not only leaning towards choosing superior produce, but also being more inclined to adopt a holistic and 'clean' approach to eating in general," says Phil Allman, chairman of the Hereford Cattle Society.

Here, primary barbecue meats have an advantage. They are largely seen as more natural and 'cleaner' than processed meat products such as burgers, which lost 15 million occasions last year. Even if shoppers do fancy a slap-up burger, they are increasingly choosy about what they eat. Some would rather create the patty themselves.

"It is important to consider that shoppers on the clean eating bandwagon may choose to make their own burgers this summer, rather than opting for the ready-made versions," says Allman. "The clean eating trend also embodies conscious eating and with increased emphasis on the importance of buying British, consumers are more concerned than ever about reducing their food miles. It's therefore key to stock meat that clearly communicates its British provenance, which will reassure shoppers."

That could explain why Gourmet Burger Kitchen (GBK) says it is doing well in the retailers. The premium restaurant chain launched back in 2001 (long before the wave of trendy, 'dirty' burger joints that followed) and now supplies a range of burgers to Sainsbury's, Waitrose and others. They might be burgers, but there's nothing dirty about the language GBK uses to describe them.

"GBK are embodied by their commitment to deliver handcrafted, 100% prime British beef burgers, with the freshest ingredients and the best quality burger sauces," says Samantha Frost, category director at All About Food, which manufactures GBK's burgers for retail under licence.

"All burgers are sourced from 100% British, grass-fed cattle, and offer 99% beef content, seasoned only with salt and pepper. Research shows that a short ingredient list would influence purchase consideration in over 62% of consumers of a processed meat product. Fresh meat is the second-highest grocery category where quality is a driver of choice and 64% of consumers would choose a meat product based on quality, versus 28% on price," she says, quoting Mintel and IGD research.

In essence, GBK and its ilk are the closest thing you can get to 'clean' burgers. But an increasing number of consumers are shunning meat-based products altogether. Because there's no getting away from the ultimate trend of the moment: plant-based.
Plant-based
Yes, even the grill hasn't been immune from the rise in vegan-friendly fare. "There is a plant-based revolution happening in the UK and demand for premium alternatives to meat has exploded," says Simeon Van der Molen, founder of meat-free brand Moving Mountains, which launched into Sainsbury's at the start of 2020.

"Consumers are increasingly looking for high-quality and great-tasting substitutes to traditional animal products and are now more prepared than ever to replace their favourite barbecue meats with quality offerings that provide a more sustainable solution to mass farming, and we expect this trend to continue," he adds.

There is a caveat here. Critics are increasingly drawing attention to the high levels of processing involved in many meat-free burgers and sausages. Given the demand for simple, unprocessed products, these plant-based options could be in danger of going the same way of the dirty burger.

"Clean eating is a trend that's here to stay," says Winstanley. "I think we could see a backlash against some of the plant-based players given the ingredients declarations on the back of some of the packs of these brands."

On the other side of the coin, Michael Hunter, chief growth officer at Meatless Farm, believes meat-free brands are delivering exactly what the modern consumer wants. He references the 18% value growth of the meat alternatives market [Kantar 52 w/e 14 July 2019]. "We believe this level of growth can absolutely continue as the demand for plant-based alternatives is showing no signs of slowing down," he says.

"Our meat alternatives have a huge part to play when it comes to retailers capitalising on the growing demand for the 'clean barbecue'. Health is really key for us and we offer products that can provide an alternative and high source of protein and a good source of fibre, whilst also being gluten-free and with added vitamins and minerals such as iron, zinc and B vitamins.

"As we go through 2020, vegan and veggie options will start to become hygiene factors for consumers."

Let's just hope we're able to go outside to cook by the time summer comes around.
BBQ Ben's recipes show evolution of the barbie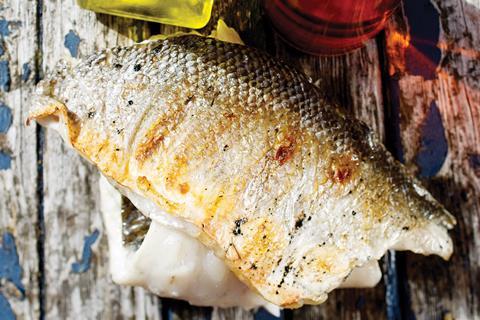 A chicken kebab and some limp lettuce leaves were once the height of culinary sophistication at the British barbie. Not any more. We asked chef Ben Bartlett – AKA BBQ Ben – for some hot recipes for this year's season. Here's what he came up with…
BBQ Watermelon Pizza
1 watermelon
4 red onions
100ml red wine vinegar
20g demerara sugar
20g sea salt
300g blue cheese
Bunch basil leaves
Peel and slice the onions into rings and put in a bowl. Add the vinegar, sugar and salt and mix. Leave to marinade for 30 minutes. Slice the watermelon into half-inch slices. Place the onions on the watermelon slices. Top with grated cheese and chopped basil. Place on the grill for 8-10 minutes until the cheese melts. Cut into wedges and serve immediately.
Margarita Sea Bass
8 sea bass fillets (100g or 4oz each)
100ml tequila
120ml Cointreau
150ml fresh lime juice
1 tbsp salt
3 garlic cloves crushed
3 tsp vegetable oil
Pinch black pepper
Place the fish in a zip-lock bag. Combine the tequila, Cointreau, lime juice, salt, garlic and 2 teaspoons of oil and pour over the fish. Marinate for 30 minutes, turning occasionally. Remove the sea bass and pat dry. Brush lightly with 1 teaspoon of oil and grind some pepper over the surface of the fish. Grill over very hot coals for 3 to 4 minutes per side.
Pulled Pork Sliders
3kg-4kg pork shoulder on the bone
50g American mustard
100g general pork rub
100ml rapeseed oil
100ml apple juice
300ml barbecue sauce
20 slider buns or small round dinner rolls, split and toasted
Rub the pork shoulder with mustard. Use a spice sprinkler to coat the meat with pork rub. Indirectly smoke the meat at 110°C (230°F) for eight hours, turning every two hours. Mop the meat with an equal mixture of rapeseed oil, apple juice and a tablespoon of the pork rub. The pork is ready when the internal temperature is above 85°C (185°F). Cover and rest for an hour. Then transfer to a cutting board. Using two forks, pull meat into shreds, discarding fat or gristle. Place in a bowl and stir in the barbecue sauce. Spoon the meat mixture on to bun bases.
Innovations in barbecue 2020