Concerns about hygiene, health and the future of free school meals may mean more kids return to class with packed lunches
When it comes to their children during Covid-19, parents have faced two major questions: how to keep them occupied and what to feed them. One simple solution to the former issue has been drawing the rainbow pictures that have brightened the front windows of so many homes around the UK.
The question of food, however, has proved more vexing. And, in all probability, too often the answer will have been enough to make health campaigners faint.
Seventy per cent of families with kids aged under five say their little ones have been snacking more in lockdown, according to an Oral Health Foundation survey. One Italian study found that lockdown put obese children at risk of gaining weight because they were likely to be eating more junk food, sleeping longer and consuming the equivalent calories of an extra meal a day.
These findings matter. One in five British children are overweight or obese by the time they begin primary school, according to the NHS. When they reach secondary school, their chance of being overweight or obese is one in three. That makes British kids the heaviest in Europe [Nuffield Health/Association for Young People's Health]. They may be heavier when they go back to school.
As schools reopen, the question of what to feed the kids remains. Many of them could be eating packed lunches. Research suggests the majority of parents (57.3%) are now more inclined to send their kids to school with packed lunches [Harris Interactive].
That number could grow as question marks hang over the future viability of the free school meals provided for all infant school pupils in England since 2014.
So, what's next for the school lunch?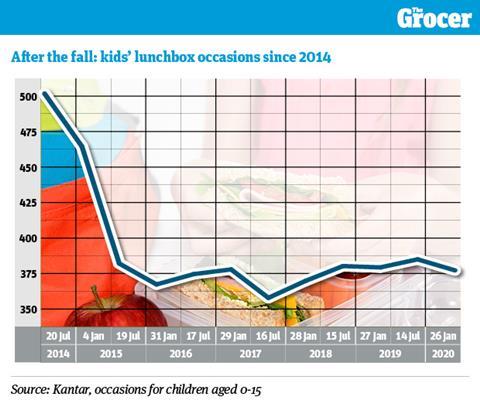 September 2014 saw the introduction of free school meals for all children in reception and years one and two in state primary schools in England. It resulted in 135 million fewer packed lunches being taken to school that year. That's a fall of 36.3%.
Many brands that were reliant on kids' lunchboxes had to make their products appeal to a wider set of occasions, such as after-school snacking.
Now a question mark is hanging over the free school meals scheme. Some local authorities are telling parents with kids that have already returned to school they are reviewing the provision of free meals on a weekly basis.
With the government looking to draw in spending after record levels of economic support in response to Covid-19, the viability of universal free school meals may soon come under scrutiny.
That's not the only factor set to boost packed lunches. Our research shows 57.3% of parents of school-aged children are now more inclined to give their kids lunches packed at home to avoid the risk of contamination and have more control over what their children are eating.
Some say more packed lunches would spell a nutritional disaster. A 2016 University of Leeds study that found just 1.6% of kids' packed lunches meet the nutritional standards set for food served in school canteens. It revealed just 17% of children's packed lunches contained vegetables and 52% featured more than the recommended number of sweet snacks.
Yet health is among the three most cited reasons for parents wanting to send their kids to school with pack-up, alongside taking greater control over what they eat, and cutting the risk of contracting coronavirus from food served at school.
"It's a fact that most packed lunches are not as healthy as hot school dinners"
This comes down to a misconception, says Karen McQuade, MD of schools and foodservice frozen food supplier UK Foodhall.
"It's a fact that most packed lunches are not as healthy as hot school dinners, which have to contain less than 10% fat and 1% salt," she says.
"Anything that increases the calories eaten at school after lockdown, a period when they've had access to more food and less exercise, wouldn't be welcome," McQuade adds.
"Parents are programmed to get their kids to eat, so they'll buy a five-pack of ham or cheese and put that in their sandwiches each day if they know that's what they'll eat. So, there's less variety than school lunches, which are nutritionally balanced, different every day for 15-day stretches and can only feature fried food once a week."
Free school meals
Then there is the question of whether schools will provide the hot meals. Most education authorities are still providing meals for children of key workers, who have been at school in lockdown, as well as the year six, one and reception-age pupils that went back in June.
However, some parents have been told to send their kids in with packed lunches. This is the wrong move, McQuade warns.
School meals are served straight to the classroom where there are 'bubbles' (groups of no more than 15 pupils who don't mix with others), so the risk of contamination is low, she says. There is a greater risk with packed lunches because children may be more inclined to swap items with their friends and potentially spread the virus.
Another factor in the equation is free school meals. All infant school pupils in England have been entitled to free meals following the launch of the scheme in 2014, trumpeted by the Lib Dems as one of the greatest triumphs of its five-year coalition government with the Conservatives. It resulted in 135 million fewer packed lunches being eaten by kids that year [Kantar]. Its aim was to ensure that all infants were guaranteed a nutritious meal at school.
However, the cost of the scheme for the government has been under scrutiny since it was launched, McQuade notes, and that has made parents nervous. "People are worrying about the longevity of provision because of how much the government has now borrowed," she points out. "To take away the provision of free, hot and nutritionally balanced school meals because of cost now would be a strange thing to do because children need them now more than ever."
Even before lockdown, LACA, the industry body for businesses involved in the provision of school meals, was lobbying ministers to increase funding for the Universal Infant Free School Meals (UIFSM) scheme from £2.30 per child to £2.51. A change would mean UIFSM funding would be raised in line with inflation as per a recent recommendation by the Institute of Fiscal Studies. "The expectation is that free school meals will be retained," says one source close to the matter. "For me the question is around the funding level, which has not changed since 2014, when it was set at £2.30. Since then, there has been really difficult inflationary pressures, particularly in areas such as meat and dairy. So, we have seen food costs increase more than general inflation indices, and on top of that we have seen the introduction of the living wage, which has impacted the sector."
If providing a child with a nutritious hot meal for just £2.30 seems like a tall order, it's small wonder kids' packed lunches are so often found to be nutritionally lacking. Average spend per packed lunch in Britain stands at just £1.86, having risen just 1% in the past year [Kantar 52 w/e 26 January 2020].
For parents of children not eligible for free meals, sending their offspring to school with a lunchbox can be a cheaper option than paying for a hot meal, which can cost between £2.10 and £2.60 a day, depending on the age of the child and location. The concern, of course, is that by economising on lunchboxes, parents could be compromising the diets of their children.
Dietary concerns
Suppliers appear aware of this dilemma, citing recent efforts to improve the health credentials of the products they position as lunchbox fillers.
"Two in five kids' lunchboxes contain a bagged snack, but today parents are more conscious than ever of the quality of the snacks they are purchasing for their children and are on the lookout for healthy snacking alternatives," says Kevin McNair, marketing director at KP Snacks. "This will likely be even more prevalent if free school meals are withdrawn."
The KP portfolio includes 32 products that fall under the government-recommended 100-calorie limit for snacks, he points out, including Pom-Bear, Hula Hoops Puft and Skips. "As more children return to school and maybe need to bring their own lunchbox, we aim to continue to drive awareness of those more positive picks consumers can make," he adds. "We will be continuing to communicate the benefits of our better-for-you snacking range."
Biscuit manufacturers have also been banging the drum for child-friendly snack packs containing no more than 100 calories. Burton's Biscuits, for example, reports strong growth for its Maryland Minis and Jammy Dodger Minis products in recent weeks. "Over half of Maryland Minis are consumed as a carry-out product in kids and adult lunchboxes and we have seen sales accelerate as lockdown has started to ease," says marketing director Kate Needham.
Permissible treats
Not that biscuits were doing too badly while Britain was in full lockdown. "We saw a huge stockpiling spike when the world didn't know what it was facing and then we saw a distinct second phase where the market was up 7.5% but we were up 16%," adds Needham, quoting combined Nielsen and Kantar data for the 12 weeks ending 17 May.
"Brands – not just us, Pladis as well – did particularly well because of the reassurance they give and because they suit everyday biscuit barrel occasions."
Let's face it, all snack foods did well because Brits needed something to raise their spirits in the face of uncertainty. They also needed to keep their kids quiet.
Premier's brand director for health Daniel Jalalpour says the majority of shoppers "have admitted to snacking more over the past few weeks – 58%, rising to 66% of shoppers aged 25 to 34. This is likely to be a short-term reaction to the lockdown as people are seeking alternative ways to treat themselves at a time when other activities are restricted."
In the longer term, though, parents are aware of the health implications. So Jalalpour has noticed a greater move toward so-called permissible treats, which "enable shoppers to make healthier choices that satisfy their cravings without sacrificing enjoyment".
Falling under this umbrella are Premier Foods' range of reduced sugar cakes under the Mr Kipling brand, as well as its new Plantastic selection.
Verity Hart, senior brand manager at Hartley's, has noticed a similar appetite for more virtuous snacks. "Families are spending more time together in the house due to the current climate, which can be stressful, and parents can feel like they are constantly nagging and saying no," she says.
That means demand is growing for tasty snacks and puds that contain fewer calories. "Child obesity remains a key concern, so the focus on reducing fat, sugar, salt and portion size remains," adds Hart. She points to Hartley's no-added-sugar and sugar-free jelly pots as options that fill that need. Overall, the brand has seen an 11% value spike for its child-friendly jelly pots since lockdown hit [IRI 12 w/e 16 May 2020].
Cheese snacking
Of course, the definition of permissible snacks is up for debate. Sugary snacks are likely to raise some eyebrows, even if they comply with the 100-calorie guideline. Cheese, on the other hand, seems to enjoy more virtuous associations among parents.
"Fifty five per cent of consumers deem cheese to be a healthy snacking choice for children, and lunchbox cheese is chosen for health as the first driver of consumption," says Gaëlle Vernet, group marketing manager for Mini Babybel.
She believes that Mini Babybel and sister brand Laughing Cow carry another benefit in the Covid-19 era. Being individually wrapped means they can also cater for hygiene concerns. "Mini Babybel's iconic red wrap provides additional reassurance for parents," Vernet argues.
"Snacking is generally considered a minefield for parents with a vast array of choice"
Saputo Dairy, owner of the Cathedral City cheddar brand, is also hoping to tap the anticipated growth in demand for healthier lunchbox fillers.
In 2018, the Cathedral City Kids Snacking range moved to a mild lighter cheese with 30% reduced fat to reassure parents, notes senior brand manager Anca Lazar. "Snacking is generally considered a minefield for parents, with a vast array of choice across multiple categories."
Research by Saputo "has shown that parents harbour a sense of guilt for not always having enough time to offer the best snacks to their kids and feel that brands that traditionally communicate to kids tend to push unhealthy options, making them 'the baddie' for saying no", Lazar adds. "Our renovated range addresses these insights with an improved nutritional profile."
The question is: will parents of kids already entitled to free school meals switch to lunchboxes filled with such products come September? And what will the longer-term impact be on our kids' health if they do?
Lunch times: a short history of school meals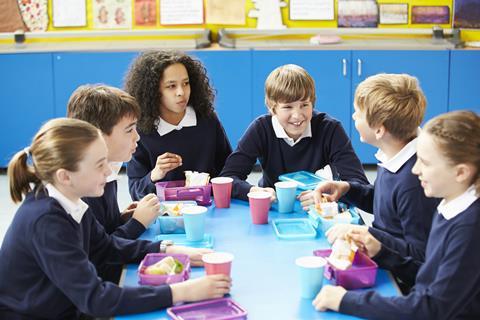 1906: The Education (Provision of Meals) Act 1906 is passed to give local education authorities (LEAs) the power to provide free school meals
1914: The number of schoolchildren taking up free food reaches almost 160,000 just before the start of World War One.
1921: Demand for free meals rises as the depression takes hold; the number quickly reaches 600,000 elementary schoolchildren.
1944: All LEAs become required to provide a midday meal for schoolchildren and set nutritional guidelines.
1949: Efforts to provide free school meals prove too costly; the government allows LEAs to charge sixpence per meal. Some disadvantaged children still get free food.
1968: The cost of a school meal reaches one shilling and nine pence.
1980: Minimum nutritional standards for school meals and LEAs' statutory obligation to offer a lunch service are both abolished.
1980: Only children with parents on income support are eligible for free school meals.
April 2001: Nutritional standards for school meals become compulsory.
September 2014: All schoolchildren in reception and years one and two in English state schools become entitled to free school meals.
June 2017: PM Theresa May abandons her plan to scrap free lunches for primary school kids.
June 2020: Amid the Covid-19 pandemic, the government drops its plan to axe meal vouchers for four million children living in poverty.
The push for healthy snacks to give to kids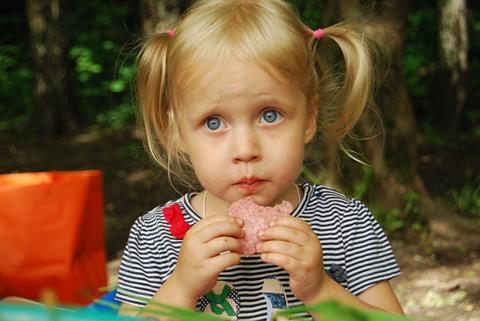 Health campaigners celebrated a victory last month. That victory came in the form of government's decision not to deny meal vouchers for children living in poverty – thanks in no small part to pressure from Manchester United striker Marcus Rashford.
The u-turn means £15 a week will go to four million vulnerable youngsters who ordinarily receive a hot, nutritionally balanced lunch for free at school.
The voucher can be spent in the big four supermarkets, Aldi, Nichols, M&S and Waitrose – where more and more brands are jostling for parents' attention. There's a whole new generation of entrants looking to improve the nutritional credentials for products aimed at youngsters, especially in the snacking world.
Graze is one such entrant. In April, the brand unveiled Super Snackers, its first venture into the kids' market. It is positioning itself as an alternative to the likes of cereal bars, many of which are "packed with sugar," says Pia Villa, chief brand officer at Graze.
"We know that parents are often concerned about just how healthy they are, which is in stark contrast to kids who want flavour and fun," Villa adds.
"In fact, 80% of the parents we surveyed who buy cereal bars for their kids stated that sugar and artificial ingredients were their biggest health concerns when doing so."
Another recent entrant to the kids' market is Hullabaloo, which debuted a range of better-for-you chocolate bars in January.
They were followed in April by ProYouth Nation's launch of what it called the "world's first protein bar for children". Available in Choco Brownie, Vanilla Delight and Banana Split, it packs up to 11g of protein per 60g portion.
ProYouth founder Marina Wegorek says the "handy and healthy snacks" aimed to fill the "real need for alternative options for active kids".
As campaigners fear a further rise in childhood obesity, alternatives are indeed welcome.
Innovations in Kids' Lunchbox 2020