No longer is the nation content with a bog-standard burger. Exotic international flavours are inspiring Brits to get adventurous
Hot weather does funny things to your average Brit. They douse themselves in cold lager, stay out in the sun until they're radish pink and gather around barbecues to carbonise raw meat. Often, they do all three at the same time. Or so goes the stereotype.

Of course, generalisations are only ever partly true. Lager volumes did indeed leap 4.2% last year [Nielsen 52 w/e 8 September 2018], thanks in no small part to a scorching summer. The NHS issued a plea for common sense after a July spike in hospital admissions for sunburn. And Brits lit up their barbies a record number of times.

Dig deeper, though, and the stereotype falls apart. Bangers and burgers are still staples, of course, but our tastes are changing. Consumption of veggie products at barbecues rose 236% last year [Kantar Worldpanel 52 w/e 2 December 2018] and 80% of consumers say foreign dishes make barbecues more interesting, a Streetbees poll for The Grocer found.

Underestimate all this at your peril. Like our sauces, Britain is getting hotter. So, Brits are barbecuing more often and craving more variety. The opportunity for retailers and ­suppliers is growing. In 2018, Brits had 130.5 million barbecues, up 45.1% [Kantar]. We spent 9.4% more on food & drink for each occasion too. Which means the barbie is becoming ever more lucrative for those who get their ranges right.
"Retailers' barbecue selections are driving much more adventurous cooking"
Retailers are going all out to make this happen. "A few years ago retailers' barbecue selections were very limited, but now they are taking up whole gondola ends and driving much more adventurous cooking," says Matt Southam, retail & foodservice head at AHDB.
Southam points to innovations such as the M&S Spirit of Summer range, complete with smoked briskets and spiced chicken tenders, Waitrose's creole and Thai-inspired products, and Tesco and Asda's use of maple, hoisin and smoked flavours last year for a taste of what's to come later in 2019.

The main trend to watch is the rise of the oriental barbecue. See the growth in yakitori and other Japanese cuisines (such as the near ubiquity of katsu curry right now) and Korean and Filipino barbecue styles. None of this will have been harmed by Filipino restaurant BBQ Dreamz winning BBC show My Million Pound Menu earlier this year.
"Taking inspiration from Korean, Filipino and Persian cuisines, there will be more sour elements on the barbecue and grills this year, from kimchi to vinegar-based marinades, sour oranges, tamarind and other traditional inspired cooking recipes," says executive chef at Heliot Steak House Ioannis Grammenos.

Further proof can be found in a tie-up between instant barbecue brand Bar-Be-Quick and Japanese sauce brand Kikkoman, with special edition barbecue packs offering coupons for 50p off Kikkoman teriyaki sauce and marinade products.
Everyday experimental
Of course, all this mirrors trends in society as a whole. "As a nation we're travelling more than ever and are exposed to a huge variety of different flavours," says Unilever vice president for foods Andre Burger, quoting analysis from Mintel.

"Research shows we're not just trying exotic foods in restaurants or takeaways, we're also experimenting with different cuisines at home, with more than a fifth of Brits eating up to seven types of global cuisines within a three-month period."

As Britain gets hotter - the Met Office has warned UK summers could be more than 5°C hotter by 2070 - the barbecue is becoming more of an everyday meal. Indeed, there was a 48.2% spike in midweek barbies last year, versus 42.8% growth for those at the weekend, meaning that weekday barbecues now account for 45% of total occasions.
"There will be more sour elements on the barbecue this year, like kimchi and tamarind"
"People get bored of sausages and burgers if they are having two, three or four barbecues a week as some were last summer," says Southam. "So, we need to offer more variety. The key one for us last year was thin-cut beef steaks, which we did a big campaign on and many retailers did four flavoured thin steaks for £4, resulting in good growth."

Southam points to Kantar figures as proof of the campaign's success. In the 12 weeks to 10 September 2018, value sales of thin-cut beef products rose £5.2m or 40%, while volumes increased 42%. Household penetration rose by more than 50%.

Chicken is also flying high. "BBQ chicken has now expanded beyond the traditional plain drumstick into a varied category, with lots of different cuts and flavours available," says Moy Park head of research & insight Jason Winstanley.

"In a more 'traditional' summer, we might see shoppers buying into a few of these sectors, but last year's long hot summer gave shoppers a chance to shop the category more frequently. In the 12 weeks to 9 September, the frequency of shop for BBQ chicken products was up by a third compared to the previous year," he says, quoting Kantar figures.

Such lines don't just offer a tasty alternative to a banger: they provide a midweek shortcut to flavours that would otherwise take hours of marinating at home. While there will always be a minority of shoppers who are prepared to spend longer on a gastronomic barbecue, for most convenience is king. The average barbecue meal takes 41 minutes to prepare [Kantar].
"Most people don't want to be spending lots of time marinating meat before a barbecue"
"Most people don't want to be spending lots of time marinating their meat before a barbecue, but that doesn't mean they don't want quality," says Wilfred Emmanuel-Jones, founder of sausage and burger brand The Black Farmer.

"That's why this year we are developing a range of flavoured meats, such as drumsticks and wings flavoured with things like black garlic, molasses, pomegranate, black cherry and a British twist on sweet & sour."
Branded, own label and foodservice meat supplier G White & Co, meanwhile, has developed a duo of premium, flavoured hot dog sausages for Lidl, as well as a range of barbecue cuts for Booker that includes smokey beef sliders, lamb kofta kebabs and honey roast pork rings.

"Last summer was so fantastic in terms of sales that everyone is looking to mirror that this year by offering a much wider selection," says MD Chris Price. "The premium hot dog sausages we're doing for Lidl - in smokey barbecue and chilli cheese, which contains 5% red cheddar, 5% Monterey Jack and three types of chilli - are a great example."
And these culinary cuts call for more than a dollop of ketchup or mayo. A growing number of us are opting for more exotic table sauces, too. There was a 74.7% rise in the purchase of table sauces for barbecue occasions last year [Kantar], reflecting the growing amount of choice available.

"More people are interested in outdoor cooking and taking inspiration from how it's done in other parts of the world," says James Digva, owner of The Sauce Shop, which sells a variety of products including Original, Korean and South Carolina BBQ Sauces, Buffalo Hot Sauce and Chipotle and Sriracha Mayos online and through a growing number of grocers.

"We launched a limited-edition Cherry Bourbon BBQ Sauce that was very popular throughout last summer. We also sold a BBQ Collection online, which was our top five BBQ products in one easy-to-order pack. We sold hundreds of these packs direct to consumer."
Innovations in barbecue 2019
The barbecue brands ensuring veggies and vegans are not left out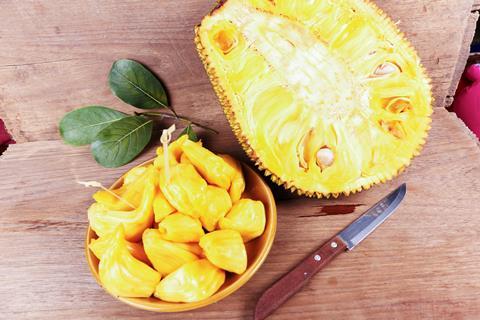 You'd be forgiven for thinking the whole world was going vegan right now, given the huge amount of column inches the trend is getting. So, what does all this mean for the barbecue?
"Frozen vegetarian products have become more popular and were present at five million more barbecue occasions last year," says Kantar analyst Emma George. "There were 471,000 more meat avoiders versus 2017. And, with the increase in guests present at barbecues, consumers are having to cater to an increasing demand for meat alternatives."
Jackfruit (pictured above) may have got all the vegan headlines. But there is a new generation of meat-free barbecue products looking to take its title. Heck, for one, is pushing the flavour of its plant-based sausages and burgers. "Before this, vegans could only eat bland fake meat, but we have developed a tasty range," says head of sales Jack Keeble.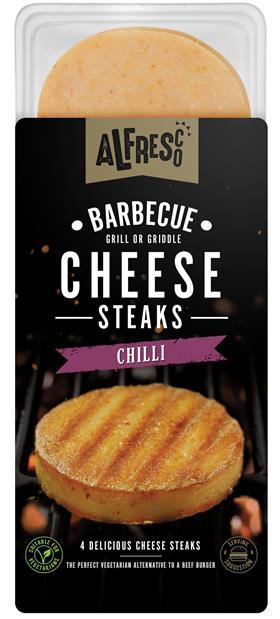 In February, meat giant ABP announced the launch of its first fresh branded meat alternative range, Equals. Its first product, a quarter pounder made with pea and soya protein, rolled into Asda that month with an rsp of £2.50 per two pack, equal to Meatless Farm's plant-based burgers, stocked by Sainsbury's.
For veggies, there's always cheese. Fresh for this year, specialist dairy supplier Eurilait is offering an alternative to halloumi in the shape of cheese sausages and steaks (see left), in two variants.
More are also opting for salads at the barbecue, says Unilever vice president for food Andre Burger. So "Hellmann's has developed a range of premium vinaigrettes specifically designed to complement on-trend salads," he says.
Guacamole brand Holy Moly is also pitching itself at the healthy crowd, which is looking for the "best quality and freshest" veggie products on the market. "We have seen a trend of consumers wanting plant-based products that haven't been heavily processed," says co-founder Tom Walker.
New recipes
It seems variety really is the spice of life when it comes to barbecue sauces. All About Food reports strong sales of Red's BBQ Sauces, which were launched back in 2015 in variants including Unholy, South Carolina and Kansas City. The company says the peri-peri sauces, rubs and mayo it produces under the Nando's brand are also in fine fettle.

The Jack Daniel's range of sauces is another example of growth, with the addition of a Smokey Cola Barbecue Sauce this summer. "We're constantly looking for new exciting recipes to add to our range and this seemed a perfect addition," says David Craig, marketing manager at Baxters Food Group, which manufactures the sauces under licence.

"Consumers are looking for more from the brands they choose. Most importantly, this is a generation of shoppers who are less willing to cook, so convenience and inspiration are key to the buying process."

The holy trinity for these consumers is convenience, health and exotic flavours. According to Nick Briggs, founder of recently launched 'plant-based protein' ketchup brand In The Buff, the consumers seeking out more adventurous options are more likely to be concerned about health or going vegan.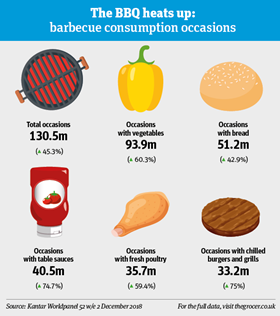 "We really wanted to mix up the category," he says. "People's taste palates are evolving because there are so many international flavours coming to market, so we wanted our flavours to be bang on these trends."

Jamie Keeble, head of sales at sausage and burger brand Heck, agrees health is increasingly important. The brand's latest veggie burger range, including one made from beetroot, horseradish and carrot, is a prime example of marrying these health credentials with adventurous flavours. "The barbecue season has always been a huge opportunity, but the real growth is in a healthier burger and banger," he says.

The big players have similarly upped their game. In recent months, Unilever has launched a vegan mayo, a mayo fired with Tabasco, a hot dog sauce and a trio of vinaigrettes under the Hellmann's brand.

"We're constantly evolving our sauces and dressings offering to reflect the nation's desire to recreate the exciting and flavoursome foods they're experiencing when out and about," explains Unilever's Burger.

As competition hots up with Kraft Heinz, its rival is packing in equal amounts of innovation. Heinz has confirmed it's gearing up for the summer launch of the ketchup/mayonnaise hybrid already available in the States, Heinz Mayochup, as well as planning a host of activity for its existing sauces.

"Barbecue flavours and accompaniments have become a key staple," says Heinz sauces senior brand manager Martina Davies, quoting Nielsen figures and pointing to the launch of the Bull's Eye range of BBQ and hot sauces in January 2018.

"The BBQ and hot sauces sub-categories are in growth 12.8% of 10.2% respectively as the Americana trend continues its momentum in the UK. However, they're still under indexed versus other categories. We launched Bull's Eye to accelerate growth with a bold brand born and raised in the USA."
The price is right
The growing presence of the big guns in BBQ and hot sauces, and the battle between Heinz and Hellmann's in mayonnaise - last year Heinz ran a campaign for its Seriously Good Mayo with the strapline 'Like Hellmann's only Heinzier' - means it's never been more important to hit the right price point. The same goes for meat, says Southam.

"Price is king," he argues. "This is one reason for the success of thin-cut beef steaks and the 12% volume decline in lamb last summer. Those cuts come from roasting joints which there are a lot of in the summer, so it's economic to sell them for £4 or three for £10. Lamb is becoming more expensive and it's difficult to sell it at that price point. So the retailers are pulling back on lamb."
"Over the past 10 years the number of barbecue occasions has increased significantly"
Current economic trends and uncertainty over Brexit suggest this pattern will continue this summer. Similarly, the recent unseasonable weather means everyone from sauce brands to meat suppliers is betting on another roasting barbecue season.

"It is expected that the number of barbecue occasions will increase significantly," says Heinz's Davies, quoting figures from National Barbecue Week. "Over the past 10 years, the barbecue occasion has already increased from two per year to nine."

Time to stock up, then!
What glazes, marinades and rubs are hot in 2019?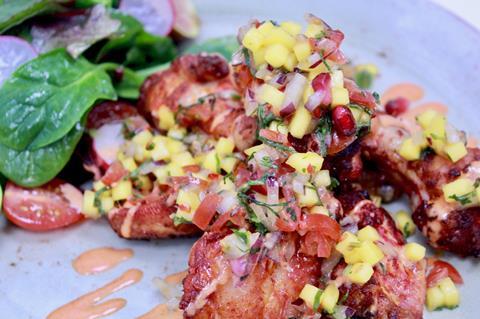 The British barbecue is fast moving beyond the bog-standard burger or banger. A growing number of consumers are experimenting with new cuts and kinds of meat, glazes, rubs and marinades. So, what might be on the menu for 2019? We asked Gordon Wicklow, MD at ingredients and technology supplier Scobie & Junor, for his tips on the delicacies set to make waves this year.
1. Russian shashlik glaze
The 2018 Russian World Cup attracted vast numbers of UK visitors. For those who enjoyed local dishes, this is one that can be easily replicated at home. Shashlik is a type of shish kebab commonly found in Russia, flavoured with vinegar and pomegranate.
2. Texan BBQ glaze
US cuisine is finding its own identity here in the UK, with many exploring regional differences. One particular hit is Texan-style barbecued pulled pork and brisket dishes, made using spices such as smoked paprika and ancho chilli.
3. Sriracha & maple glaze
Sriracha has become a hit flavour in the UK, inspiring this Asian twist on a classic glaze (pictured above). This recipe combines ginger, garlic and savoury flavours with a burst of chilli heat and a subtle note of maple as a sweet counterpart.
4. Jalapeño & honey
This sauce plays to Britain's growing love of chilli and the appetite for sugar reduction, by using honey as a source of sweetness. The flavour combination works well to create a sweet sticky burger or meatball (pictured above) with a satisfying burst of heat.
5. Katsu crumb
The popularity of katsu curry has soared in the UK, so it's no surprise the dish is set to make its way to the BBQ. The only downside is the crunchy crumb coating can prove problematic for gluten dodgers. Scobie is now looking to bring the spicy delicacy to the growing free-from crowd with a gluten-free mix.