Men are ignoring their grooming during lockdown – and bushy beards are making a comeback. Shave brands have been hit hard
Guys – do you have the lockdown look? It comprises a flaky or greasy face, questionable body odour and, most significantly, a bushy beard that would make Brian Blessed green with envy. And it's a style that blokes across the UK are rocking. They're letting their grooming regimes slide, and their bathroom cabinets go bare.
At least, that's what the supermarket sales data shows. While overall value sales of toiletries grew 6% during the pre-lockdown stockpiling spree, male grooming products remained more or less flat compared with the same period a year ago [Kantar 12 w/e 22 March 2020].
And the situation for fella-focused brands got hairier as shoppers settled into their sedentary lives. Sales dived 16.8% in the 12 weeks to 14 June, driven by declines in skincare, fragrances, razor blades and deodorants.
This was largely down to "the discretionary nature" of these products, says Kantar analyst Matt Maxwell. Men working from home and social distancing haven't felt a pressing need to smell nice or shave. Deodorant has lost 19.1% of unit sales, while razor blades – the category's priciest sector – are down 16.6%. "We've seen a huge growth in people growing beards," Maxwell adds.
Indeed, a recent Streetbees poll for The Grocer found nearly a quarter (23%) of men had taken to sporting a beard since lockdown – while a further 16% of the 747 respondents had grown one but since shaved it off. That means nearly four in 10 British blokes have dabbled with facial hair during the pandemic.
"A mix of home-working and furloughs have meant several men have reassessed their grooming style," says James Gray, head of insights & category development for north-west Europe at Wilkinson Sword owner Edgewell. "This has resulted in a spike in the number of 'beard' and 'moustache' searches on Google. Looking at search terms around grooming, the number of searches between February and April in the UK doubled."
"A mix of home-working and furloughs means men have reassessed their grooming style"
Facial hair is a lockdown trend that makes sense, believes Dave Lawrence, planning partner at creative agency Brave. "Let's not forget that beards were proving increasingly popular among men of all ages long before lockdown began," he says.
"Not having to go into work every day has presented some men with the freedom – or laziness – to experiment with beards and, no doubt, it'll stick with some."
For some areas of the market, this beard love-in has been a positive. A surge in hairy visages implies a greater demand among shoppers for beard care. Certainly, beard oil has become one of Hawkins & Brimble's biggest sellers since lockdown, says CEO Stephen Shortt. It marks a turnaround of the run-up to late March, when "we were seeing a decrease in beard products sales as men chose to either shave once a week or daily".
For Gillette, too, beard care has been "booming" says Daisy Gray, VP of grooming for northern Europe at brand owner P&G. "It was a trend prior to lockdown, but with barbers closed post-lockdown that's been huge. It's been a wonderful time for us to launch our beard care brand King C Gillette."
The new range – named after the man who popularised the safety razor – includes a wash, balm, oil and even electric trimmers to keep whiskers in check. Having made its debut in May, it already accounts for 20% of sales from Gillette's online store, Gray says.
She concedes that beard care is still a niche sector, with penetration of just 1% of UK shoppers. However, it's wide open for marketing and investment, she adds. For her, new launches will "play a huge role in driving awareness and education".
In-store shoppers
Beard products aside, though, the lockdown has made life hard for male grooming. One major issue is the lack of in-store shoppers.
The category's value has "been mainly dragged down by the pharmacy side because retailers like Boots and Superdrug haven't enjoyed the footfall your Sainsbury's and Morrisons have" says King of Shaves founder Will King.
Even in the mults, take-up of male grooming has slowed. That's not down to fewer visitors, but fewer promotions.
Offers are "of particular significance" for the category and sway purchase decisions, says Chris Adkins, CEO of Shopper Intelligence. Consumers "expect the shop to be a quick grab-and-go experience" of a market that is otherwise "low engagement".
Which is why shaving products and the like are served heavily by promotions in prominent secondary sites in-store: they serve as an essential reminder to buy, says Kantar's Maxwell. Fewer offers mean fewer purchases. "If you're on a big shop, with lots of items to go after, going down the male toiletries aisle is probably low on your priority list."
"With more time on their hands, men have a little more freedom to experiment"
It's crucial to note here that lockdown sales struggles have been in bricks and mortar stores – which still account for the majority of the market.
Online is a different, more positive story, suppliers insist. Take Wilkinson Sword's razors and blades. Their value in grocery fell 30.6% in the 12 weeks to 13 June [Kantar].
But in the longer period of 23 March to 22 June, "we have seen an increase of 99% in organic traffic to our DTC site versus the previous period, and an increase of 169% in organic sales" says Edgewell's commercial director for north-west Europe, Katharine Goodchild. "We have seen an important increase in sales of our Hydro 5 razors and blades and our Classic range."
Similarly, Gillette has been crushing it online, says Gray. Even during April, when a category slump meant some brands faced "a struggle to stay on sale", the P&G giant "saw huge growth on Gillette.co.uk, Amazon and the retailers' sites". And across April and May, "Gillette actually had the highest website traffic of any shaving brand", she adds. That's in stark contrast to the £7.8m it lost in the recent 12-week period covered by Kantar's data. Though Gray admits that online is "still small" in shaving compared with the market as a whole.
Other areas of male grooming beyond shaving have also benefited from digital sales during lockdown. Stephen Shortt says Hawkins & Brimble has seen its online sales quadruple "as men and their partners choose to do their shopping online and avoid the dreaded queues where possible", while Harry's DTC service has enjoyed strong growth in "non-shave products like shower gel and two-in-one shampoo & conditioner" according to VP Matt Hiscock.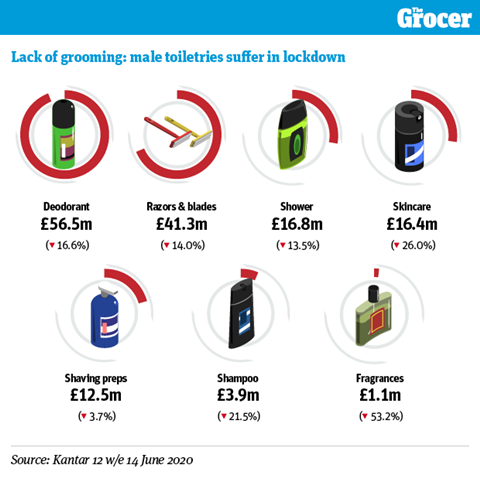 The male grooming market lost £31m in the 12 weeks to 14 June, compared with the same period in 2019. That's a value decline of 16.8%. At the same time, unit sales fell by 17.4%.
The category's two largest sectors – deodorant and razors & blades – suffered volume slumps of 19.1% and 16.6% respectively. Their total value over that period was £97.8m.
These categories have seen two of the greatest increases in average pack price. Deodorant is up 3% and razors are up 3.1%.
Only shaving preps have got more expensive on average. The sector is up 9% – though it is much smaller in value at £12.5m.
While skincare is down 9.2% in volume, Kantar analyst Steph Filletti predicts a turnaround in its fortunes. "Due to the long periods of staying at home, lack of exercise and sunlight, men's facial skincare is likely to see a delayed uplift due to skin dullness, roughness and sensitivity," she says.
Indeed, Hawkins & Brimble is already seeing "strong demand for men's skincare from retailers" says CEO Stephen Shortt. The brand is set to launch into Boots next month.
Zoom looks
The online uplift is in part thanks to the men who have realised they can't completely let themselves go during lockdown. The initial temptation may have been to grow a beard and do away with grooming, but the rise of remote interactions means they are facing friends and colleagues in different ways. "With video conferencing being the new norm, men still want to look sharp and presentable – regardless if they're growing out a beard or shaving it off," says Caroline Mallet, general manager at Bulldog Skincare.
Blayne Shaw, owner of DTC shave startup Lane 44, has also seen that mentality. "Guys still want to look sharp. It doesn't matter what the situation is, you always want to look your best," he says. "Whether that's on Zoom or meeting at the park, maintaining your personal care routines is still a priority."
"During lockdown, brands have definitely been focused on consumers' wellbeing"
Alex Grogan, co-founder of Man Cave, sees another compelling reason for maintaining a lockdown grooming regime: it promotes good mental health. "At the beginning of 2020 we introduced health and wellbeing into our brand outlook, with a focus on the importance of taking care of yourself as part of a generally healthy lifestyle," he says.
"During lockdown, brands have definitely been focusing more on how their consumers can take care of their wellbeing, be that physical or mental. It seems that consumers' lifestyles have become a greater part of brand strategies as marketing messaging begins to extend beyond just the products, and incorporates how the routine as a whole can have a positive impact."
For Harry's, giving back is part of this ethos. The "huge impact" of the pandemic is what led the brand to flag up "the services and initiatives of our global non-profit partners that we work with as part of our 1% giving social mission" says Hiscock. "In the UK, we have been working with Campaign Against Living Miserably, who provide invaluable life-saving support," he adds.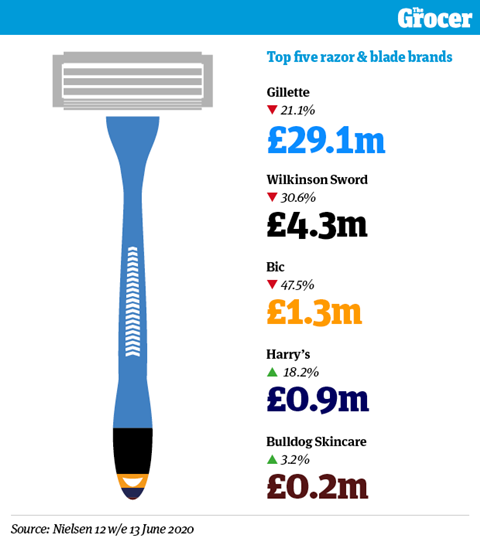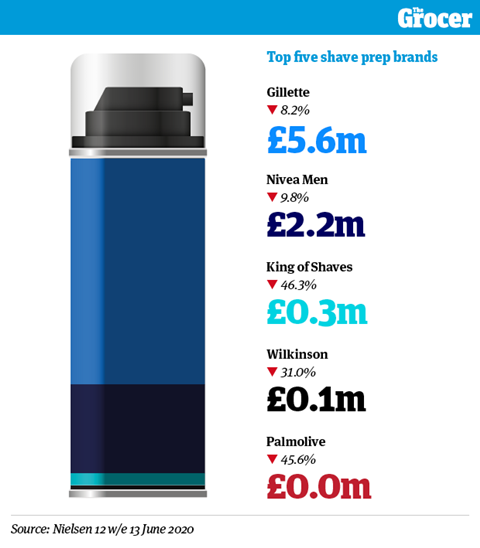 The top five razors & blades brands shed a total of £9.6m in the 12 weeks to 13 June.
Both Harry's and Bulldog Skincare bucked the downward trend, but from much smaller bases than their larger competitors. The two burgeoning brands amassed a combined £1.1m in the past three months.
Harry's fortunes are down to "increased distribution, with retailers merchandising all items together making for a more efficient shopping experience" says Nielsen analyst Sara Timms.
Bulldog's increase in value was down entirely to an increase in average pack prices. Its volume sales actually sank by 8.1% in the 12-week period.
In shave preps, the leading quintet made £1.2m less than in the same period in 2019.
Palmolive suffered the worst decline in unit sales at 61.7%.
Outside of shaving, sales of men's skincare brands have also suffered. Sector leader L'Oréal Men Expert, for instance, has seen its value plunge 32.6% with volumes down 37.7%.
"The lockdown effect of Covid-19 has accelerated decline within skincare and grooming categories over the last 12 weeks," notes Timms.
An increase in average price/fall in promotions has also hindered the market, she adds.
Lockdown easing
So suppliers have made laudable efforts to help consumers mange the stresses of being housebound. Happily, though, those stresses are set to be fewer as lockdown rules continue to relax. With that, Unilever personal care VP Chris Barron anticipates an uplift in sales. "With lockdown beginning to ease, social occasions will gradually increase and the demand for male grooming products will be reignited as we want to look our best," he says. "Hygiene will also remain a top priority as we all keep each other safe, so we expect products that play in this space to remain an important purchase for consumers."
Guys are definitely "sharpening up a bit" agrees Will King, who predicts a return to the pre-lockdown attitude of "I'll dress my face with hair as I want to". A man's jawline will be sometimes stubbly and sometimes smooth – but beards, he insists, will not be "a trend thing any more".
And that's despite coming within a whisker of a major comeback during lockdown.
Innovations in male grooming 2020


Daniel Selwood is The Grocer's special projects editor, managing Britain's Biggest Brands, Britain's Biggest Alcohol Brands, The Dairymen and Top Products – as well as contributing to news, features, analyses and category reports.

He joined the magazine in January 2016 as food & drink editor, having been at financial & legal publisher LexisNexis for eight years.

He began his journalism career in the mid-1990s at a general interest magazine in his birth city, Sheffield.

Follow Daniel on Twitter: @danielmcselwood