Gone are the days when your dog's food bowl was vastly different from your own. Today's pets are following human food trends. And that's opening up a growing market for vegan nutrition
What's on the menu for dinner tonight? Pupperoni pizza? Chicken and woofles? Spring roll over and play dead?

Such canine-themed comestibles don't exist, of course. But perhaps they should considering the number of people who feed junk food to their pets. A third of dog owners share their takeaways and fast food with their pooches, found a survey of 2,000 dog owners by Mars Petcare's Royal Canin brand earlier this year. It's a habit that can have a disastrous effect on Rover's digestive system and lead very quickly to obesity.

Giving a medium-sized dog "just one sausage roll could amount to over a third of its daily calorie requirements" warned Royal Canin's scientific communications manager Hannah Poile. "So it's easy for this to add up and result in a pet becoming overweight." She added: "As well as the obvious dangers of obesity such as heart disease and joint conditions, these foods can also be linked to many other health problems, including digestive issues, skin problems and tooth decay."

That's alarming. It might also be frustrating for the many people who love to treat their pooches like little people at dinnertime. But it needn't be - turns out, there are many safer and healthier ways to humanise one's fur baby.

These days, Fido and friends can easily enjoy the same kind of fashionable grocery products as their owners. The UK's petcare category - up 1.4% in grocery to £2,543.9m [Kantar 52 w/e 14 July 2019] - boasts a wealth of free-from meals, CBD snacks, food to promote sleep and digestion, and even 'white wine' (served by the brand Pawsecco).

Then there's the latest human-led trend: plant-based. While humans are tucking into Beyond Meat, the Impossible Burger and Greggs' vegan sausage roll, dogs have Wild Earth, the US biotech startup that officially unveiled its 'fake meat' dogfood in August.

The company claimed an industry first with its high-protein NPD made from renewably sourced fungi. It aims to rival "the highest-quality animal-based foods on the market" while also slackening "the grip of factory farming and its ruinous effect on the health of our pets and the environment".

Wild Earth was able to roll out this innovation thanks to much interest from investors. In May, it secured an investment of $11m (£9m) led by venture capital firm VegInvest - illustrating the level of faith that exists in next-generation plant-based food for pups.
Higher prices drive growth: petfood value sales
| Top pet food sectors by value sales | | | |
| --- | --- | --- | --- |
| | Value (£m) | % growth | Market share |
| Wet cat food | 896 | -1.9 | 35.2 |
| Dog snacks | 495.6 | 3.5 | 19.5 |
| Wet dog food | 459.8 | 5.8 | 18.1 |
| Complete dry dog food | 295.8 | 2.4 | 11.6 |
| Dry cat food | 222.4 | -2 | 8.7 |
| Cat snacks | 162.7 | 7.1 | 6.4 |
| | | | |
| | | | |
| | | | |
| Brands vs Own Label | | | |
| | Value (£m) | % growth | |
| Brands | 1952.2 | 1.1 | |
| Own label | 591.7 | 2.3 | |
Petfood's 1.4% value increase over the past 12 months was driven by treats and shoppers purchasing at higher average prices. Premiumisation has mitigated a decline in volume sales.
Total dogfood, up 3.7% to £893.7m, is catching up with catfood, which is down 0.9% to £1,058.4m.
The growth of dogfood was driven by all sub-categories, particularly wet food and treats.
Wet dogfood's strong growth was driven by shoppers purchasing at higher prices mainly due to the growth of pouches, which tend to be more expensive, says Kantar analyst Sophie Ellis.
Within treats, premium brand Good Boy has seen significant growth, contributing to the positive performance of the sub-category, Ellis adds.
More cat owners are buying into cat treats. Shoppers are generally entering the category via private label and Dreamies.
Sustainability is a fast-growing focus for petfood makers, but "there's still scope for improvement" say Ellis. "Single-serve pouches, which are a growth area in the market, are not recyclable."
Source: Kantar 52 w/e 14 July 2019
'The next step' for petfood
Vegan petfood isn't just a US phenomenon. "As human diet trends have evolved over time petfoods have increasingly followed suit. It's no surprise vegan petfoods are the next step for some companies," says Callum Griffiths, founder of Clydach Farm Food for Dogs. "We've seen recipes that reflect paleo diets and no-nonsense diets, so vegan is a natural step."

Indeed, online and specialist retailers in the UK are already offering plant-based petfood from the likes of Hampshire's Benevo, Italy's Amì and The Netherlands' Yarrah.

Such brands reject "the naïve, simplistic notion that dogs are single-track carnivores" says Prash Patwardhan. He's the founder of Pawfect Foods, which recently launched its food containing "human-grade fruit, veg, herbs, dairy and even sea kelp" in the UK. The aim is to make dogs flexitarian, rather than vegan.

While acknowledging dogs "need high-quality proteins in their diet", he argues sticking to meat-only meals - particularly those advocated by paleo-style suppliers - isn't "biologically appropriate".
"Substituting non-meat for meat once or twice a week will not do dogs any harm"
Craig Wallace, CEO of Itsdogfood.com, is largely in agreement. "I do not believe dogs should be fed a purely vegan diet. They need meat," he says. "However, substituting non-meat for meat once or twice a week will not do dogs any harm as long as they get the right amount of protein, carbs, fibre, fats and key amino acids required.

"It's not about a lifestyle choice with animals, it's about giving them what they need to be healthy and happy," Wallace adds.

Health is very much the sticking point of all this talk around vegan petfood. Jack Walker, co-founder of natural petfood brand Scrumbles, says vegan-only operations will "need to demonstrate beyond doubt that vegan food is capable of delivering the nutrients pets need to thrive in line with, or better than their high-meat alternatives before they can expect to gain broader adoption".

And it's not just doggy diets deserving of scrutiny. "Cats, as obligate carnivores, are in real risk of ill health on a vegan diet," Walker adds. "It's no coincidence that Catfest, the UK's premier cat-themed festival, offered only vegan food for visitors but didn't advocate vegan diets for cats."

That is a crucial point. Because Clydach Farm's Griffiths says vegan pet owners need not insist their pets follow the same regime. It's possible for them to "own a dog that has a meat-based diet without it compromising their own values" he says. "Some foods, such as meat, offer a naturally higher bioavailability to dogs and greater digestibility. There are amino acids that dogs need but humans do not. Choosing higher welfare, organic producers could be the healthiest and most ethical option for dog owners who follow a plant-based diet."

Plus, owners can afford to go vegan in certain areas, even if they don't transform their pet's entire diet. Take treats, for example. Vegan variants "are set to boom" according to Scrumbles' Walker. "Since treats are complementary to a pet's diet, they aren't required to deliver the same level of nutrition, and so this opens up many more options to suppliers."

It's certainly a booming area for vegan brands to enter. Snacks are soaring in value - up 7.1% for cats and 3.5% for dogs to a total of £658.3m [Kantar]. In dog snacks especially, the value rises are down to premiumisation, as shoppers shift towards natural options.

"Natural treats command almost three times the price of basic mainstream treats, which adds incremental value to the ­category as shoppers are willing to trade up in quality to healthily treat their dog," says Jack Rutherford, head of UK sales at Lily's Kitchen.
"Natural treats command almost three times the price of basic mainstream treats"
Posh snacks offer "the best of both worlds" claims Laughing Dog sales executive Rachel Grant. "They satisfy dogs and reassure owners they are feeding their dogs the best products for health and digestion."

The natural element also ties in with the 'clean eating' movement in the human world. And as we've seen, where human diets go, pet diets tend to follow. The philosophy is "if it's good for me, it must be good for my pet" says Victoria Larsen, senior category manager at Harringtons owner Inspired Pet Nutrition. "The humanisation trend is particularly relevant in treats, but plays an important role in food, too."

That means natural ingredients are a key driver of overall petfood purchases, as well as treats. Larsen says "41% of dog and cat owners are looking for all-natural ingredients, above functional benefits (36%) and high protein content (32%)".

So the natural sub-category, while relatively small, is soaring. Sales are up 29% year on year, according to Jenny Kennedy, head of category & insights at Pets Choice, owner of Webbox and Meatiful.

That's partly due to buy-in from "more affluent" consumers, says Kennedy. Plus, the idea of natural fare is becoming more mainstream. "Shoppers appear to be trading up from standard main meal products," she says.

So natural food is winning across the board - in wet and dry options, cat and dogfood, and across existing and new brands. This momentum "really highlights the importance of natural petfood brands for this market and the opportunities for retailers to really drive value growth," argues Kennedy.
Big players challenged: top 10 petfood brands
| Top 10 pet food brands | | |
| --- | --- | --- |
| | | |
| | Value (£m) | % growth |
| Felix | 243.4 | 0.2% |
| Pedigree | 172.7 | -4.0% |
| Whiskas | 156.9 | -5.5% |
| Gourmet | 88.2 | -2.5% |
| Sheba | 75.6 | 1.4% |
| Bakers | 73.1 | 0.4% |
| Good Boy | 69.7 | 24.8% |
| Butchers | 54.6 | -6.7% |
| Harringtons | 51.0 | 12.8% |
| Go Cat | 45.1 | -5.5% |
The big players in petcare are struggling. Felix may have edged up £400k, but it's the exception rather than the rule. Pedigree, Whiskas and Gourmet have shed a whopping £18.6m combined.
Whiskas is facing "strong challenges" in catfood, according to Mars Petcare GM Helen Warren-Piper, with a £9m drop in value. That's in spite of an overhaul in early January for its pouch meals. They were given a "modern, impactful" new design.
"As health trends have swept through the consumer goods space, it is estimated that the value of natural petcare brands will be worth over £314m by 2022 (11% growth)," says Warren-Piper.
The success story of the year is Good Boy. The Armitage Pet Care brand is up a whopping 24.8%, which marketing manager Mike Love puts down to taste credentials alongside options that are "low in fat, grain-free and high in protein".
Pedigree is hoping to recoup its 4% value loss in dogfood by shifting focus to higher value formats such as the single-serve pouches. And it's hoping to cash in on the popularity of snacks with a "strong innovation pipeline" for its Ranchos line.
Harringtons' 12.8% growth is the result of being "built on authenticity and heritage as a down-to-earth, family brand" it claims. "Harringtons Dry has added £5.7m to the category in the past year, with growth being 70% incremental."
Source: Nielsen, 52 w/e 7 September 19
'Super-premium' products
It all bodes well for the category, which for some years has suffered from a static pet population. A rise in prices could mitigate the stagnating volumes. "Future growth will come from premiumisation," predicts Mars Petcare UK general manager Helen Warren-Piper. "This premiumisation is driven by pet owners willing to increase spend on super-premium products, natural and scientific offerings, and on treating their pet."

Animal lovers are more than happy to splash out on Rover and Mittens, Warren-Piper says. "Pet owners spend on average £733 per year more than non-pet owners, with trends showing that owners are becoming more conscious of what they are feeding their pets, wanting to ensure they have the best possible care and nutrition."

Still, not all the retailers are benefiting from big-spending pet owners. Namely the mults, which have seen their value in the pet category slip as much as 9.1% [Kantar]. Conversely, Aldi and the bargain stores have seen a double-digit increase in sales. The real issue for the mults, however, is the rise of specialists like Pets at Home (see right) and direct-to-consumer brands such as Tails.com (in which Nestlé owns a majority stake).
"Owners are using supers to trial premium foods before migrating to online channels"
That's because "owners' needs have evolved beyond the supermarkets' traditional offering" says Phil Cotterill, head of insight at Butcher's. "More and more owners are using supermarkets to simply trial premium foods before migrating to online channels that allow for price comparisons, wider-tailored ranges and free delivery on what is now a highly planned, bulky and potentially expensive purchase."

With that in mind, Pets Choice's Kennedy believes petcare in the mults will be "marginal over the next five years".

Not everyone is quite so pessimistic, though. Rutherford at Lily's Kitchen believes supermarkets are gradually getting savvier. While online and speciality stores have "made a move to support natural premium brands well ahead of supermarkets", he says "supermarkets have begun to up their game" in terms of attracting these more discerning shoppers. "There remains an enormous opportunity for supermarkets to win share."

Cotterill also spots potential. "With the health agenda here to stay, the opportunity for supermarkets is to democratise access to quality nutrition and bring shoppers back to the pet aisle". After all, he says the mults "are still uniquely placed in having the scale to turn the tables back in favour of those owners trying to do the right thing by their pets".

There are other opportunities for growth, too - not least of all other nascent human food trends. Take CBD. Growing rapidly in categories such as healthcare and soft drinks, it's also finding its way into petfood via the likes of True Hemp's snacks.

Granted, it may take a while. Guy Blaskey, founder of Pooch & Mutt, believes legislative restrictions are an obstacle to growth. "The government has proclaimed CBD is 'veterinary medicine', so companies are unable to sell them without authorisation from the Veterinary Medicines Directorate. This is a ridiculous situation," he says. "Anyone can go into Holland & Barrett, buy CBD oil and give it to their pet. By restricting pet companies selling CBD the government is restricting our ability to communicate not only the benefits of CBD for animals, but also the best ways to use it."

Perhaps insects will land on shelves sooner, then. They've long been touted as the next healthy protein source for people - and in August the British Veterinary Association announced some insect-based foods may be actually better for pets than chowing down on high-quality red meat.

Eating creepy-crawlies doesn't exactly chime with the vegan craze. But there remain "unlimited opportunities to create new value streams for those who truly understand the nature of the pet-human bond and who can provide outstanding services to tomorrow's pet owners" says Liz Wood, Purina's marketing development organisation director - whatever the next trend might be.

Now, who's for some onion bharki?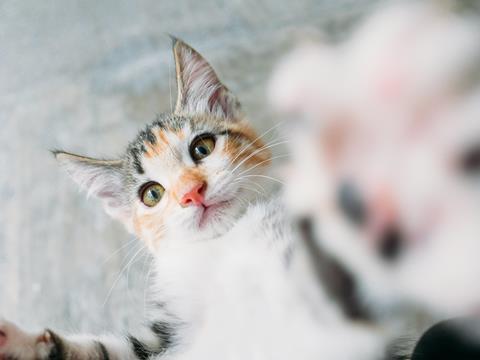 How Pets at Home shook things up to attract the modern pet owner
Pets at Home's sales will smash through the £1bn ceiling in 2020, City analysts predict.
Such an achievement would cement a major turnaround for the UK's biggest petcare specialist. From 2015 to 2018, its shares plunged about 60% as investors lost faith in the business – even as revenues continued to rise.
Bosses at Pets at Home moved to address what they saw as the main deficiencies: rising prices and an over-eager rollout of in-store vet services.
Now the business is one of the FTSE's fastest risers, having reported sales of £961m for its most recently completed year.
Part of its refreshed strategy has been to cut the costs of key lines, rationalise ranging and free up space to introduce services such as dog grooming. And it has tailored the ranging in its 452 stores to suit their location, having found urban areas to have more owners of cats and aquatic creatures than dog-centric rural areas.
"We could therefore optimise each store to its own customer base," head of space planning Mark Wilkinson told a conference in September. Pets at Home has also committed to restructuring its in-store vet service, which it runs as joint ventures with independent practices. It plans to buy back 55 practices out of 471 for a sum CEO Peter Pritchard expects to reach £49m by 2020.
Finally, in a move to expand its added services beyond stores, Pets at Home bought a 12% stake in Tailster.com in July. That will offer the dog-walking service to its 4.4 million loyalty scheme members.
The shake-up has made certain that Pets at Home is "the thought leader when it comes to petfood in the UK" says Rachel Collinson, director – food for dogs at Butcher's. The retailer is "uniquely placed to understand the needs and desires of modern pet owners, which are driven by the deep emotional connection they have with their pets" she adds.
Gallery: Innovations in Petcare 2019


Daniel Selwood is The Grocer's special projects editor, managing Britain's Biggest Brands, Britain's Biggest Alcohol Brands, The Dairymen and Top Products – as well as contributing to news, analyses and category reports.

He joined the magazine in January 2016 as food & drink editor, having been at financial & legal publisher LexisNexis for eight years.

He began his journalism career in the mid-1990s at a general interest magazine in Sheffield.

Follow Daniel on Twitter: @danielmcselwood