On the face of it, fish sales are in healthy shape. But could growth be scuppered by the sustainability concerns bubbling under the surface?
Talk about a good catch. Fish has reeled in an extra 250,000 shoppers over the past year. The value of the chilled and frozen fish category has risen to just shy of £2.9bn, fuelled by an extra 10.1 million shopping trips [Kantar 52 w/e 11 August 2019]. "Shoppers are making smaller trips, but this is outweighed by them making many more trips," says Kantar analyst Nathan Ward.

It's undoubtedly good news - especially for a category that has long relied on price rises for value growth. However, there is a threat to all this positivity.

Sustainability concerns are growing by the day as fish stocks face depletion and popular species head off the menu. North Sea cod lost its MSC certification this year. The controversy around farmed salmon is intensifying. The UN says the majority of global fish stocks are "fully exploited, overexploited or depleted". And Greenpeace warns the word's oceans face a "bleak fate" unless urgent action is taken.

So is this boom in fish sales simply the calm before the storm? What is driving the extra shopping trips? And could concerns over sustainability swallow up growth?

It's easy to see what is bringing in extra shoppers. Chilled fish sales have grown by £42.8m - or 2.3% - to £1.9bn. That easily outstrips growth in frozen and ambient, which are up by £4.7m and £10m respectively.

Salmon accounted for much of the extra spend on chilled fish. It gained a whopping £33m, taking its total value to £733.2m. That means it's now worth more to the chilled aisle than the rest of the 'big five' species - prawns, cod, haddock and tuna - combined.
"Most people can cook fish, they just don't have a wide repertoire of species or recipes"
This is partly down to salmon's ease of preparation, suggests Young's Seafood category insight director Iain Lowrie. "There's an urban myth that people don't know how to cook fish. Most people can cook fish, they just don't have a wide repertoire of species or recipes they're comfortable with. Most people can cook a piece of salmon," he says. "It's a great alternative to chicken and you do often see consumers switching between the two in terms of their eating occasions."
A boom in salmon has knock-on effects, he adds. "Salmon is the hook. When it performs well within chilled, you get consumers buying other chilled products."

Plus, fish is ideally placed to capitalise on the rise of flexitarianism as more people look to reduce their meat intake, Lowrie suggests. Indeed, 55% of UK consumers said they wanted to eat more seafood in a poll of more than 2,000 people by YouGov for industry body Seafish.

There is a wider issue at play, though. Salmon had one of the largest price drops over the past year, falling by an average of 29p per kilo. Many other chilled species - prawns, sea bass and tuna, for example - are also getting cheaper. That's resulting in a reversal of last year's situation, when consumers were being priced out of the market. Now, more affordable everyday prices are persuading consumers to buy higher volumes.

"Promotions were a smaller part of sales in 2019," says Kantar's Ward. "We've seen fewer temporary price reductions over the year, but a slight return to volume deals in chilled fish, which has helped to alleviate some of the volume decline."
Volumes rise again: chilled fish value sales
Top chilled fish sectors by value sales
Value (£m)
% growth
Market share
Salmon
733.2
4.6
38.1
Prawns
254.2
0.4
13.2
Cod
219.8
6.0
11.4
Haddock
174.0
-4.0
9.0
Mackerel
65.2
-2.4
3.4
Sea Bass
42.5
-1.0
2.2
Tuna
32.9
-0.6
1.7
Plaice
22.3
-11.5
1.2
Brands vs own label
Value (£m)
% growth
Brands
108.3
10.8
Own Label
1818.5
1.8
Data source: 52 w/e 11 August 2019
Retailer performance
Category value share
% growth
Tesco
19
-0.6
Sainsbury's
14.8
-3.7
M&S
13.3
-4.9
Waitrose
11
6.3
Morrisons
9.8
2.1
Aldi
7.6
11.2
Asda
7
6.5
Lidl
6
5.3
Overall, chilled fish is looking in pretty good shape. The market has grown 2.3% to £1,926.8m.
Last year, growth was fuelled entirely by rising prices. This year, the opposite is true. Chilled fish is, on average, 12p cheaper per kg than it was last year.
"Prices have come down after the strong inflation of 2017 and early 2018," says Kantar analyst Nathan Ward. "Fewer promotions are a key driver of this dynamic. We've seen fewer temporary price reductions over the year, but a slight return to volume deals in chilled fish, which has helped to alleviate some of that decline."
Volumes have grown 3.3% – 5.2 million kg – overall. "The growth in the category has been driven by shoppers making 11.3 million more trips – with 255,000 new shoppers and existing shoppers buying more often," says Ward.
Salmon has been the standout performer of the past year, gaining £32.5m thanks to a 6.6% increase in volume sales. "Salmon is driving category growth as prices fall," says Ward. "Natural salmon and smoked salmon are growing ahead of the market, with strong non-promoted sales growth."
Fall in frozen
For proof of the impact of price, look at frozen fish. While chilled is flying ahead, frozen volumes have fallen 1.7% or 2.4 million kg. Kantar says this is largely down to price inflation - on average, prices are up 14p across all species. Pollock and haddock have had particularly sharp prices rises of 7.4% and 4.2% respectively. That's resulting in "fewer and smaller" shopping trips to the frozen fish aisle from a "fairly static shopper base".

Birds Eye admits inflation is the category's "biggest challenge". But it believes brands have the power to push frozen sales into healthier territory. "It's our responsibility to bring frozen out of the freezer in terms of enticing consumers and demonstrating the credentials of frozen in convenience, freshness and managing waste," says general marketing manager for fish Annalisa Fanali.

"It's also about really pushing the boundaries in terms of frozen being proper food and offering options which are really 'foodie'," she adds. "We have really tried to focus on having the right range available for consumers and we also brought in new products to attract new shoppers to the category." That includes the October launch of its premium Artisan Style range, which includes such flavours as a German Pretzel Crumb with Sea Salt and Sourdough Breadcrumb with Spelt Seeds.

There's also the Captain Birds Eye range, which took the place of its axed Inspirations line in March. So far, it has amassed £5m [Nielsen 52 w/e September 2019]. The wider Birds Eye brand hasn't done badly, either - up 1.3% to £147m in frozen fish sales.

It's hoping to maintain that growth by reinvigorating the frozen category as a whole. Fanali points to its recent 'Eat in Full Colour' campaign with Sainsbury's, which saw the frozen section of its Epsom store covered with brightly coloured stickers and aisle fins. It may have concentrated on Birds Eye vegetables, but it could have a halo effect on other areas by "getting consumers to think differently about frozen", says Fanali.
Environment
Young's, meanwhile, is concentrating on the environmental credentials of frozen. "People are taking a more holistic view of environmentalism and their impact," says communications manager Nicholas Donnelly. "They want to waste less and reduce the amount of packaging they use. I think the next stage of that will really be a perfect space for frozen to play in because frozen food offers portion control and products can be kept for as long as needed."

But growing interest in sustainability could prove detrimental to the fish category as a whole. Concerns around overfishing are growing at a pace, with the UN warning that 90% of global fish stocks are now "fully exploited, overexploited or depleted".

Analysis of current fish populations by the International Council for the Exploration of the Sea (ICES) prompted the European Commission to propose reducing the 2020 total allowable catch for 40 of a total of 72 fish stocks in the Atlantic and North Sea areas.
"People are taking a more holistic view of environmentalism and their impact"
That includes cod caught in fishing grounds to the west of the British Isles (down 88%) and in the Irish Sea (down 68%), as well as mackerel (down 41% in most areas) and northern and southern hake (down 20%).

The ICES has also recommended that quotas for North Sea cod, which is subject to a separate EU multi-annual plan, should be slashed by two thirds in 2020.

"Sustainable fisheries management requires regular scientific assessments of the state of a fishery and mechanisms to reduce fish catches if the science shows that stock abundance has declined," says Aoife Martin, director of operations at Seafish. "We have recently seen this in practice with North Sea cod, where the latest science advice indicates that the stock has declined."

The UK fishing industry has already "responded proactively" to the decline of North Sea cod by "putting additional measures in place to support the fishery to rebuild the stocks", adds Martin. It is also "proactively engaging with Norway and Denmark to ensure these non-regulatory management measures are adopted by the main parties operating in the fishery", she adds.

But environmental groups like Greenpeace believe more must be done to protect oceans. "The UN meets next year to conclude negotiations on a Global Ocean Treaty," says Louisa Casson, oceans campaigner at Greenpeace UK. "A strong treaty could protect our oceans and give them space to recover, but a weak one, which maintains the current system, would consign them to a bleak fate."

The group has called for the introduction of a network of new Highly Protected marine areas or 'no take zones' to adequately protect British waters from overfishing.

And it isn't just wild fishing that is raising sustainability concerns. Farmed fish like salmon are often fed on "unsustainable" fishmeal, warns Dr Elena Lara, research manager for fish at Compassion in World Farming.

Indeed, a recent report by the Changing Markets Foundation found aquaculture's demand for fishmeal was contributing to the "destruction of wild fish stocks". This was destroying "the social and economic fabric" of fishing communities in countries like the Gambia, it warned.

The controversy prompted Tesco to update its farmed salmon standards, encouraging suppliers to use less wild-caught fish in salmon feed and ramp up use of omega-3 enriched algal oil instead.
Rising prices keep value afloat: frozen fish value sales
Top frozen fish sectors by value sales
Value (£m)
% growth
Market share
Cod
251.9
-2.1
26.3
Prawns
156.3
1.6
16.3
Pollock
127.9
8.4
13.3
Haddock
85.8
-4.6
8.9
Salmon
57.3
-16.4
6.0
Scampi
57.7
2.2
6.0
Basa
45.8
-9.8
4.8
Sole
11.4
15.0
1.2
Brands vs own label
Value (£m)
% growth
Brands
448.9
0.5
Own Label
509.8
0.5
Data source: 52 w/e 11 August 2019
Retailer performance
Category value share
% growth
Tesco
22.2
-2.4
Iceland
16.7
-2.3
Aldi
15.3
0.7
Sainsbury's
10.1
-1.2
Asda
9.8
1.9
Lidl
9.4
11.4
Morrisons
5.6
-2.9
M&S
3.9
-11.6
Waitrose
3.7
-0.3
Frozen fish is keeping its head above water. Value has grown marginally by 0.5% to £958.8m.
That's down to rising prices, which have mitigated a 1.7% volume decline. "We've seen a fairly static shopper base, with fewer and smaller trips driving the volume decline," says Kantar analyst Nathan Ward.
Overall, prices have risen by 2.1%, which equates to 14p per kilo. "Promotions have decreased in terms of share of spend, and only account for 34.5% of value sales, with both price cuts and volume deals falling back," says Ward.
Among the top eight species, only two – prawns and basa – have seen a price decrease. Pollock had the fastest price increase of 7%, followed by haddock at 4.2%.
The largest frozen food species, cod, has seen a 2.3% increase in price. "Cod has seen promotions fall back in all key sectors and prices are growing faster than the market overall," says Ward.
Prices are rising faster in own label (2.9%) than in brands (1.2%). This has resulted in a 2.4% volume decline in the "price-sensitive area" of own label, says Ward.
Increased certification
So far, these concerns haven't had a massive impact on sales. Salmon, after all, was still the fastest-growing chilled species over the past 12 months. But the Marine Stewardship Council says consumers are increasingly taking note of sustainability issues.

It points to the results of its recent poll, which found 83% of respondents believed fish needed protection to ensure future generations can enjoy seafood. And 77% demanded independent labelling for the sustainability claims made by brands and retailers.

That consumer demand is translating to more sustainable fish in the supermarkets. The MSC says the number of products carrying its logo has increased 14% to more than 1,200, taking sales of MSC-certified products in the UK past the £1bn mark.

Major retailers are keen to ensure their offer is seen as sustainable, the MSC notes. "Six of the 10 leading UK retailers now have well over two-thirds of their entire wild range of fish and seafood products certified," it says.

As a result, suppliers are scrambling to achieve the necessary standards. Own-label supplier New England Seafood says it is making "significant progress" in achieving certification for its wild seafood supply chain. Its "new whitefish supply chains" for species like cod and haddock are "some of the most sustainable in the world" and totally MSC-certified, it claims.

Brands are equally keen to prove their sustainability credentials. John West owner Thai Union says "over 90%" of the tuna it supplies in Europe is sourced from an MSC fishery or Fishery Improvement Project. The company is now engaging with those improvement projects "to move them towards MSC certification," says Darian McBain, global director of corporate affairs & sustainability at Thai Union.

Meanwhile, Birds Eye announced it had achieved 100% MSC certification in August. It celebrated that milestone with an on-pack promotion inviting families to use the brand's online Fish Provenance Tool.
"We wouldn't source uncertified fish. We have made a long-term commitment"
"Birds Eye is trying to raise the bar in the way we talk to consumers about the topic," says Fanali. "We wouldn't source uncertified fish. We have made a long-term commitment and will take any possible action to make sure we can maintain our portfolio to the standard it is right now."

However, other brands argue they have a tougher time when it comes to gaining 100% MSC certification. Take Young's Seafood, for example. "Birds Eye's focus was on five key species, they take a very strategic approach in looking at just those so they can have the MSC certification," says Cameron Moffat, marine biologist at the brand. "When looking at the Young's supply chain, with over 40 species across five continents, it's a bit more challenging."

Young's points out that it's doing its bit. It brings new species onto the market with a Fishery Improvement Project framework from "data-deficient stocks all the way through to MSC certification", it says. Then there's its own 'Fish for Life' scheme, which it claims provides a greater scope and greater clarity of purpose than many third-party schemes.

"Third-party verification of sustainable fisheries is a great tool in the toolbox, but we need also consider other issues such as: illegal fishing, ethical compliance and those fisheries on a pathway to certification," explains Moffat.
Beyond the big five
With so much pressure on certain wild fish stocks, the Marine Conservation Society is encouraging consumers to switch from the so-called 'big five' fish species to more sustainable options. It hasn't happened yet - the big five still account for three-quarters of chilled sales. And persuading UK consumers to switch species won't be easy, warns Lowrie. "Sea bass has been really successful but it's taken about 10 years to get to this level."

But there have been moves in the right direction. In June, Aldi announced it would stock four 'bycatch' or unintentionally caught species - gurnard, megrim sole, whiting and pouting - to "support British fisheries in sourcing more sustainable alternatives to traditional white fish".
"We're excited about the possibility of sourcing from land-based and closed-water farms"
Suppliers also believe emerging aquaculture technology could hold the answers. Grimsby-based JCS Fish, which specialises in farmed Atlantic salmon, is exploring the possibility of "sourcing from systems such as land-based and closed-water farms, which within the next decade may well start to produce fish in sufficient volumes to make them viable for the general market," says commercial manager Jack Coulbeck.

In a similar vein, UK-based startup Great British Prawns is seeking to cut food miles with its own aquaculture innovation. Its land-based Balfron site, which began harvesting over the summer, has a tank containing 300 tonnes of water "capable of holding up to a million fresh prawns".

"Most prawns have travelled 6,000 miles to reach a UK consumer. We aim to meet growing consumer demand for regional and local food production with the reassurance of provenance and sustainability," says the company's chairman, James McEuen.

One thing is for sure: there is no shortage of effort in the sustainability stakes. But the question is whether these efforts can persuade consumers fish is an ethical choice. Because if they can't, the boom in fish sales may not be sustainable for long.
Fishless fish: the next big thing in plant-based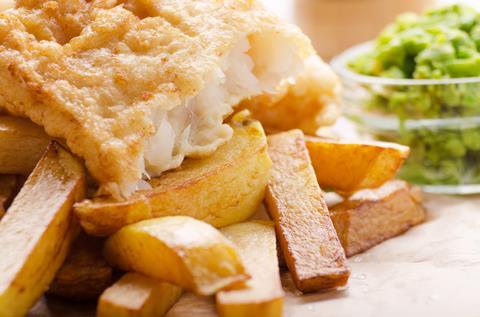 We've had the 'bleeding' meatless burger and barista-style milk alternatives. Now it's time for the next big thing in the world of plant-based: fishless fish.
It hit the big time in the out-of-home arena last June, when pub chain Greene King introduced a vegan fish and chips across selected branches. That was followed by Britain's first vegan fish & chip shop - Sutton and Sons - opening in October.
Now fishless fish is making waves in retail. That's thanks to a raft of NPD from veggie brands.
Quorn is big name to see potential in the area. In January, it launched a two-strong range of fishless fillets (pictured below), including one with a salt and vinegar batter and one with a lemon pepper breadcrumb. The fillets (rsp: £2.99/200g) aim to build on the success of Quorn's fishless fingers and cement the "mainstream appeal" of the brand.
In September, Linda McCartney's got in on the act with the launch of its vegetarian fishcakes (rsp: £2/208g). Made with soya and wheat protein, they come in a crispy lemon and parsley breadcrumb. Consumer demand was a driving force behind the innovation. "With an ever-increasing number of consumers choosing to reduce their meat consumption, we've noticed a growing desire for more fish-free alternatives on our social channels," says Linda McCartney's MD Nadine Maggi.
The retailers are taking note. The Quorn and Linda McCartney's products quickly made their way into the big four, and even less well-known brands are getting a look-in. In May, Morrisons listed Loma Linda's Tuno & Mayo (rsp: £1.30/142g), making it the first major mult to stock vegan tuna.
Plus, Waitrose went one step further with the launch of its own-brand vegan fishless fingers in January. The tofu batons are coated in breadcrumbs, seaweed and dill.
Could this be the start of a fishless revolution?
Innovations in fish 2019