Amazon: a grocery player, indeed
The world of grocery retailing was delivered quite a surprise on Friday 16 June by Amazon, to some an empowering force for consumer good, to some a wrecking ball. Like the Eye of Mordor, many businesses hope it does not shine on them.

Well, for global food retailing, Amazon's decision to spend nearly $14bn to acquire upmarket Whole Foods Market firmly represents two things: first, should anyone have any doubt, Amazon is committed to expanding in grocery. Second, Amazon would appear to be much more mainstream than some digital evangelists may have expected. Hence, to succeed in food, multichannel is indeed the future.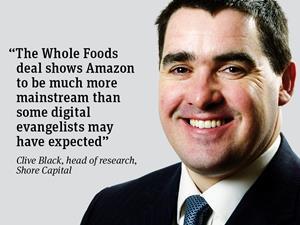 The waves from Amazon's decision, subject to regulatory approval, of course, lapped the retail world on this side of the Atlantic pretty quickly. Incumbent supermarket groups' shares were marked down as the strategic challenge of Amazon came to the fore of investors' minds. For the near term such a reaction seems an over-reaction, Whole Foods Market has only nine stores in the UK. However, the markets appear, rightly or wrongly, to be taking a more strategic view.

One outcome of this proposed acquisition is that Amazon is likely to feature in the crib sheet for just about every future retail merger and acquisition, either as a defence against the behemoth's ongoing competitive challenge or as a potential target for the Seattle-based group. Over many years Ocado has been touted by its supporters first as the logical next move for Amazon, and subsequently the logical defence against Amazon; that the US retailer is becoming multichannel does little to enhance Ocado's attractiveness as a takeover candidate to our minds.

It will be fascinating to see how Amazon embraces Whole Foods Market, how the development plans evolve, particularly here in the UK, and whether or not Amazon does indeed acquire further store-based operations, noting that Amazon is not a free service while Whole Foods is not mass market, by any stretch of the imagination. Following Tesco's surprise tie-up with Booker, the world of retailing just keeps coming up with surprises. What could be next…?

Clive Black is head of research at Shore Capital Stockbrokers