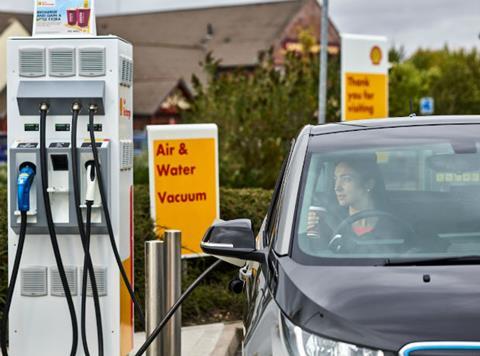 Shell has installed its first three electric vehicle fast-charging stations in Britain.

The points will be available at the Anglo-Dutch oil and gas company's forecourts in Holloway, Whyteleafe, and Derby.

A further seven Shell Recharge locations within London and Reading will open by the end of the year.

"Shell Recharge provides electric vehicle drivers with a convenient way to charge their cars on the go. We're pleased to offer rapid electric charging on the forecourt, allowing us to broaden the range of fuel choices we deliver," said Shell UK future fuels manager Jane Lindsay-Green.

The rapid 50kW chargers, which will be managed by Dutch company Allego, can charge most vehicles from zero to 80% within 30 minutes.

Allego CEO Anja van Niersen said: "Electric mobility is developing very fast and a new generation of e-cars is now available for consumers. We highly value Shell's vision and leadership in integrating rapid charging at their service stations. We know that electric vehicle drivers want the right charging solution at the right place, to be always available and combined with excellent services. Shell Recharge shows how these wishes can be met."

Shell is collaborating with Transport for London to introduce the charging points, in line with London mayor Sadiq Khan's drive for a zero-emission capital by 2050. Deputy mayor of environment energy Shirley Rodrigues said: "With sales of diesel cars declining, it's vital to have charging points for electric vehicles in service stations, car parks and on our streets. As the mayor moves towards making London's transport system zero-emission by 2050, TfL is working with boroughs to increase charging infrastructure across our city. The expansion we require will continue to demand strong collaboration with industry, private landowners and greater investment from government."

Last week Shell agreed a deal to buy NewMotion, Europe's largest electric vehicle charging provider.

There are currently 105,763 fully electric and plug-in hybrid vehicles now on UK roads, according to the Association of Convenience Stores' latest Forecourt Report.