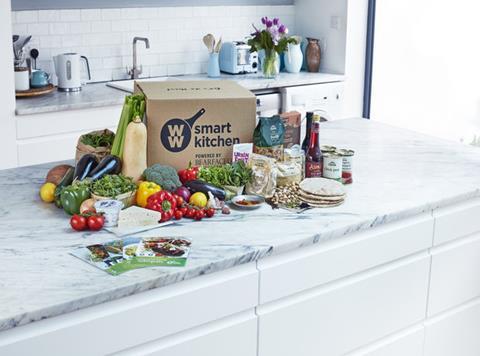 Weight Watchers has set out to capitalise on the growing recipe box market by launching its own offering for slimmers.

Subscription service WW Smart Kitchen offers healthy eating boxes at a starting price of £35 for three meals for two, undercutting the £39 equivalent box from market leader Hello Fresh. The largest £75 box will be family-sized, containing ingredients and recipe cards for five meals for five people.

The company will join existing players in the market catering for slimmers including Abel & Cole, Riverford and Mindful Chef, all of which offer light options.

But its unique selling point will be the link to the Weight Watchers programme, with all meals calculated in SmartPoints - the method members use to calculate their daily allowance. Non-members will also be able to sign up to the subscription service, which aims to "help people make informed, healthy meal choices for the whole family".

Customers can choose either a standard or vegetarian subscription, both of which will offer five recipe choices per week. Customers must place an order before 2pm on a Thursday to receive their box the following week, when ingredients will be delivered on the day they arrive from the producer.

"We are thrilled to be extending our product range with this exciting and innovative concept," said Weight Watchers UK commercial director Mark Simmons. "We have a role to play in tackling the obesity crisis, now more than ever before, and WW Smart Kitchen is the latest addition to our suite of products to help people make informed, healthy meal choices for the whole family."

Bearfaced Groceries, the online food company that will source the ingredients for the boxes. said the service would offer "a whole new approach to healthy eating". "This is an exciting proof of concept for Bearfaced and we are delighted to be teaming up with one of the biggest brand names in weight management to launch this offering," said Bearfaced Groceries MD Phil Edge.