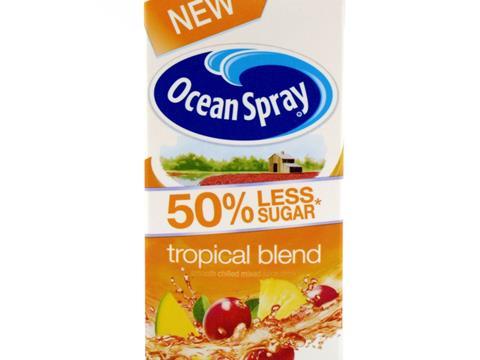 Coca-Cola Enterprises has lost the UK sales and distribution contract for struggling juice brand Ocean Spray.

CCE has held the contract since 2010 when it replaced Gerber following double-digit falls in value and volume sales.

On winning the contract, CCE gave the brand a new, premium look, introduced a blueberry variant and doubled marketing spend to £7m.

Four years on, Ocean Spray is losing ground again. It remains the fourth-biggest juice brand in the UK behind Tropicana, Innocent and Copella. But last year, value sales dropped 6.9% to £36.7m and volumes plunged 12.6% [IRI 52 w/e 4 January].

Following a transition period, Gerber will officially take back the contract this weekend. The juice giant already makes the juices for Ocean Spray in the UK.

Ocean Spray said the decision to stop working with CCE was a mutual one that had been taken in response to "changing dynamics" in the market.

"Ocean Spray remains committed to growing our business in Great Britain with a broad range of innovative products," it said in a statement.

Last month, Tara Levine, Ocean Spray's Europe, Middle East and Africa MD, told The Grocer it was responding to growing UK consumer concern about the sugar content of juices by launching a wider range of low-sugar variants.

Ocean Spray has launched a 50% less sugar range this year, containing natural sweetener stevia.

"We're planning major expansion of our portfolio this year with significant investment behind our low-sugar range to meet growing consumer demands," Levine added. "Expect to see over a dozen new Ocean Spray juice drinks this year, with over two-thirds of those products being low-sugar/low-calorie options." The loss of Ocean Spray comes at a difficult time for CCE. The company has endured a slow start to 2014 in its GB business, which CEO John Brock blamed last week on weak Christmas sales, wet weather, rival promotions and preparations for its move to the new 1.75-litre Coca-Cola bottle.