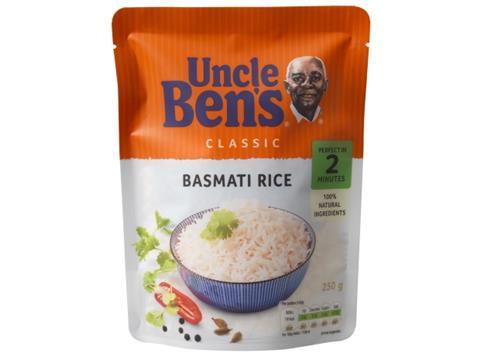 Mars Foods has committed fully to sustainable basmati rice for its Uncle Ben's and Seeds of Change ambient ready meal lines.
It announced this week it now sources 100% of basmati used in the two brands from farmers in India and Pakistan working to the standards of the international Sustainable Rice Platform.
The environmental push also included sharing "innovative farming methods" with farmers to improve water efficiency, cut fertiliser and pesticide use, and improve health & safety, it said.
If adopted throughout the industry, such innovations "could fundamentally shift how rice is grown today, helping to protect the environment, lift farmers out of poverty, and meet future demand worldwide" said Luc Beerens, Mars Food global sustainable sourcing director.
The company plans to invest about $1bn (£738.9m) in its 'Sustainable in a Generation Plan', which aims to reduce the environmental impacts of its business, "meaningfully improve" the lives of the million-odd workers in its value chain, and ramp up its efforts around food safety & security and responsible marketing.