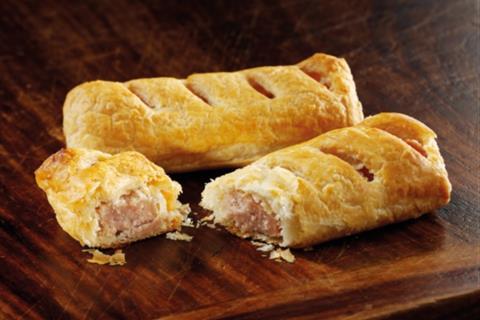 Yorkshire-headquartered bakery business Cooplands is donating proceeds from sausage roll sales this Christmas to help The Trussell Trust in its mission to end child poverty.
The high street chain, which has 160 shops and 12 cafés across Yorkshire, Lincolnshire and the north east, was inspired to donate to the charity by the song 'I Love Sausage Rolls' by LadBaby, which is heading for its second Christmas number one in a row.
Mark Hoyle, the Nottinghamshire-based blogger behind LadBaby, recorded the track, a take on Joan Jett & the Blackhearts 'I Love Rock 'n' Roll', with his wife Roxanne. Cooplands staff saw the video and wanted to help the family's aims to raise money for The Trussell Trust.
The charity works to support food bank centres across the UK, providing emergency food and support to people in poverty, while also campaigning for change to end the need for food banks.
Cooplands will donate 5p from every purchase of its 'four sausage rolls for £1' deal to The Trussell Trust until 3 January 2020. The chain expects to raise more than £8,000 for the charity from sales of about 170,000 sausage roll packs across its stores and cafés.
"Christmas holidays should mean fun and enjoying family time together but knowing that some families are going without the food they need is heartbreaking," said Cooplands CEO Belinda Youngs.
"We loved watching LadBaby's video and felt we could do something to support their fundraising aims. Our sausage rolls are a regional bestseller so it seemed a fitting link and we hope the money we raise will go towards The Trussell Trust's mission to protect every family's right to good food all year round."