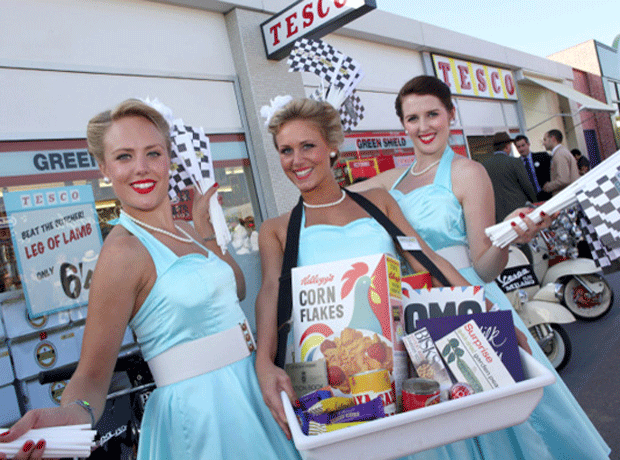 The roar of vintage motors, the thunder of historic war birds in the sky and the rattle of the click & collect truck.

It won't take an historian to spot the odd one out at this weekend's Goodwood Revival meeting on the downs of West Sussex, but for the UK's biggest retailer it is the latest attempt to kickstart a new Revival tradition - and open up a lucrative new sales vehicle.

Tesco is targeting the campers among the 145,000 expected to attend the event with a free click & collect service, with vans on hand to transport online orders to the neighbouring site.

It follows trials of the idea at other outdoor events this year, including the Glastonbury and Reading music festivals.

"Where there are events which are big enough that we think there will demand for click & collect, we will look to run services like this," said a Tesco spokeswoman. "For Goodwood, we hope to bring a bit of new technology to mix with all the history."

As in recent years, the event will also include a 1960s-style, 1,700 sq ft, Tesco store, including a line up of retro groceries.

Tesco will also be using its website to allow users to go on a virtual tour of the store to see vintage products displayed as they were 40 years ago. Those at the Revival will also be able to watch TV adverts from the era on their mobiles, by scanning products on the shelves using the Tesco Discover app.

Last month The Grocer revealed that Tesco plans to extend its click & collect service, enabling shoppers to pick up any item from any store.