One year to the day since he was introduced to shareholders, Premier Foods CEO Gavin Darby delivered some good news for its troubled milling and bakery division.
The Hovis business will be spun off in a joint venture with US private equity firm The Gores Group. Premier will retain 49% of new business Hovis Limited, with Gores holding a controlling 51% stake.
Industry observers have long said such a deal was necessary as there was little synergy between the underinvested bakeries and the rest of Premier. Now, Premier becomes focused on its ambient grocery brands like Sharwood's and Mr Kipling.
And yet Premier's share price has barely shifted since Monday's announcement - a stark sign of the job Darby still has ahead of him.
Premier Foods is saddled with massive debt and pension liabilities - the result of a raft of earlier acquisitions made in a different era - and while the Gores deal has improved the structure of the business, it does nothing to address this.
Cashflow losses
In fact, some experts suggest Premier's financial situation has become more difficult as it loses the earnings and cashflow from the bread division but has retained all the debt/pension liabilities. Panmure analyst Damian McNeela predicts net debt/EBITDA will worsen to more than 5x in FY 2014 from an estimated 4.8x this year.
"This transaction places further pressure on the cash generation of its grocery business, as any cash generation from the bread business is unlikely to ever make it back to Premier," says McNeela.
Speaking to The Grocer this week, Darby explains the Hovis deal had little to do with debt. "This was about establishing the right direction for the two businesses," he says.
"I can now see positives more than I did previously"

Gavin Darby
Pundits expect Premier to address the debt problem with a rights issue this year, and Darby says the company is considering its options. "The board is looking at all opportunities and the strategic clarity [the Hovis deal] brings can only help," he says.
And Darby is clearly excited about the opportunities he believes the new structure will bring to both Hovis - he and Premier CFO Alastair Murray will sit on the board of the new business - and Premier.
A veteran of The Coca-Cola Company and Vodafone, he admits the first six months of his role at Premier was tough - particularly the loss of 900 Premier staff. And he has had to make tough decisions regarding procurement.
But, 12 months on, Darby says the opportunities in this business are bigger than he thought. "A restructuring CEO has to be positive, has to be a glass-half-full person, but I can now see positives more than I did previously," he says. Among these is greater investment in people, which he said had previously slowed. "We have a significant recruitment programme in sales and marketing, and in bringing in graduates."
While refusing to name a favourite among Premier's now seven-strong roster of 'power brands' (Ambrosia, Bisto, Bachelors, Loyd Grossman, Mr Kipling, Oxo and Sharwoods) - and having previously got in a spot of bother for telling The Grocer is was particularly fond of Sharwood's - Darby admits he is excited about the Mr Kipling brand. The Gores deal is giving Premier a £28m cash injection, and some of this will go on a new £20m snack pack cake slice line at its factory in Carlton, Barnsley to meet booming convenient snack format demand. "We have invested in that line as we were fighting to meet demand," says Darby. "Of the seven grocery power brands, the one that has had to be most patient in terms of investment has been Mr Kipling, but that is changing," he says, declaring 2014 will be "the year of Mr Kipling". In addition to the capital investment, Mr Kipling will benefit from increased marketing.
Also set to benefit from increased marketing - and much-needed capital expenditure - is the bread business.
With the exception of Charnwood Foods, a small facility in Leicester that makes pizza bases, and a flour mill in Andover that produces pre-packed flour, Premier's bakery and milling estate and distribution has transferred to Hovis Limited including the bread business HQ in High Wycombe. This includes the Hovis, Mothers Pride, Ormo, Granary and Nimble brands, and the flour milling and own-label bread business. The joint venture will be led by Bob Spooner, currently Premier's MD for bread.
Underinvestment
Under the new deal, Hovis Limited will receive a £200m investment over five years to improve efficiency and reinvigorate the Hovis brand, which fell 8.4% by value last year to £368.3m in a total bread market up 1.2% [Nielsen 52 w/e 18 October 2013]. Meanwhile, rivals Warburtons and Kingsmill have increased market share.
"We have invested in capital at a lower rate than our biggest competitors," admits Darby. "We have a lot of good equipment but it needs upgrading, and we will be refitting."
Hovis has also lagged behind its competitors in terms of innovation, and with sales of pre-packed plant bread static, has failed to embrace areas of growth including morning goods and sandwich alternatives such as wraps.
"Hovis hasn't kept up with the changing dynamics in the market," says Mintel global analyst Chris Brockman, adding that in addition to extending into the current growth areas, Hovis Limited could move into up-and-coming niche markets such as low-carb or high-protein. Gluten-free is a growth area, and one Warburtons has found success in, but is probably less likely as it requires a dedicated facility. "It could look to tap into low-carb or high-protein breads," he adds, "or another developing area is sweet flavours in bread as a way for attracting younger consumers to the category. There has been some success in the US with chocolate bread, for example, and strawberry & banana."
Darby admits it has some catching up to do, but insists Hovis Limited has the capability to produce a "huge range" of baked products, and says the business will be looking at adjacent categories such as sandwich alternatives. He adds that there are no plans to change the logistics of the bread operation and, while upgrading the bakeries will bring slight increases in capacity there are no plans to bring in new production lines. "We had a tough first half of last year, closing mills and bakeries, now we are in growth mode and looking at selling and filling the capacity we have," he adds. Efforts to drive growth will benefit from the strength and trust in the Hovis brand, say marketing and branding experts.
"Hovis is iconic within the fmcg industry and is highly recognised by consumers," says Matt Woodhams, director at brand development firm Added Value. "Things have moved on a lot in bread but it is important to be true to the brand."
While the bread market has moved on, that is not something Darby intends to do in a hurry. He insists he is with Premier for the satisfaction it gives him, and describes himself as a "stayer". "I was with Coke for 15 years, and Vodafone for nine".
And while under no illusion about the hard work still to come for Premier Foods, he is obviously pleased about where he has steered the business: "Baking and milling has been an area of strategic uncertainty for four or five years, but with one bound both businesses are in a better place than they were this time last week."
Gavin Darby: the first 12 months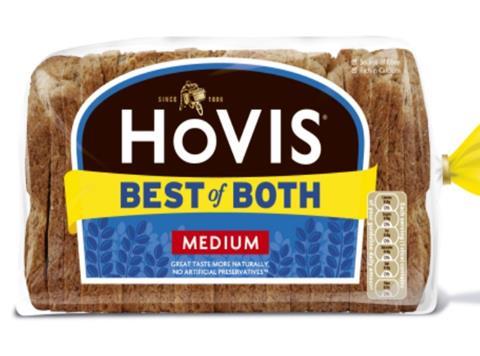 January 2013: Darby announced as replacement after Premier CEO Michael Clarke steps down.
February: COO Geoff Eaton leaves Premier on Darby's first day as CEO after introduction of a new management structure that does away with COO role.
Analysts describe Premier's full-year results for 2012 as "reassuring", with like-for-like trading profits up 10.6%.
Darby says Hovis will play a key role in the bread division's future. "If the board wanted someone to slice and dice they would have hired an investment banker," he tells The Grocer.
April: Premier Q1 statement reports 'power brands' growth for fifth successive quarter.
Premier's Garretts Green bakery in Birmingham closes with loss of 500 jobs.
July: Premier announces it is to split the milling business into two divisions to strengthen focus on third party supply.
The Grocer reveals Premier Foods is demanding suppliers pay into an "investment fund" as part of strategy that includes halving the number of suppliers it works with by the end of 2014. To date it has cut the number of suppliers by 25% from 3,299 to 2,461. Premier has also identified 800 SKUs to take out of its ranges.
Premier raises full-year expectations after 50% year-on-year hike in trading profit in six months to 30 June.
Darby reveals Premier's second-string brands such as Smash, Bird's and Paxo had a role to play, particularly in c-stores and discounters.
September: Premier announces CFO Mark Moran is to leave and be replaced by former Dairy Crest Group finance director Alastair Murray.
October: Outlook for full year remains unchanged despite 3.2% fall in total sales in Q3.
November: Premier confirms reports it is looking for investor for its bread business.
December: City sources tell The Grocer three businesses in the running to buy bread business: The Gores Group, Sun Capital and PAI Partners.
January: Premier to invest £20m in a new production line in Barnsley for growing Mr Kipling Snack Pack slices range.